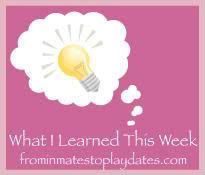 What I Learned This Week is a bloggy carnvial, hosted here at From Inmates To Playdates on Tuesdays. In most cases, Mr. Linky will be up by 11:59 PM (EST) on Monday night.
I'd be thrilled if you'd join us!
Here is what you need to do to link up to What I Learned This Week.
1. Include, somewhere in your post, a sentence about the What I Learned This Week blog carnival and link back to my blog.
2. Grab the WILTW button and paste it into your post. (This step is not necessary but the button is so cute, why wouldn't you add it?)
3. Write your post mentioning What YOU Learned This Week. Your list might include 73 things you learned, or it might be one simple lesson learned. The possibilities are endless for this carnival because there is always something new to learn.
4. Use the Mr. Linky form to enter your name or your blog's name, along with a link DIRECTLY TO YOUR WILTW POST.  
TO DO THIS: After creating your own WILTW post, click refresh and view your blog. Click on the title of your WILTW post. The post title will then show up in your URL bar. (Consider this the address of that specific post.)  Highlight and copy the ADDRESS OF THAT POST – it will be your blog address plus some words associated with your post title – and go to Mr. Linky. Type your name into the Name section, and finally, paste the POST ADDRESS into the link box.
Your link should then appear on Mr. Linky. If you still have questions about how to do this, you can e-mail me, and I will be glad to walk you through it.
5. Finally, visit others' blogs and read their What I Learned This Week posts! Oh, and don't forget to COMMENT!
6. If you do not have a blog (what are you waiting on!), feel free to leave a comment telling me what YOU learned this week. I love comments and read every single one of them!
7. Oh, and the most important thing is to HAVE CRAZY FUN with this carnival! Because I am all about the crazy fun!
Thanks so much for your interest in What I Learned This Week! I appreciate your participation!