We've had a great week here at the McResidence.
McDaddy was gone three days last week and will be gone three days this week, so that means I'll be flying solo here with my sweet fellas. I've been busier than a raccoon in a trash-pile this weekend as I shuffled everyone back and forth and here and yonder. Now, I'm curled up in my big, blue, bloggy chair with my laptop, my TiVo remote and my Nielsen TV viewing diary.
That's what I HAVE been doing.
Here's what I haven't been doing. Ahem!
It wasn't me who felt like a teenage girl out with her boyfriend on Friday night on a date. Because me and McDaddy have been married for eleven years and we shouldn't be acting like a couple of kids.
On Friday, I did not try on an outfit that I had planned on wearing to a special Veteran's Service at our church on Sunday morning only to be told by my four-year-old that the outfit "looked silly!"
McDaddy and I definitely did not spend half of our evening scouring the mall for an outfit that did not look silly for the service.
And after purchasing a "not silly" outfit, I certainly did NOT tell McDaddy that I was to be buried in it if something were to happen to me because how weird would that be?
(Remember the post about my funeral where I mentioned I wanted to be buried in red?)
It also wasn't me who ate half of a batch of chocolate-chip-cookies that were made especially for McDaddy by a lady at our church because I certainly don't need to eat a half-a-batch of cookies. 
But they were full of deliciousness.
I didn't have my heart shattered in a million pieces as they whisked my sweet Alex into surgery on Tuesday.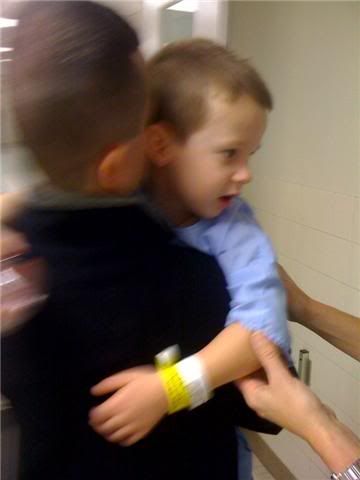 Oh my sweet mercy, I am so thankful it all worked out.
I did not tear up this evening when I went in to pray with Stevie and he explained that his teddy-bear, Milo was on a shelf beside his bed because he was a big-boy and no longer needs to sleep with a stuffed animal.
Shoot. Shoot. Shoot. I hate this growing up thing!
It's not me who is cutting this post short because I'm so sleepy I can barely hold my eyes open because I am never THAT tired.
Visit MckMama and her Not Me! Monday bloggy carnival for some interesting things that people most certainly did NOT do this week.