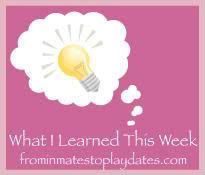 McDaddy and I had an extremely long, taxing day. I sat in an exam room while three medical professionals punched a hole in my ear to obtain a piece of ear cartilage. And McDaddy? Well, McDaddy stood by my side while I squeezed the life out of his hand for the better part of five minutes because OH MY DEAR GOODNESS, THE PAIN!
It easily ranks among the top three most painful experiences of my life. Wedged right in between my first kidney stone and the kidney stone removal.
So, as you can imagine, I am in no condition to sit behind this computer screen for any amount of time because my ear feels like it has flames shooting out of the top of it. And if you're wondering if this procedure had anything to do with the ear pain I experienced several months ago, that would be a BIG. FAT. YES.
If everything goes as planned (in my head!) I will have a definitive diagnosis in 2-7 days.
Here's a quick list of some things I learned this week.
1. You should never leave a burning candle on your stovetop.
2. If you have a burning candle on your stovetop and accidentally turn on the wrong burner, you could have some trouble.
3. If you walk into your kitchen and discover that a candle on your stovetop is on fire because you accidentally turned on the wrong burner, you should not, under any circumstances, attempt to put the fire out with water. Flour is best in this situation.
And before you ask, I did not learn any of those first three tips first hand.
4. The Saturn Sky is a sleek, sexy car. It was not built for comfort.
5. I typically spend a lot more time dreading a job than it takes to actually DO the job.
6. I have a hard time letting things go.
7. Even at forty years of age, my OCD is alive and well.
8. You can expect a lot of blood after a punch biopsy.
9. There are days when I really miss enjoying an ice cold, coca cola classic.
That's what I learned this week.
Now, what did YOU learn?
To join in on the What I Learned This Week carnival, simply follow these steps.
1. Any time this week, publish your What I Learned This Week post on your blog and link to this post.
2. Link up with the Mr. Linky form down below. Please put the link to your POST, not the front page of your blog.
3. Then visit the other participants and see what they learned this week.
Easy enough?
GO!