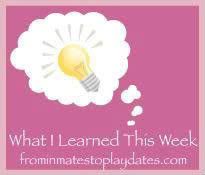 I had a glorious day. And by glorious, I mean there was no school today which means NO STUPID ALARM CLOCK FOR ME thankyouverymuch!
And since there was no school, that also means I didn't have to check any math homework. But, just in case you were wondering, Stevie did receive the requirements for yet another 4th grade project on Friday, less than a week after his last project – The Martin Luther King, Jr. passport – was due. Heaven help me, I'm sure there will be a time when I will miss scouring the house for pipe cleaners, and repeating "We need to get this thing done!" 419 times over a three-day period, but right now, I just need a break from the project. In the meantime, I'll be overseeing the painting of a cereal box.
It was 64 degrees today so I decided today would be the day I would do all my runnin'.
First, we had to drop off scout shirts at the tailor because Alex is a first-time scout, and as a Webelos, Stevie changes from the navy blue shirt to the khaki one, so there are all kinds of patches to be sewn on. And no, I cannot do it myself, because 1. I don't sew, and 2. I don't think I even have a needle up in this joint. The cub-master made an announcement at our scout meeting that a seamstress at a men's clothing store downtown charges $1.00 per patch, but I found that out to be a big fat lie when I was charged $21.20 for 18 patches. And then, when I discovered that I had given her the wrong information about Stevie's Webelos shirt and returned to the store to let her know I only needed 8 patches sewn on, she told them to credit my card $5.00. I questioned her about the charge-per-patch fee and all of a sudden her broken english became EVEN MORE BROKEN and LORD HELP ME AND MY PATIENCE. After some "negotiations" they credited my account $7.00 and I learned a very important lesson today.
1. Next time, let McDaddy take the shirts to the Guard Base and be done with it, even if it takes two more weeks to get them back.
After that, we headed for the mall so that I could get my grubby hands on a copy of Big Mama's book, Sparkly Green Earrings. Seeing Melanie's name in print totally makes me want to write a book now (which will make my mother-in-law happy because she has told me for years that I should totally write one!).
And yes, I realize this wasn't the greatest of hair days. You can blame the crazy West Virgina wind. Still, I am so excited for her. If I lived in Texas I suspect we'd be fast friends, because we share a love for reality television and chips and salsa.
And speaking of chips and salsa… (don't you just love my segue?) I learned something else today.
2. Even during the Biggest Loser competition it is possible to eat your favorite meal at Chilis, even though combined it has more than 2,500 calories. The realization that I could just eat half the meal was like getting hit upside the head with a football. I was so proud of myself for sending 2 whole chicken crispers and half of my sides back.
I also learned:
3. I am really craving chocolate this week.
4. I am having a hard time not eating chocolate this week.
5. I have no business buying Betty Crocker's Brownie Cookie Supreme Bars.
6. You can't really count salsa as a serving of vegetables. Or can you? It is made up of mostly vegetables….
7. Those little 90 calorie Cokes are handy as all get-out.
8. An itty-bitty Peppermint Patty has 50 calories. A total waste of 50 calories in my humble opinion.
9. I really, really, REALLY need to sync my calendars.
10. Always back-up your beloved iPhone before updating your operating system.
11. If you lose your contacts when updating your IOS, it is possible to get them back, though, they may return in duplicate or triplicate form.
12. Zumba for Wii provides a great workout.
That's what I learned this week.
Now, what did YOU learn?
To join in on the What I Learned This Week carnival, simply follow these steps.
1. Any time this week, publish your What I Learned This Week post on your blog and then, be sure to link BACK TO MY BLOG. I have never really pushed this issue, but it's the nice thing to do.
2. Paste the link to your post in the Mr. Linky form down below. Please be sure you are posting the link to your post and not the front page of your blog.
3. Visit the other participants and see what they learned this week, too!
Alrightythen. Ready, Set, GO!