Well, if that title doesn't grab your attention, I don't know what will.
I'll let y'all know how many visitors stop by Inmates via Google for searching for something to do with a wet t-shirt. I suspect there will be plenty. More on the wet t-shirt contest in a bit.
Last week, I mentioned I was attending a ladies retreat. Fifteen women from my church (and one visitor) enjoyed a weekend of food, fun, and fellowship. Oh, and did I mention food?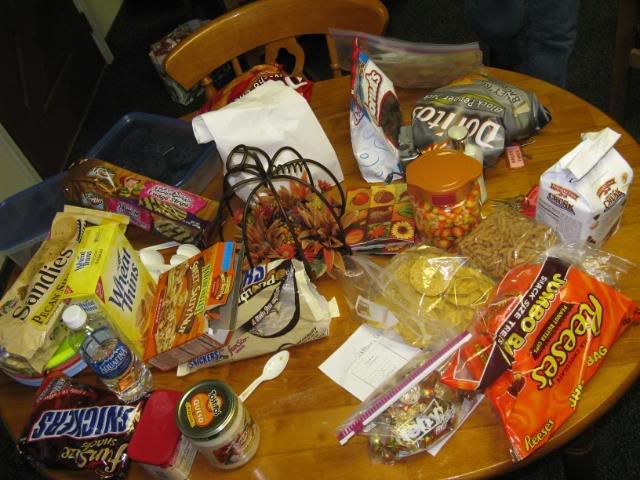 It is interesting to note that the retreat started at 5:00 pm on Friday and ended at 5:00 pm on Saturday.
Did I mention there was fun, fellowship and FOOD?
Oh internets.
We ate and laughed and ate some more. We talked into the wee hours of the night about fashion, shoes, our kids, the new cherry Dr. Pepper, and Deb's yummy no-bake cookies.
The theme was "Garden of Friends" and everything was centered around flowers. Our retreat was based on this book by Penny Pierce Rose. Basically, each presenter was assigned a flower and we presented the flower based on its characteristics and related them to friends in our "garden of friends."
I was assigned the sunflower. I love sunflowers. I have them all over my kitchen. I love sunflowers both for their size and their color. There are three characteristics of a sunflower. They stand strong, they seek the sun (Son), and they sow seed. In my garden of friends, I have several sunflowers. McDaddy is a sunflower.
As each flower was presented, we were to think about the qualities of the flower and write the names of friends in our "garden" that had the same qualities of the flower being presented. After each presentation we placed the post-it notes bearing the names of our friends on the flower that they represented.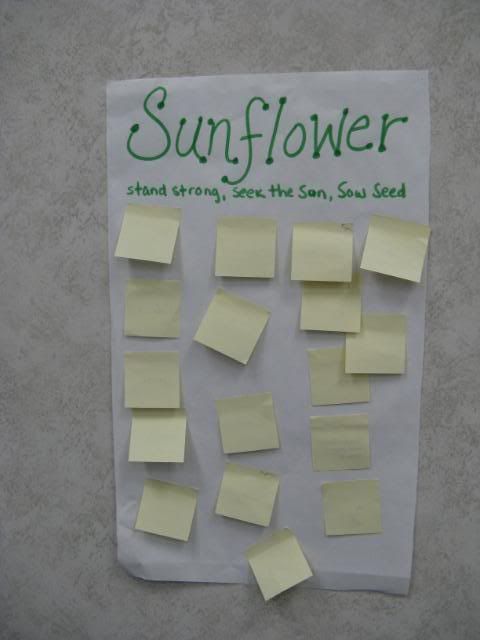 As you can see, we have lots of Violet friends. Characteristics of the violet are humble, unselfish, go out of their way for others and often work behind the scenes. McDaddy is also a violet. (He is a great friend to have!) 
We also made these cute candle holders / coaster / whatever you want to use them for things.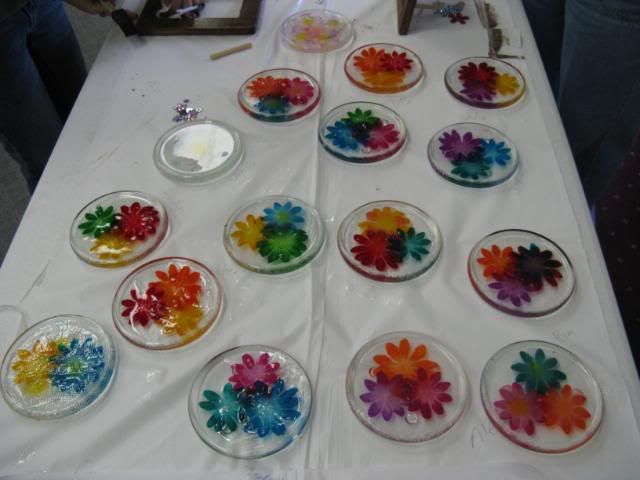 We also made a picture frame, but for some reason I didn't get a picture of those.
Anytime we have a shin-dig, I am in charge of games and entertainment.
I could just sit and read my blog to them, but I'm guessin' that would get old. So, I try to real hard to come up with some great games and some great prizes.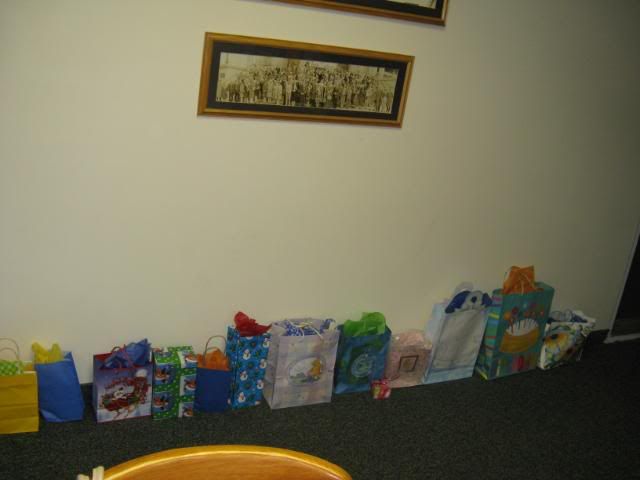 The first ice-breaker we played involved those a snack pack of M&Ms. Each lady opened their snack pack and had to answer a number of questions based on the color of M&Ms that were in their pack.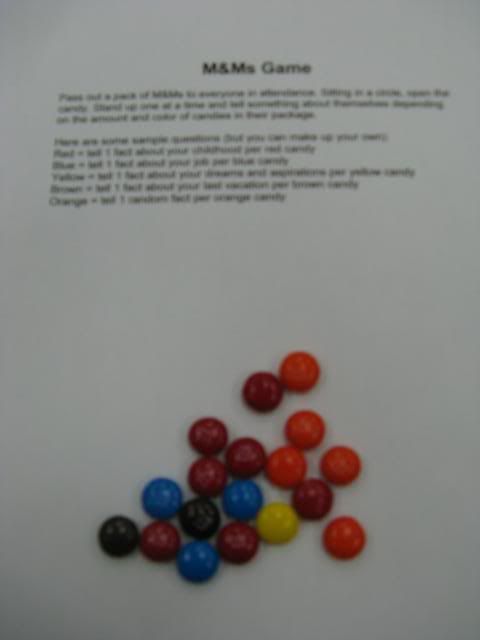 Red = tell 1 fact about your childhood per red candy
Green = tell 1 fact about one of your hobbies
Blue = tell 1 fact about one of your job
Yellow = tell 1 fact about your dreams and aspirations
Brown = tell 1 fact about your last vacation
Orange = tell about something you like to do
It was a fun way to learn about each girl and as you can see from my snack pack, there were 18 M&Ms in the pack. It took a sweet forever for fifteen girls to get through 18 or so M&Ms.
After we went back to the "lodge" for the evening, we played a couple more games and then I made a grand announcement.
We were having a wet t-shirt contest.
Instructions – fold a t-shirt and place it in a ziplock bag. Fill the ziplock bag full of water smoothing the air out as you go. Repeat with a different t-shirt in a different ziplock bag. Freeze both ziplock bags. Remove the ziplock bags and announce that you are having a wet t-shirt contest. The first team to thaw their shirt and wear it wins.
First, you can try running warm water over it.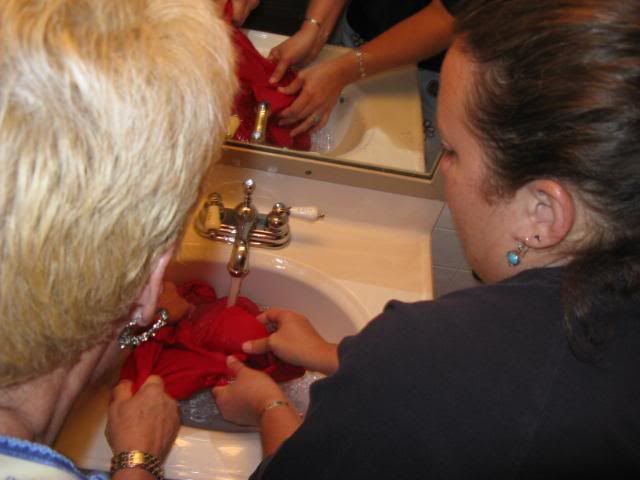 Just for fun, you might try cracking the ice on the side-walk.
Next, pull like crazy!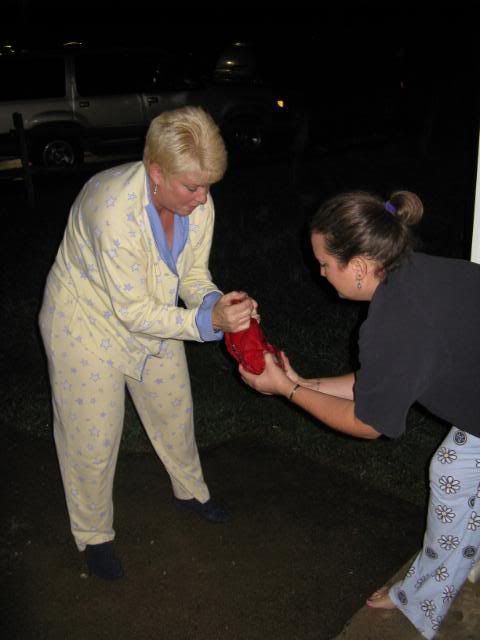 Finally, wear it!
It was loads of cold fun!
Like I said, there was food, fellowship and lots of fun!