One year ago on this very day, "From Inmates To Playdates" made its way onto the bloggy scene with this post.
My blog design looked like this, and I have to admit I've missed this cute little gal a time or two since Jo-Lynne redesigned me with a skinnier, older princess.
For those of you who have been here with me from the beginning, I appreciate you! Around the halls of Inmates, you'll find 393 posts, 2,480 comments and lots and lots of crazy!
My most loyal commenter is my McMotherInLaw, Jean logging in 144 comments. My URL friend, Kellyn [who works within sight of The Mall Of America] came in a close second with 133.
The post that yielded the most comments was entitled I've Been Expecting You which happened to be linked to Boo Mama's Christmas Tour of Homes.
My highest comment day is Thursday because that's the day I post my You Capture photos. I've enjoyed learning more about my camera each week in a feeble attempt to 'run with the big dogs' over at the You Capture carnival. We've photographed shadows, reflections, red stuff, technology, ourselves, fall stuff, old signs, Joy, and all kinds of other stuff that I can't think of right now. Basically if you can think of it, we've shot it. I keep waiting for the week when Beth assigns CRAZY. I'll be all over that.
History was made here at Inmates back in June when my daily visitor count reached 1,008. I watched it slowly climb toward 200 and I was thinking it wasn't even noon. Just before midnight, I hit 1,000. It was an exciting day! That was on a Monday and I was the first linker to link MckMama's Not Me! Monday post.
This blogging gig has been enjoyable for me and I am grateful for the opportunity to make new friends, review some cool products and make a teensy-bit of cash through advertisiting opportunities.
My most controversial post by far was this one about animal rendering.
Remember all these posts about deployment? It was a long six months with a trip to Guantanamo Bay thrown in the middle of it. I appreciate the kind, encouraging words y'all left throughout the McDeployement Journey.
I think most of you would agree that the thing that sets me apart from most other bloggers is my quirkiness -and believe me, there is plenty of it. My quirkiest post was entitled Things I Learned At The Funeral Home and was a result of my watching an embalming. Yes, you should go there right now and read it. I'll give you a second.
You back?
I told you it was quirky!
What can I say? I'm a quirky girl. A quirky girl who loves to give stuff away.
And, with the holidays just around the corner, this give-away from uPrinting is perfect!
I am a card-writer. I try to send cards 'just because!' Giving custom thank you cards is the perfect gift to express sentiments to your loved ones. 
One lucky reader will be jingling all the way with a pack of 50 Custom Thank You Cards with envelopes! UPrinting cards are made from high-quality paper and cardstock and will surely bring holiday cheer to your friends and family.
 I am so excited about this give-away! I can't wait to design custom made thank you cards for the McFamily.
Prize Offered: (50 ct.) 7 x 5″ (folded to 3.5 x 5″) Custom Thank You Cards with plain envelopes
Shipping: Free UPS Ground within United States
Blogger Appreciation Prize: (50 ct.) 7 x 5″ (folded to 3.5 x 5″) Custom Thank You Cards with plain envelopes
Eligibility: Limited to US Residents due to shipping costs.
*Pursuant to the FTC ruling on Blogger Reviews and Sponsored Postings, I am fully disclosing that I will be receiving fifty (50) thank you cards from UPrinting.com for hosting this giveaway.
To win, simply leave a comment on this post about how you plan to use the thank-you cards.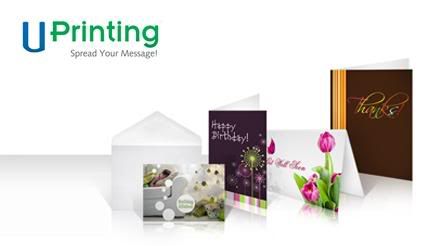 A winner will be drawn at random on Sunday evening, November 15th at 10:00 pm ET.
Thanks for celebrating with me!
—————
Updated to announce the winner of the 50 custom thank-you cards.
And the winner is…..
Random Integer Generator

Here are your random numbers:

8

Timestamp: 2009-11-17 04:06:45 UTC
Congratulations to Commentor #8 Michelle who does not have a blog but has a Yahoo e-mail address.
Thanks for stopping in for a daily dose of crazy, Michelle! Enjoy!