Do you have shoes in your closet that you haven't worn for years, but refuse to get rid of?
If so, you will absolutely love this story.
McDaddy participated in a 3-on-3 basketball tournament at our church this weekend. The teams were formed by drawing names from a hat. McDaddy was on a team with our friend Shawn, and one of our pastors, Jimmy. I am good friends with Shawn's wife, Christina. When we first sat down at the tournament, Christina shared a story about Shawn's basketball shoes. She was unsure of how old they were, but said she had tried several times over the past few years to throw them out because they were old and because he hadn't worn them in a long time. Each time, she said he would assure her that he would need them someday and insist on keeping them.
Christina, our friend Kelley, and I had a great time trading kid stories and fighting off the urge to purchase every single O'Friggin'Henry Bar from the snack bar because OH MY HEAVENLY DAY they were divine. (I totally added the whole friggin' part to the name of the recipe, because I friggin' forgot for about three minutes that I was competing in the biggest loser competition and the only thing I lost that evening was $0.50 each time I bought one of the darn things.)
But shoot, they were good.
About half-way through the dream team's third game, Shawn walked off of the court with a frown on his face.
This is what we saw…
You see, that, is Shawn holding his beloved basketball shoes (circa 2000 or before) in one hand, and a huge piece out of the sole in the other hand.
Here's a closer look.
[Note: Even though the O'Henry bars taunted me from the snack bar, as you can see from this picture, I was making a conscious effort to suck down the SIXTY FOUR OUNCES OF WATER required for the competition each day. After all, I had to wash them down with something, right?]
Anyway, back to the shoes. As you can see BOTH shoes were junk.
Since the basketball tournament was only half-over, Shawn still had at least three more games to play.
Without shoes.
I couldn't hardly talk for laughing . I looked down and asked what size his shoes were. He said he wears a size eight. I offered up my size nines, because it makes sense (in my head, at least) that a mans' size eight, is probably equivalent to a woman's size nine. I slipped my shoes off of my feet.
To my surprise, Shawn picked my shoes up and tried them on. Before I could blink, Shawn was standing in our church gym wearing my shoes.
This is what we saw next.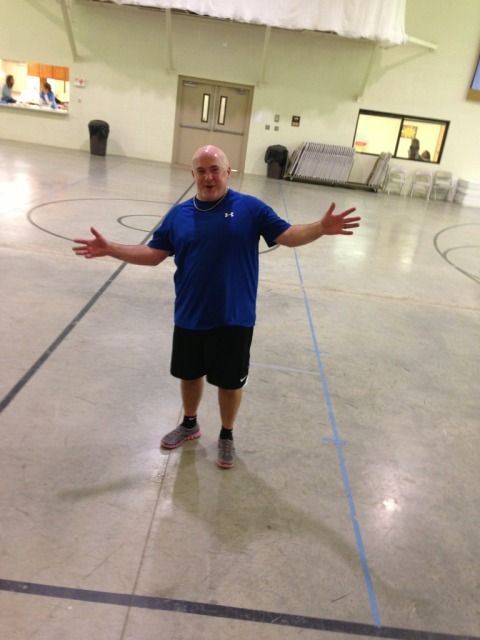 I'm not quite sure you can see this picture well enough to appreciate what is going on here.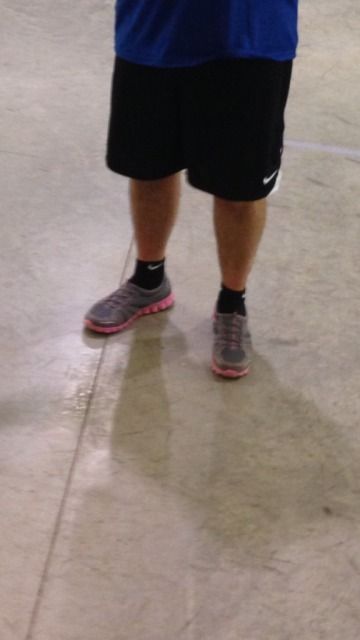 That, my friends, is my friend Shawn wearing my Gray and PINK Skechers.
And this, was Shawn, just before he made the FIRST TWO POINTS while wearing my shoes.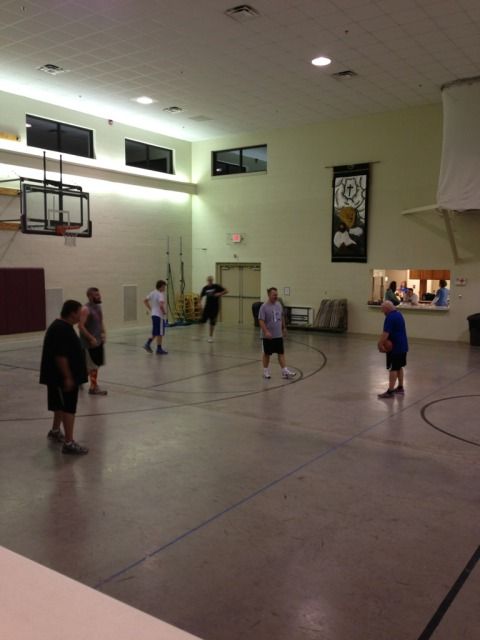 [NOTE: See that window in the background? That's where the O'Henry bars were hanging out.]
Sadly, the shoes didn't give Shawn, McDaddy and Jimmy enough force to pull out a place in the championship game, but as you might imagine, the whole dry-rotted FORCE shoe situation gave us a good laugh.
Three days later, I am still laughing about the whole thing.
Shawn took one for the team that day when he laid his pride aside and wore my pink tennis shoes.
May the FORCE rest in peace.
And I took one for my team when I declined a third (yes, I said A THIRD) O'Henry bar.
Heaven help me through the next six weeks. Especially now that Tracy has upped the stakes in our Biggest Loser competition and changed the required 64 ounces of water daily to half of our body weight in ounces.
Just to be clear, I said HALF OF MY BODY WEIGHT.
IN OUNCES.
OF WATER.
I stink at math, but best I have it figured, that is A LOT of water.
But, I am committed to my shrinking sunshines and I will give this new challenge a whirl. And since I drank 36 ounces in the last hour and it's my bedtime, looks like I'll be losing some sleep tonight as I'll be up half the night a peein'.
May my bladder rest in peace.
I'll be back later this week with my Biggest Loser update. That is, if I don't float away.
Wish me luck!