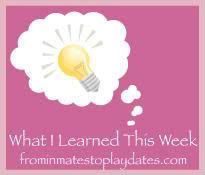 It's been a relaxing week around here.
The boys were out of school all of last week thanks to Snowmegedden 2015.
I hesitate to complain because we barely got any snow during the months of December and January, but DANG. Give it a break, Mother Nature.
I thought I was going stir-friggin-crazy.
It is supposed to be one degree at drop-off time in the morning. You can't even imagine what kind of person I become when the thermometer reads ONE.
In fact, it makes me cantankerous even typing such nonsense. Let me just get on with what I learned this week.
1. When mashing potatoes on the kitchen counter, it is wise to move the fresh chocolate chip cookies away from the potatoes. Unless of course, you are fond of chocolate chip cookies covered in mashed potatoes.
2. I never realized growing up that the Golden Girls was so inappropriate for children.
3. Unfortunately, my boys watched an episode of Golden Girls and laughed silly. It's sad that there are so many sexual references in that show, because it is really funny.
4. According to the cashier in our local grocery store, I look old enough to be a grandma.
5. The newest cast of Dancing With The Stars will be announced today!!!
6. Bathing Bentley in Pantene shampoo makes him smell much better than the raspberry puppy shampoo I purchased at PetSmart.
7. Bathing Bentley in Pantene shampoo makes me wish I could bathe him daily because it also makes his fur so soft.
8. I think we have more iPhone cables in this house that don't work than ones that do.
9. It will take me a sweet forever to decide on monogramming for oh snap pockets (31 Gifts) intended to declutter my kitchen counter.
10. Muck Boots are wonderful for snowy, icy conditions.
That's what I learned this week.
Now, what did YOU learn?
To join in on the What I Learned This Week carnival, simply follow these steps.
1. Any time this week, publish your What I Learned This Week post on your blog and link to this post.
2. Link up with the Mr. Linky form down below. Please put the link to your POST, not the front page of your blog.
3. Then visit the other participants and see what they learned this week.
Easy enough?
GO!