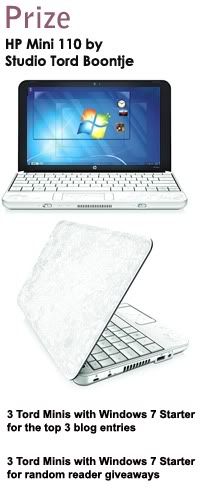 This little Mini 110 could be mine, if I can come up with a creative rhyme.
To keep this simple, I thought I might, tell how this HP Mini could simplify my life.
While sitting at school in the pick-up line, I could find me and McDaddy a place to dine.
And after downloading my pics to this handy gem, I could crop and edit each one of them.
The Mini 110 by Studio Tord Boontje, would make life simpler for this hip hoochie. (sorry, it rhymed!)
With built-in WiFi, I could blog on the run, and even facebook in my grocery- getter van  just for fun.
The super small notebook sure is cool, it would come in handy for PTA stuff at Stevie's school.
The two-pound notebook would simply my life, as a busy mom of two and a superwife.
While my boys plated at McDonalds, I could send an e-mail to find a sitter, or use the notebook to send a tweet on Twitter.
So hopefully this rhyme will strike a chord, from this gal in WV who hasn't the time to be bored.
My life will be easy and with lots less stress, because the little notebook will help organize the mess.
———
HP and five-time Olympian Dara Torres want you to imagine how an HP Mini with  Windows® 7 Starter could simplify your everyday tasks, work the way you want, and make new things possible. Dara uses the 3.22 lb HP Mini 311 with its full-size keyboard and 11.6" HD screen to balance a grueling training schedule with her family life and work on her upcoming fitness book. She also uses Windows® 7 features like Jumplists, Shake, Snap, and Pin to help her manage all her digital content.    — Taken from the Mom Bloggers Site
The three most creative blogger entries will win a new HP Mini 110-1100 by Studio Tord Boontje PC Notebook, and even better, three readers who post comments on any of the blogger entry posts will also win. The contest ends at midnight Eastern Time on January 20, 2010, so be sure to post your comment before then. The winner will be selected randomly by Random.org and will be based on the the order in which bloggers post their entries on Twitter.
The winners will be announced on Friday, January 29, 2010 and you can bet I'll be crossing my fingers until then.
So come out from behind the bushes and leave me a comment telling me how the HP Mini would simply YOUR life!
—–
This post was written as an entry into a contest to win an HP Mini and was not compensated in any way.