Ever since I started participating in Jo-Lynne's What I Learned This Week carnival, I pay special attention (and keep a running tally in my beloved iPhone) of those little things that happen throughout the week that would typically be forgotten one minute after they occur.
Because most of those little things typically become the bulk of my What I Learned This Week post.
And this week is no different.
For starters, I learned that you can buy a customized box of crayons over at Crayola. While I have no idea why one might want an entire box of crayons, I smile because I would have loved to customize my own box of sweet smelling crayola crayons. You can go there to read more about it or order a box for someone you love. (Oh, and just in case the FCC police stop by, I am not being compensated for this post, I just think this is a really cool idea!)
2. If you rent a movie from the movie store and you are one day late returning it, you will be charged for a whole 'nother week, so you should just keep it until Wednesday.
3. When ordering Longaberger purses for Christmas gifts from their web-site, you should pay close attention to the measurements of the purses you are ordering or you might end up ordering a fur-lined children's purse for $7.50 that is 3 inches wide. Seriously. Oh, and when you call to complain about the size of the 'purse' the lady on the other end will politely inform you that the measurements are plainly stated on the site.
Why yes, crazy lady, perhaps I should have paid closer attention, however, I also expect you folks at Longaberger to charge a reasonable price for your products which doesn't include a 3 1/2 inch purse for $7.50. The little piece of material wouldn't even hold seven dollars and fifty cents.
4.  When you are helping to sort cookie dough for a school fund-raiser, you can expect to do some heavy lifting.
5. A princess doesn't like to do anything that involves heavy and lifting.
6. A nebulizer is a handy thing to have around if your children are prone to wheezing every time they get a cold. (I am thankful that many years ago, our insurance company decided to buy one instead of renting it. It has paid for itself time and time again!)
7.  Remodeling is a slow process. (I am thankful McDaddy is talented and can do most things. I am also thankful that what McDaddy can't do, MyDaddy can!)
8. A two-hour road-trip is a great time to sign 200 Christmas cards. (Unless of course you are driving on a poorly maintained road.)
9. If you begin your post early enough in the evening, you can go to bed at a decent hour which means your morning will go much smoother.
10. You can put metal in some microwaves.
11. Either chocolate vanilla creme poptarts are either no longer made or our local grocery store is no longer carrying them.
12. Not being able to purchase chocolate vanilla creme poptarts makes me wish I could have one.
13. The ranch dressing at Outback is better than the Blue Cheese. (I don't think I've ever uttered those words, but its true!)
14. Large Format Posters offer some great products.
In preparation for the Holiday season LargeFormatPosters.com is rolling out another giveaway – 16×20 rolled Canvas. Rolled canvas prints are perfect for home decor, photo prints, poster prints and signage.
Giveaway Prize: (1) Rolled Canvas for One Lucky Winner

Shipping: FREE UPS Ground Shipping in the US

Eligibility: Limited to US Residents
You can read about uPrinitng product reviews and customer reviews over here.
To win, simply leave a comment on this post describing what photo gifts you would like to have printed for your family and loved ones. For an extra entry, you can blog about this giveaway at your place. You can also receive an extra entry if you post this giveaway on Twitter. Be sure to come back and leave another comment letting me know you posted or tweeted about it!
A winner will be chosen by Random.Org on November 27, 2009.
Good Luck!
(Oh, and just in case the FCC police are still lurking around looking for someone to put in jail, I need to disclose that I am being compensated for writing this post with a 16×20 rolled canvas print just like the winner of this contest!)
That's it for this week!
Have a great week everybody.
———–
And the winner is….. Commenter #4
Random Integer Generator

Here are your random numbers:

4

Timestamp: 2009-11-29 03:48:34 UTC
Commenter #4 is Carrie from A Chocolate Covered To-Do List. Congratulations, Carrie! You will recieve an e-mail explaining how to claim your 16×20 canvas.
Typically, I have a tough time coming up with something different that works for me each week because I feel quite sure that y'all don't want to read about Dr. Pepper and Little Debbie cakes each week. Although if I'm being honest, I can't say those things actually work for me. It's just that I consume more than my fair share of both of those.
Anyway.
I did hear harps this week when my hair dresser introduced me to a super, new product, but I'll save that for next week, you know, because Works For Me Wednesday will come around again before we know it.
Instead, I thought I'd show you something neat that came in the mail today.
I received 200 of these.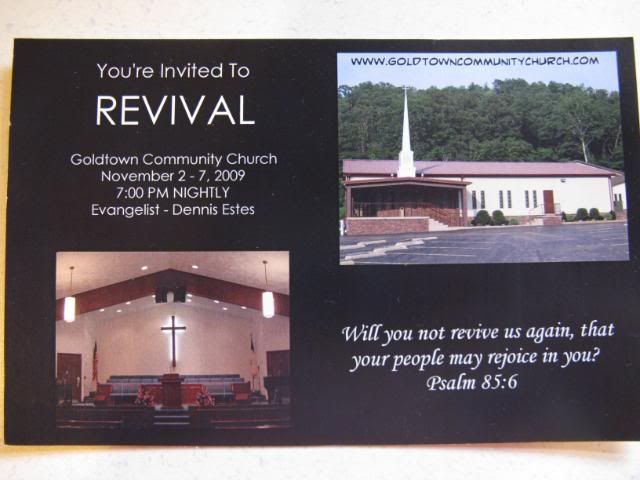 This happens to be a post-card announcing Revival at our lovely, little church.
One of my blog sponsors, Uprinting.com, offered 200 free post-cards to one of my readers. In addition to that, they offered me 200 free post cards, also.
They were simple to design and the end product is a high-quality, glossy post card.
Uprinting.com works for me!
Not only does UPrinting.com print business cards and a bunch of other things, they also do sticker printing and custom labels. That's all kinds of fun in one place! You can view their sticker printing page for some great ideas or you can design your own from scratch. Did I mention the easy design process?
And now, they are offering one of my readers (and me, too!) 250 custom stickers/labels.
Giveaway Prize Details
250 Stickers/Labels for One (1) lucky winner
Sizes: 2" x 3.5", 2" x 4", or 3" x 3"
Paper: 70 lb Label Matte
Specifications: Full color front, blank back; 4 Business Day printing
FREE UPS Ground Shipping in the USA (Canadian residents need to pay shipping and taxes). This offer is not available to residents outside the US and Canada.
To enter the contest, simply leave a comment telling me what you would use the stickers for. For an additional entry you can blog about the giveaway at your place and link back to this post and to UPrinting.  A winner will be chosen by the accounting firm or Random.Org on Sunday, October 25, 2009 by 11:00 pm EST.
———
In adherence to the FTC ruling on Blogger Reviews and Sponsored Postings – I WILL BE RECEIVING 250 stickers/labels from UPrinting.com for hosting this give-away.
Works For Me Wednesday is sponsored by Kristen over at  WE ARE THAT FAMILY.
——–
Random Integer Generator

Here are your random numbers:

2

Timestamp: 2009-10-23 00:11:28 UTC
The Winner is Commentor #2.
Tara at Minnesota Mama. Congratuations, Tara! UPrinting.com will be contacting you with information about how to claim your prize!!!!