Posts Tagged 'Cleaning products'
Some time ago, I was contacted by CSN Stores asking if I'd like to review another product from one of their [many] sites.
It took me a sweet forever because I am indecisive AND because they have over 200 stores that offer just about anything you or I or anyone else for that matter could dream of. If you're in the market for a laptop messenger bag, look no further. They also have entire sites dedicated to rugs, massage chairs, and even dutch ovens. Sadly, I am still not reviewing a massage chair, however, if you know anything about me and my never-ending pursuit to get a Saturn Sky for free, you know that I never give up.
I scoured the CSN sites and decided on something, then just before hitting "submit" I changed my mind, then changed my mind again.
I finally decided on this sweet little sucker. [Pun intended]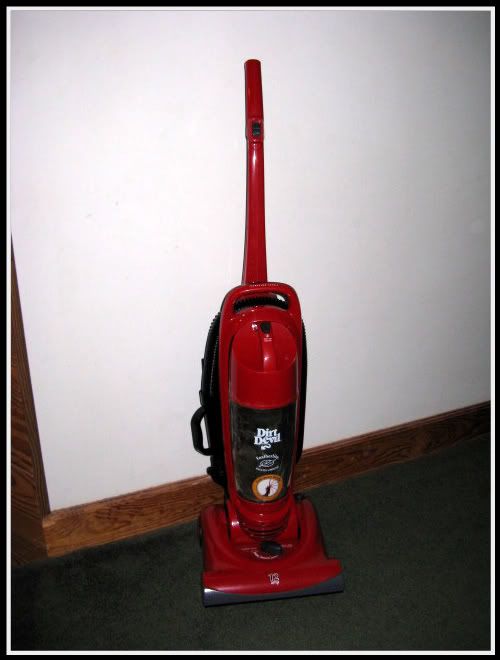 And look at this snazzy fold down handle, (which folds down all the way if the person winding the cord isn't in a big fat hurry)!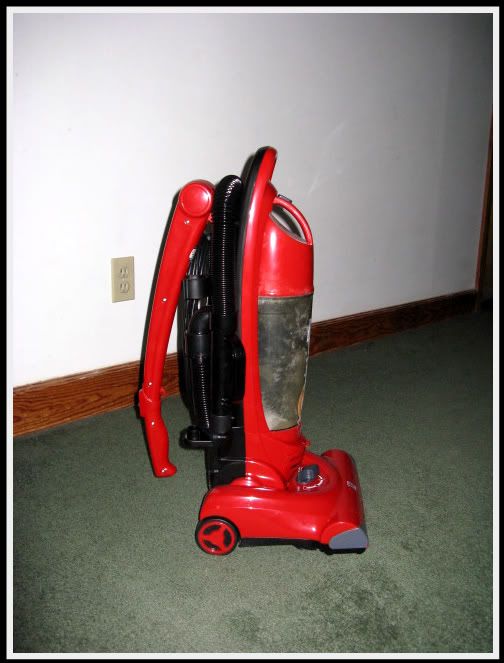 I have vacuumed four times this week just to use the thing AND I have even washed off the cylinder after emptying it just to keep it clean. It is super light and sucks like crazy. Ahem.
Plus, CSN Stores shipped the product super fast. CSN stores works for me!
Thanks to CSN Stores for the opportunity to review another fine product.
——
In the interest of full disclosure, I was given a $55.00 credit to be used to facilitate a review of the CSN sites, however, the opinions expressed in this post are my own.
I am a sucker for cleaning products because I love to clean. In fact, I don't do much else during the day except clean.
Or something like that.
On top of that, I live in a house with three males who couldn't care less about cleanliness and fingerprints and stained clothes, oh my!
So when I received a an e-mail from ecoStore USA asking if I'd like to review a couple of their products, I was tickled. You can read about the history of ecoStore USA here, but in a nut-shell, their web-site says this about their products.
Our eco friendly, plant-based household cleaning products are as effective as the leading supermarket brands, and our body and baby care ranges are gentle on your skin and are simply beautiful to use. All of our products are made from plant- and mineral-based ingredients, free of toxic chemicals that bring people closer to nature with non-toxic, environmentally safe solutions that also help to reduce our carbon footprint.
I chose the laundry powder and the all-purpose cleaner and ecoStore USA threw in a bar of lemongrass soap.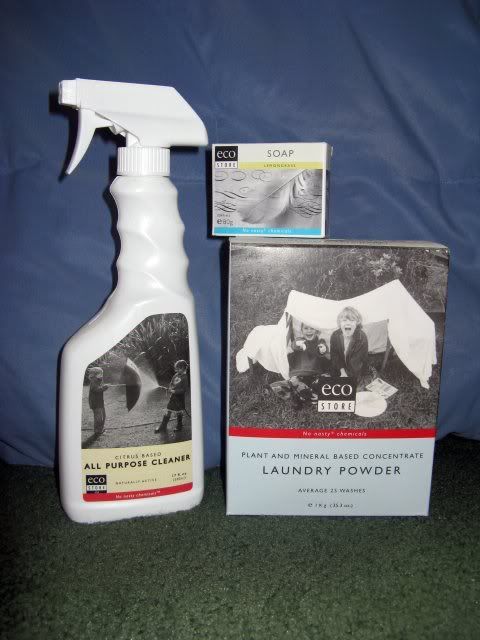 The first thing I noticed after opening the box was that the products had clear, clutter-free labels. I realize that the look of the label really has no bearing on the usefullness of a product. It's just that I'm a geek and I look at things like that. In fact, it's true that I purchased a cleaning product earlier this week because the bottle was red with a yellow lid and my heart smiled thinking how good it would look in my red and yellow laundry room.
True story.
I quit using powdered detergent a while ago and the main reason is because each time I used the powder detergent, I felt like I could taste it in the back of my throat.
Quirk?
Perhaps, but it's true.
So, the first thing I noticed is that I didn't have that "taste in the back of my throat thing" going on when I opened the powdered detergent.
Score.
I used the laundry powder on a normal load of whites and a normal load of dark colors. When I transferred the loads, I intentionally put the clothes under my nose to get a whiff of the scent.
The clothes had no scent whatsoever and did a great job on little boy and BIG boy stains.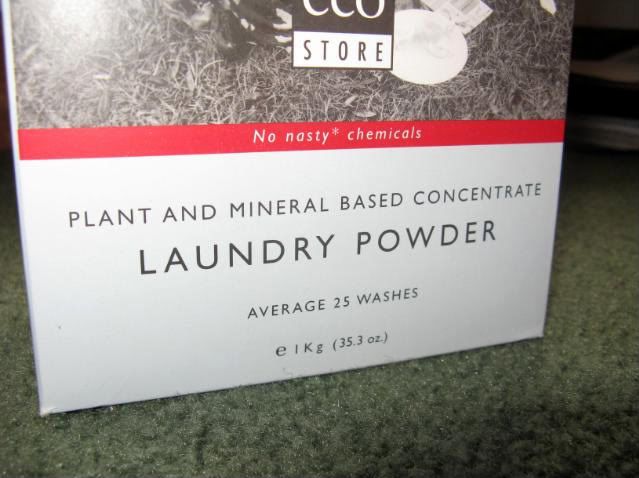 I used the citrus-based all-purpose cleaner to kick the bathroom grime in the booty. I started with the bathroom countertop. The orangy/lemony scent struck me first. I swiped the countertop AND the stainless faucets and the cleaner did a great job on both. I caught a glimpse of my smile in the countertop and smiled even bigger.
I then took to the bathtub to see what kind of job it would do on the grime.
Now.
It's important to note that I don't normally have grime in my bathtub. It's just that I knew these products would be arriving any day, so I've intentionally NOT cleaned the grime ring that loves to hang out in the tub.
Ahem!
I really don't enjoy cleaning the tub because it causes me to fold myself into positions that I don't feel comfortable being folded into. Not to mention, I always have visions of loosing my footing and ending up head first in the tub. Perhaps it would be easier if my arms were a couple feet longer. Or if I had a maid. But that's a whole 'nother story.
And kids, I must say the citrus based all purpose cleaner not only cleaned the grime ring, it made my tub sparkle like it hasn't sparkled since we put it in six years ago.
Shiny.
Clean.
And citrus.
It smells like an orange grove in my bathroom and I love it!
I finished my cleaning spree up with a good ole' hand washin' using ecoStore's lemongrass soap.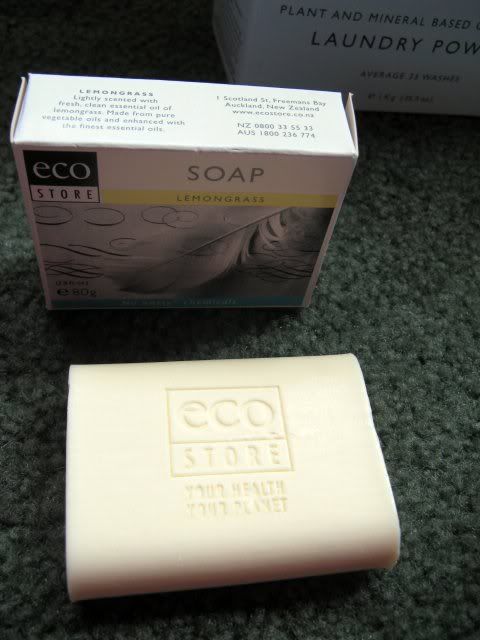 Not a whole lot to say about the soap except that it obviously washed my hands and it smelled good while doing it's 'thang'. And now that I think about its been several hours since I washed my hands and they still feel soft.
ecoStore is committed to reducing unhealthy chemicals. They use plant based surfactants, simple mineral salts and essential plant oils for effective results.
You can follow ecoStore on Twitter here (ecostoreusa) and on their Facebook fan page where they also have a quiz you can take. You can also sign up to recieve their newsletter here.
In the interest of full Disclosure – ecoStore USA sent the three products mentioned in this post to facilitate this review in exchange for my honest opinion of their products.