Typically, I have a tough time coming up with something different that works for me each week because I feel quite sure that y'all don't want to read about Dr. Pepper and Little Debbie cakes each week. Although if I'm being honest, I can't say those things actually work for me. It's just that I consume more than my fair share of both of those.
Anyway.
I did hear harps this week when my hair dresser introduced me to a super, new product, but I'll save that for next week, you know, because Works For Me Wednesday will come around again before we know it.
Instead, I thought I'd show you something neat that came in the mail today.
I received 200 of these.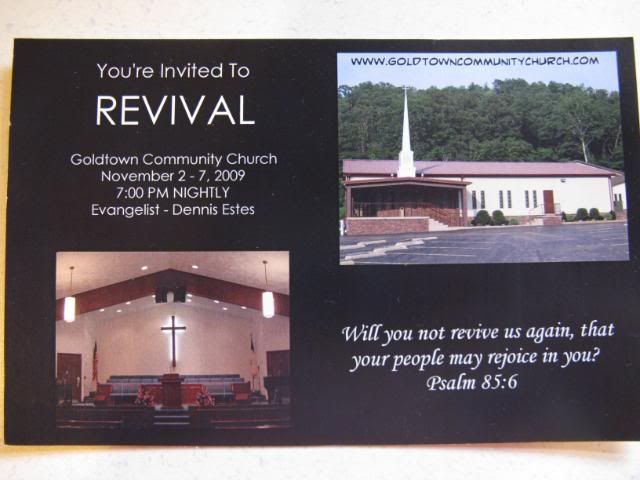 This happens to be a post-card announcing Revival at our lovely, little church.
One of my blog sponsors, Uprinting.com, offered 200 free post-cards to one of my readers. In addition to that, they offered me 200 free post cards, also.
They were simple to design and the end product is a high-quality, glossy post card.
Uprinting.com works for me!
Not only does UPrinting.com print business cards and a bunch of other things, they also do sticker printing and custom labels. That's all kinds of fun in one place! You can view their sticker printing page for some great ideas or you can design your own from scratch. Did I mention the easy design process?
And now, they are offering one of my readers (and me, too!) 250 custom stickers/labels.
Giveaway Prize Details
250 Stickers/Labels for One (1) lucky winner
Sizes: 2" x 3.5", 2" x 4", or 3" x 3"
Paper: 70 lb Label Matte
Specifications: Full color front, blank back; 4 Business Day printing
FREE UPS Ground Shipping in the USA (Canadian residents need to pay shipping and taxes). This offer is not available to residents outside the US and Canada.
To enter the contest, simply leave a comment telling me what you would use the stickers for. For an additional entry you can blog about the giveaway at your place and link back to this post and to UPrinting.  A winner will be chosen by the accounting firm or Random.Org on Sunday, October 25, 2009 by 11:00 pm EST.
———
In adherence to the FTC ruling on Blogger Reviews and Sponsored Postings – I WILL BE RECEIVING 250 stickers/labels from UPrinting.com for hosting this give-away.
Works For Me Wednesday is sponsored by Kristen over at  WE ARE THAT FAMILY.
——–
Random Integer Generator

Here are your random numbers:

2

Timestamp: 2009-10-23 00:11:28 UTC
The Winner is Commentor #2.
Tara at Minnesota Mama. Congratuations, Tara! UPrinting.com will be contacting you with information about how to claim your prize!!!!