For quite some time I have been visiting the (in)courage blog. Can you guess what their goal is? Yup, you guessed it. Their goal is to encourage women. (In)courage began as several women at Dayspring – (a Christian subsidiary of Hallmark) – sought to create a "new home for the hearts of women."
The i(in)courage web-site says:
Our relationship with God keeps growing all of our lives and we hope (in)courage will be part of that journey for you. The (in) actually represents being in Christ and then in community with each other…this is our heart and prayer for all of us.
With over thirty contributing writers, (in)courage is a great big bundle of encouragement wrapped up in one really cool package. With a place to network, a place to shop, a book club, a virtual community, and daily posts that are sure to encourage, there is something for everyone.
Several weeks ago I had the opportunity to review an item from (in)courage and Dayspring. I received a beautiful piece of jewelry that I could not wait to open. The necklace - a beautiful unique conversation piece – is called "God's Heart For You" and I love it! Engraved on the four sides of the long pendant are the words: cherished; created; celebrated and chosen. As in, I AM cherished, created, celebrated and chosen BY GOD.
That means, I am cherished even though I am flawed. I am created by God, big mouth and all. I am celebrated by God though I fail him daily. And I am chosen by God even though there are so many others far better suited than I. What a great reminder this necklace is for me.
The clasp includes a small tag engraved with Psalm 19:14. Included with the necklace is a small card with a scripture reference for each of the words.
Created – Psalm 139:14
Chosen – Deuteronomy 14:2
Celebrated – Zephaniah 3:17
Cherished – Jeremiah 31:3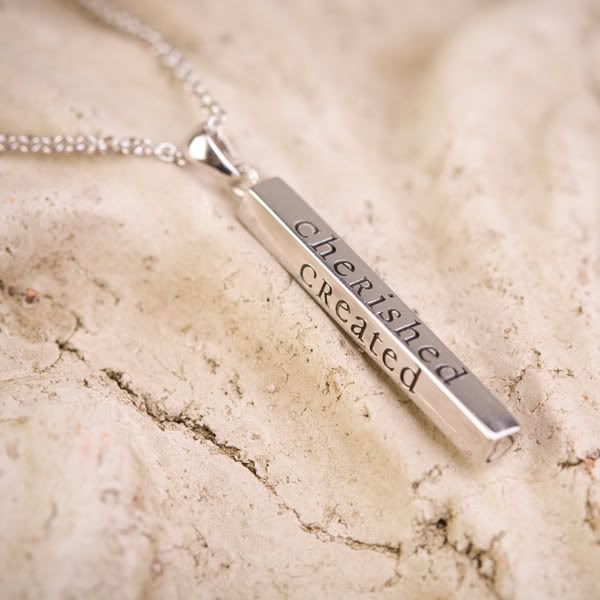 photo courtesy of  (in)courage.
In addition to the awesomeness of the necklace, the fine folks over at (in)courage and Dayspring are offering  a $20 gift credit to one lucky From Inmates To Playdates reader. If you win, you can visit the Dayspring Store to get your very own "God's heart for you" necklace OR you may choose something else.
To enter, simply post a comment here by midnight on February 19. I'll choose a winner at random on February 20.
Easy peasy.
But wait, there's more!
Even if you aren't the lucky winner, Dayspring is offering 25% off of the "God's heart for you necklace" during the month of February and all you need to do is enter the code LOVE25 at the time of your order. (Shipping charges will still apply). This unique necklace is a beautiful reminder of how important we are to God.
——
In the interest of full disclosure, I was provided with the necklace pictured (and a $20. gift code to give away) to facilitate this review. As always, all opinions expressed in this post are my own.
—–
UPDATED TO ANNOUNCE WINNER:
Random Integer Generator

Here are your random numbers:

31

Timestamp: 2011-02-21 02:55:22 UTC
CONGRATULATIONS to commenter #31 – Trisha who commented on February 19th @ 2:20 PM.
I will be in contact with you shortly.