Archive for the 'Giveaways' Category
If you've spent anytime around these parts, you would know that I love shopping for new furniture. My current shopping attention has been focused on finding Alex a big-boy bed and moving our television to a new location. For that reason, I've been scouring the internet and local furniture stores to find just what I've McDaddy and I have been looking for. My search for a big boy bed landed me on CSN's site and while I was there, I happened on to some really cool LCD TV stands.
I have purchased several things from CSN Stores and love that they have such a wide selection of items and products. I was surprised to find the bed that we are currently shopping for on the CSN site as well.
Only, I should note that we are looking at this same bed in a natural finish with bright red knobs, (Alex's favorite part of the bed!) instead of the white. I love that this bed is versatile, heavy duty and makes full use of space. It works for me!
As luck would have it, the fine folks at CSN Stores are offering one lucky reader a $55.00 promotional code to use on anything they wish from any of their 200+ websites for shoes, decor or anything in between. All you have to do to enter is leave a comment telling me about the last thing you bought.
Easy peasy, right?
I would love to tell you that the last thing I bought was a Saturn Sky, but alas it is not. Sadly, the last thing I purchased was an antibiotic and neti pot at our local pharmacy.
The giveaway will close on Sunday, March 27th at 9:00 PM EST at which time Random.Org will choose a winner.
——
In the interest of full disclosure: CSN Stores is providing a $55.00 promotional code to give away to one lucky reader. As always the opinions expressed in this post are my own.
—–
And the winner is:
Random Integer Generator

Here are your random numbers:

1

Timestamp: 2011-03-28 03:27:55 UTC
Congratuations, Missy who does not have a blog but commented on March 22, 2011 @ 12:50 pm :
Let's see.. Last thing I purchased was Avery postcards to print. Hairspray, coffee, a huge ball, sippy cups, and citrus green tea! Lol.
For quite some time I have been visiting the (in)courage blog. Can you guess what their goal is? Yup, you guessed it. Their goal is to encourage women. (In)courage began as several women at Dayspring – (a Christian subsidiary of Hallmark) – sought to create a "new home for the hearts of women."
The i(in)courage web-site says:
Our relationship with God keeps growing all of our lives and we hope (in)courage will be part of that journey for you. The (in) actually represents being in Christ and then in community with each other…this is our heart and prayer for all of us.
With over thirty contributing writers, (in)courage is a great big bundle of encouragement wrapped up in one really cool package. With a place to network, a place to shop, a book club, a virtual community, and daily posts that are sure to encourage, there is something for everyone.
Several weeks ago I had the opportunity to review an item from (in)courage and Dayspring. I received a beautiful piece of jewelry that I could not wait to open. The necklace - a beautiful unique conversation piece – is called "God's Heart For You" and I love it! Engraved on the four sides of the long pendant are the words: cherished; created; celebrated and chosen. As in, I AM cherished, created, celebrated and chosen BY GOD.
That means, I am cherished even though I am flawed. I am created by God, big mouth and all. I am celebrated by God though I fail him daily. And I am chosen by God even though there are so many others far better suited than I. What a great reminder this necklace is for me.
The clasp includes a small tag engraved with Psalm 19:14. Included with the necklace is a small card with a scripture reference for each of the words.
Created – Psalm 139:14
Chosen – Deuteronomy 14:2
Celebrated – Zephaniah 3:17
Cherished – Jeremiah 31:3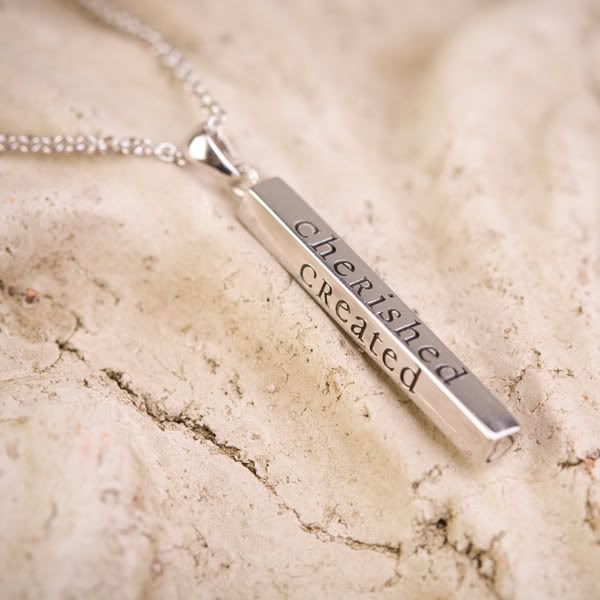 photo courtesy of  (in)courage.
In addition to the awesomeness of the necklace, the fine folks over at (in)courage and Dayspring are offering  a $20 gift credit to one lucky From Inmates To Playdates reader. If you win, you can visit the Dayspring Store to get your very own "God's heart for you" necklace OR you may choose something else.
To enter, simply post a comment here by midnight on February 19. I'll choose a winner at random on February 20.
Easy peasy.
But wait, there's more!
Even if you aren't the lucky winner, Dayspring is offering 25% off of the "God's heart for you necklace" during the month of February and all you need to do is enter the code LOVE25 at the time of your order. (Shipping charges will still apply). This unique necklace is a beautiful reminder of how important we are to God.
——
In the interest of full disclosure, I was provided with the necklace pictured (and a $20. gift code to give away) to facilitate this review. As always, all opinions expressed in this post are my own.
—–
UPDATED TO ANNOUNCE WINNER:
Random Integer Generator

Here are your random numbers:

31

Timestamp: 2011-02-21 02:55:22 UTC
CONGRATULATIONS to commenter #31 – Trisha who commented on February 19th @ 2:20 PM.
I will be in contact with you shortly.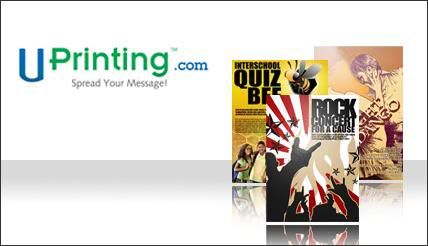 It probably comes as no surprise that I love to take photographs of my boys.
And my hubby.
And Saturn Skys.
Pictures make me all happy and giddy.
Big poster print pictures make me even giddier.
Like I say, "Go big, or go home!"
So when uPrinting dot com contacted me about hosting a give-away, you can just about imagine that the giddyness and such was almost more than I could handle. At uPrinting, Color printing services are available for a host of custom products.
Online Poster Printing has generously offered one 18×24 high-gloss, semi-gloss print to one lucky reader. Their print posters would make a great addition to any room in your home or office.
I know this because uPrinting print posters adorn the walls of our playroom. And they make me smile every time I walk into the room.
This give-away will run through the month of May.
Give-away Details -

a.        Shipping: FREE UPS Ground Shipping

b.        Eligibility: Limited to US Residents only

c.        You must be at least 18 years old to enter.
A winner will be drawn at random on Thursday, May 27, 2010.
To enter, leave a comment telling me what makes you giddy!
That's all.
Good luck!
—–
In the interest of full disclosure – I am receiving an 18×24 poster print as compensation for this post, however, the opinions stated in this post are my own!
So there.
——-
UPDATED TO INCLUDE WINNER
Random Integer Generator

Here are your random numbers:

1

Timestamp: 2010-06-10 01:27:46 UTC
Congrats to Jessica of Moneyless Mama's!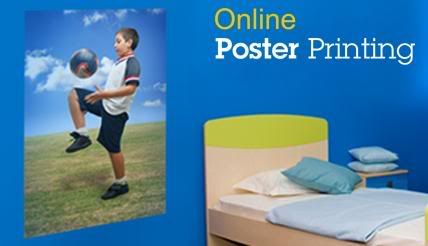 We are in the midst of some serious basement reconstruction. Among the reconstruction is a new playroom. In preparing for the remodel, I have been planning the wall art in my head for months. I received two beautiful poster prints for that wall from Online Poster Printing. I was impressed with the quality, the ease of uploading, and the final product.
My digital photos on posters turned out beautifully and I can't wait until the carpet we ordered is installed in the room so I can place my poster prints on the wall.
Online Poster Printing has generously offered to sponsor a Giveaway here at From Inmates To Playdates. They are offering one of my readers (and me, too!) an 18×24 Poster Print. Their digital photo enlargements would make a great addition to any room in your home or office.
The Giveaway Details
18×24 Print for One (1) Winner

Paper Stock: High Gloss or Semi Gloss

Shipping: FREE UPS Ground Shipping

Eligibility: Limited to US Residents only
To win, simply leave a comment telling me what type of picture you would have printed into a poster if you are the winner.
Be sure to leave a valid e-mail address so you can be contacted if you win.
A winner will be chosen courtesy of Random.Org on February 26, 2010 at 11:00pm ET.
——
In the interest of full disclosure, I am receiving an 18×24 Poster Print as compensation for this give-away, however, the opinions expressed in this post are my own and have no bearing on the appreciation prize awarded.
——
UPDATED TO ANNOUNCE THE WINNER
Random Integer Generator

Here are your random numbers:

8

Timestamp: 2010-02-25 04:34:52 UTC
Congratulations to The Mrs. of Trying Our Best who commented at 10:26pm on February 24, 2010.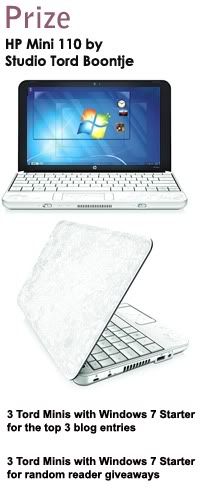 This little Mini 110 could be mine, if I can come up with a creative rhyme.
To keep this simple, I thought I might, tell how this HP Mini could simplify my life.
While sitting at school in the pick-up line, I could find me and McDaddy a place to dine.
And after downloading my pics to this handy gem, I could crop and edit each one of them.
The Mini 110 by Studio Tord Boontje, would make life simpler for this hip hoochie. (sorry, it rhymed!)
With built-in WiFi, I could blog on the run, and even facebook in my grocery- getter van  just for fun.
The super small notebook sure is cool, it would come in handy for PTA stuff at Stevie's school.
The two-pound notebook would simply my life, as a busy mom of two and a superwife.
While my boys plated at McDonalds, I could send an e-mail to find a sitter, or use the notebook to send a tweet on Twitter.
So hopefully this rhyme will strike a chord, from this gal in WV who hasn't the time to be bored.
My life will be easy and with lots less stress, because the little notebook will help organize the mess.
———
HP and five-time Olympian Dara Torres want you to imagine how an HP Mini with  Windows® 7 Starter could simplify your everyday tasks, work the way you want, and make new things possible. Dara uses the 3.22 lb HP Mini 311 with its full-size keyboard and 11.6" HD screen to balance a grueling training schedule with her family life and work on her upcoming fitness book. She also uses Windows® 7 features like Jumplists, Shake, Snap, and Pin to help her manage all her digital content.    — Taken from the Mom Bloggers Site
The three most creative blogger entries will win a new HP Mini 110-1100 by Studio Tord Boontje PC Notebook, and even better, three readers who post comments on any of the blogger entry posts will also win. The contest ends at midnight Eastern Time on January 20, 2010, so be sure to post your comment before then. The winner will be selected randomly by Random.org and will be based on the the order in which bloggers post their entries on Twitter.
The winners will be announced on Friday, January 29, 2010 and you can bet I'll be crossing my fingers until then.
So come out from behind the bushes and leave me a comment telling me how the HP Mini would simply YOUR life!
—–
This post was written as an entry into a contest to win an HP Mini and was not compensated in any way.
Ever since I started participating in Jo-Lynne's What I Learned This Week carnival, I pay special attention (and keep a running tally in my beloved iPhone) of those little things that happen throughout the week that would typically be forgotten one minute after they occur.
Because most of those little things typically become the bulk of my What I Learned This Week post.
And this week is no different.
For starters, I learned that you can buy a customized box of crayons over at Crayola. While I have no idea why one might want an entire box of crayons, I smile because I would have loved to customize my own box of sweet smelling crayola crayons. You can go there to read more about it or order a box for someone you love. (Oh, and just in case the FCC police stop by, I am not being compensated for this post, I just think this is a really cool idea!)
2. If you rent a movie from the movie store and you are one day late returning it, you will be charged for a whole 'nother week, so you should just keep it until Wednesday.
3. When ordering Longaberger purses for Christmas gifts from their web-site, you should pay close attention to the measurements of the purses you are ordering or you might end up ordering a fur-lined children's purse for $7.50 that is 3 inches wide. Seriously. Oh, and when you call to complain about the size of the 'purse' the lady on the other end will politely inform you that the measurements are plainly stated on the site.
Why yes, crazy lady, perhaps I should have paid closer attention, however, I also expect you folks at Longaberger to charge a reasonable price for your products which doesn't include a 3 1/2 inch purse for $7.50. The little piece of material wouldn't even hold seven dollars and fifty cents.
4.  When you are helping to sort cookie dough for a school fund-raiser, you can expect to do some heavy lifting.
5. A princess doesn't like to do anything that involves heavy and lifting.
6. A nebulizer is a handy thing to have around if your children are prone to wheezing every time they get a cold. (I am thankful that many years ago, our insurance company decided to buy one instead of renting it. It has paid for itself time and time again!)
7.  Remodeling is a slow process. (I am thankful McDaddy is talented and can do most things. I am also thankful that what McDaddy can't do, MyDaddy can!)
8. A two-hour road-trip is a great time to sign 200 Christmas cards. (Unless of course you are driving on a poorly maintained road.)
9. If you begin your post early enough in the evening, you can go to bed at a decent hour which means your morning will go much smoother.
10. You can put metal in some microwaves.
11. Either chocolate vanilla creme poptarts are either no longer made or our local grocery store is no longer carrying them.
12. Not being able to purchase chocolate vanilla creme poptarts makes me wish I could have one.
13. The ranch dressing at Outback is better than the Blue Cheese. (I don't think I've ever uttered those words, but its true!)
14. Large Format Posters offer some great products.
In preparation for the Holiday season LargeFormatPosters.com is rolling out another giveaway – 16×20 rolled Canvas. Rolled canvas prints are perfect for home decor, photo prints, poster prints and signage.
Giveaway Prize: (1) Rolled Canvas for One Lucky Winner

Shipping: FREE UPS Ground Shipping in the US

Eligibility: Limited to US Residents
You can read about uPrinitng product reviews and customer reviews over here.
To win, simply leave a comment on this post describing what photo gifts you would like to have printed for your family and loved ones. For an extra entry, you can blog about this giveaway at your place. You can also receive an extra entry if you post this giveaway on Twitter. Be sure to come back and leave another comment letting me know you posted or tweeted about it!
A winner will be chosen by Random.Org on November 27, 2009.
Good Luck!
(Oh, and just in case the FCC police are still lurking around looking for someone to put in jail, I need to disclose that I am being compensated for writing this post with a 16×20 rolled canvas print just like the winner of this contest!)
That's it for this week!
Have a great week everybody.
———–
And the winner is….. Commenter #4
Random Integer Generator

Here are your random numbers:

4

Timestamp: 2009-11-29 03:48:34 UTC
Commenter #4 is Carrie from A Chocolate Covered To-Do List. Congratulations, Carrie! You will recieve an e-mail explaining how to claim your 16×20 canvas.
Typically, I have a tough time coming up with something different that works for me each week because I feel quite sure that y'all don't want to read about Dr. Pepper and Little Debbie cakes each week. Although if I'm being honest, I can't say those things actually work for me. It's just that I consume more than my fair share of both of those.
Anyway.
I did hear harps this week when my hair dresser introduced me to a super, new product, but I'll save that for next week, you know, because Works For Me Wednesday will come around again before we know it.
Instead, I thought I'd show you something neat that came in the mail today.
I received 200 of these.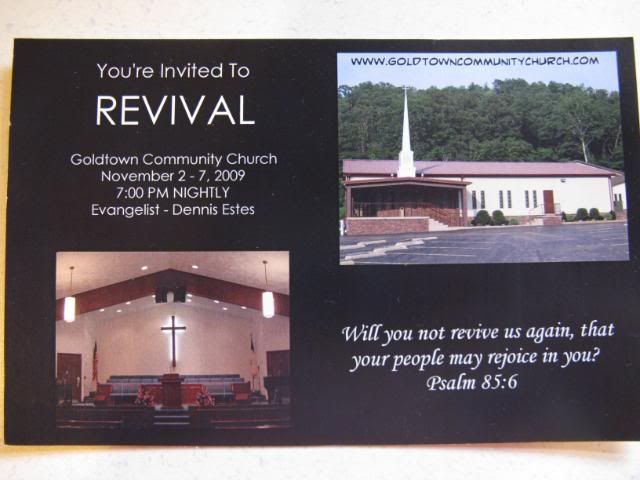 This happens to be a post-card announcing Revival at our lovely, little church.
One of my blog sponsors, Uprinting.com, offered 200 free post-cards to one of my readers. In addition to that, they offered me 200 free post cards, also.
They were simple to design and the end product is a high-quality, glossy post card.
Uprinting.com works for me!
Not only does UPrinting.com print business cards and a bunch of other things, they also do sticker printing and custom labels. That's all kinds of fun in one place! You can view their sticker printing page for some great ideas or you can design your own from scratch. Did I mention the easy design process?
And now, they are offering one of my readers (and me, too!) 250 custom stickers/labels.
Giveaway Prize Details
250 Stickers/Labels for One (1) lucky winner
Sizes: 2" x 3.5", 2" x 4", or 3" x 3"
Paper: 70 lb Label Matte
Specifications: Full color front, blank back; 4 Business Day printing
FREE UPS Ground Shipping in the USA (Canadian residents need to pay shipping and taxes). This offer is not available to residents outside the US and Canada.
To enter the contest, simply leave a comment telling me what you would use the stickers for. For an additional entry you can blog about the giveaway at your place and link back to this post and to UPrinting.  A winner will be chosen by the accounting firm or Random.Org on Sunday, October 25, 2009 by 11:00 pm EST.
———
In adherence to the FTC ruling on Blogger Reviews and Sponsored Postings – I WILL BE RECEIVING 250 stickers/labels from UPrinting.com for hosting this give-away.
Works For Me Wednesday is sponsored by Kristen over at  WE ARE THAT FAMILY.
——–
Random Integer Generator

Here are your random numbers:

2

Timestamp: 2009-10-23 00:11:28 UTC
The Winner is Commentor #2.
Tara at Minnesota Mama. Congratuations, Tara! UPrinting.com will be contacting you with information about how to claim your prize!!!!
This give-away post is sponsored by LargeFormatPosters.com.
LargeFormatPosters.com has generously offered to sponsor a Giveaway here at From Inmates To Playdates. They are offering me and one of my readers a High-gloss or Semi-gloss 18×24″ poster print.
I recently received my own 18X24 poster print from them and I was so pleased with the way it turned out. It makes me smile. It was taken on a camping trip last year.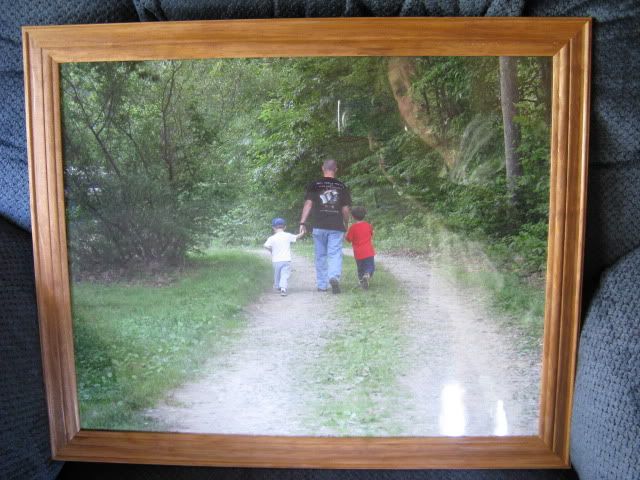 If you look closely, it appears that I am peeking through the trees in the upper right hand corner watching my fellas walk by. In reality, I am doing my best to avoid glare on the print for this post!
THE PRIZE WINNER WILL RECEIVE

(1) 18×24 rolled poster print.
To enter, simply leave a comment explaining how you will use the 18×24 Poster Print. Offer is open to US residents only. Free UPS Ground Shipping is included for the winner. Only one comment per person, please.
For an extra entry, you may blog about the giveaway on your blog and link back here to my blog. Within the post, link also to Large Format Posters.Com. Then, come back here and leave the URL for your post for your extra entry.
Contest will run until September 28th at 11:59pm est.
The winner will receive their free 18×24 poster print using the sponsor's website.
Good Luck!
————
CONTEST CLOSED
Random Integer Generator

Here are your random numbers:

5

Timestamp: 2009-09-30 12:25:26 UTC
Winner is Michelle R. who does not have a blog, but commented on 2009/09/22 at 11:26am
Congratulations, Michelle!
I love to design stuff.
And I love free stuff.
So, with those two things in mind, it is with great pleasure that I make the following announcement.
One of my bloggy sponsors, Uprinting.com contacted me about a great give-away.
They are offering two of my readers, 500 free post-cards. You can personalize your custom postcards for Invitations, thank you cards, announcements, holiday greetings, custom greeting cards or anything else you can think of.
The possibilities are endless. You could use these custom post cards as an extra special invite to your next party or event.
As a sponsored blogger, they are even giving me a free set of post cards.
I am deciding between holiday greeting cards or invitations to our Fall Revival at our church.
Or Alex's birthday party.
Or thank you cards.
Decisions. Decisions.
Anyway, here are the facts….
(2) PRIZE WINNERS WILL RECEIVE

200 Custom Postcards (choose your size: 4×6, 4.25×6, 5×7″); 14pt gloss or matte, 13 pt uncoated

Full Color on both sides (4/4)
To win, simply leave a comment telling me what you will use the custom post-cards for.
A winner will be chosen at random with the help of Random.Org on Thursday, September 3rd at 11:00 pm ET.
Contest is open to US Residents only and winners are required to pay shipping costs.
Good Luck!
Thanks to Uprinting Dot Com for a great give-away!
(Give-away is now closed!)
Congratulaltions to the following commentors

Random Integer Generator

Here are your random numbers:

10
11

Timestamp: 2009-09-04 03:54:27 UTC
10 – Julie at Organizement who commented on September 2nd, 2009 4:10 pm
11 – Amber who does not have a blog, but commented on September 3rd, 2009 10:17 pm
Congratulations ladies! I can't wait to hear how you use your custom post-cards!  Enjoy!
You may have noticed that I have an advertisement and bloggy button on my right side bar for Online Poster Printing. I happen to be a sponsored  blogger with Online Poster Printing which means they advertise my blog and I advertise for their site. That also means that they generously host give aways on my blog and offer extra perks to me as the blogger.
They recently gave me a free 16X20 poster print of this picture. It is beautiful and will look perfect hanging in our newly remodeled basement. (Even if it takes me seven years to strip the wallpaper.)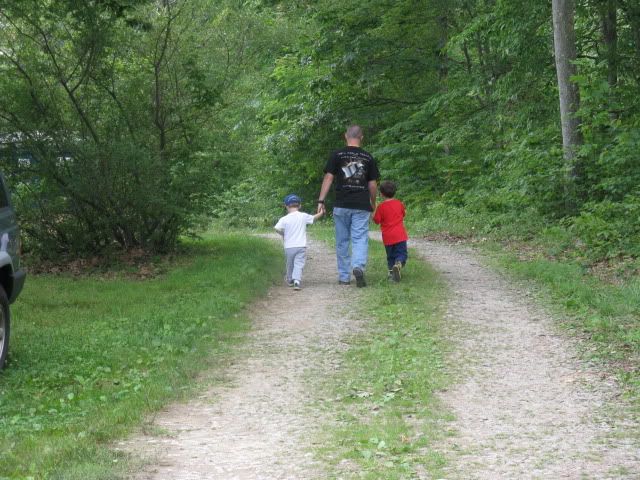 And if you think this little picture is cute, you should totally see it as a poster.
I absolutely love it!
And now, they are offering me 500 free business cards to promote my blog. I appreciate the kind folks at uprinting.com for including me in their blog sponsorship program and for the free bloggy business cards.
Why UPrinting.com isn't your average printing company:
Blog Sponsorships:
If you are looking to find a sponsor for your blog, UPrinting.com is definitely interested. We offer giveaways, advertising and more for qualified bloggers.
Non-Profit Sponsorships:
The U-Community Program sponsors hundreds of non-profits and education to improve our local communities.
Social Justice Projects:
The UPrinting Kiva account promotes small business growth in developing countries.
Green Printing:
UPrinting supports a sustainable future by recycling, using non-toxic inks, and offering eco-friendly recycled paper stocks for business cards and postcard printing.
Now, head over to Online Poster Printing and check it out for yourself.