If you're a regular around here, you may remember that I joined a Biggest Loser contest and had a successful several weeks that helped me lose eight pounds. And then, life happened, and the next thing I knew those eight pounds were back, which is so unfortunate because the only thing worse than losing pounds, is having to lose the same pounds over again.
So when my Biggest Loser organizer friend Tracy posted on Facebook that she was starting up a Clean Eating group challenge and asking if anyone would be interested in joining the group, I was all like, what the heck is clean eating.
As I researched it a little further, I was happy to find out that this clean eating program required no supplements, no products, or exercise out of the home. All it required was commitment.
The 16 of us are in the third and final week of the clean eating challenge. We each paid $35. to join the group – which is headed up by a certified personal trainer – and at the end of the challenge any of us losing eight inches or three percent of their body weight will split a percentage of the fees.
Since sharing that I started a clean eating challenge, I've had several [read: LOTS] of messages asking if I'd share how to eat clean. So, instead of typing the info over and over, I thought it might be easiest to share the details here. Although it is so much better for you to eat "clean" it does require more time planning, prepping and cooking meals. Participants in our group were encouraged to pick a day and prep all of the food for the week, or at the very least, have a meal plan in mind for the week.
To kick things off, this is what I bought my first week.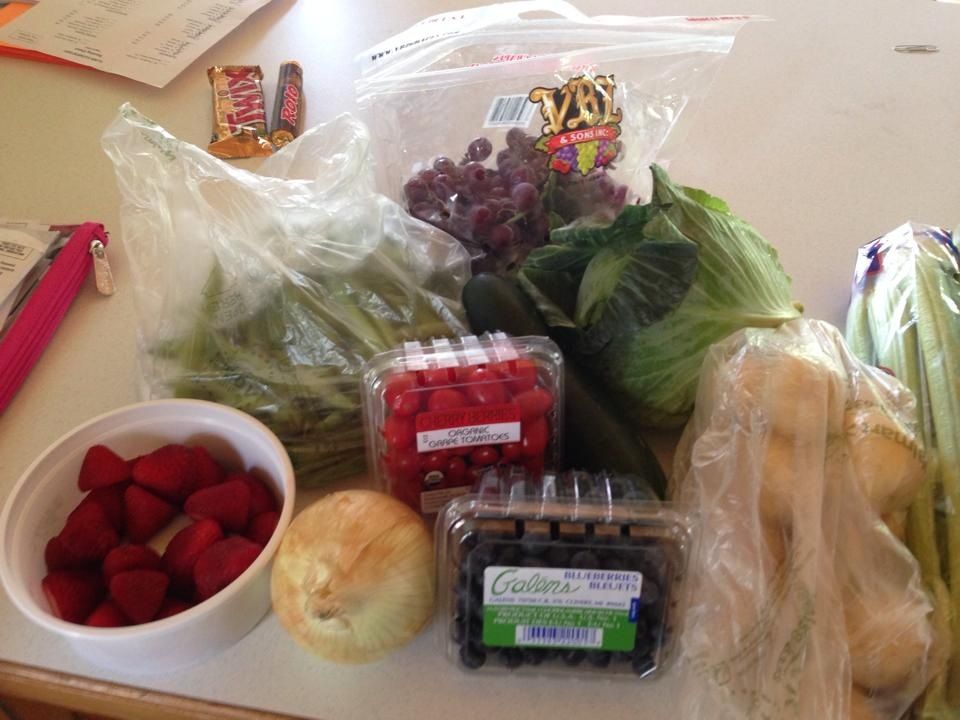 If it is impossible, to purchase a large amount of food at once, try choosing three or four each week. My motto is if you can't eat CLEAN, at least eat CLEANER.
"Clean eating" is not a new concept; it has actually been around for a long time. If you are not accustomed to "eating clean" it may take some time and practice to get 100% "clean".  Unprocessed, natural state foods have a different taste than frozen and processed foods, meaning that it will take some willpower to stick with the program.
The premise of this lifestyle change is pretty simple. (Notice, I said lifestyle change, and not DIET.)
CLEAN EATING – Don't Wait DO THESE EIGHT!
1. Choose whole, natural foods and seek to eliminate or minimize processed foods.
Processed foods are anything in a box, bag, can, or package, and although there are always a few exceptions to the rule (like a bag of fresh green beans), the majority of your foods should be fresh. (I love that the Steamer bags of veggies (the ones without the cheese sauces) that I've been buying for years are also okay.)
2. Choose unrefined over refined foods.
While it may not be possible all the times, you can up your intake of whole grains like brown rice and quinoa (pronounced kin-wa). Beans and legumes are also important. Clean sugars include honey, maple syrup, and dehydrated sugar cane juice.
3. Include *some* protein, carbohydrate and fat at every meal.
Most of us typically easily include carbohydrates and fat, but we often lack protein, especially during breakfast and lunch. Protein is an important muscle-builder, and it can also help in curbing your appetite. When eaten throughout the day, it helps us to feel full longer. Pay close attention to the kinds of meals you put together and space out your protein.
4. Eat fewer ingredients.
Try not to purchase foods that have more than 4-6 ingredients in the ingredients list. If you can't pronounce it, it probably shouldn't go into your body. (Just because a food is labeled as whole grain, you will need to look at the ingredients list. Packaging can be misleading, ingredients lists are not.)
5. Watch out for fat, salt, and sugar.
THIS RIGHT HERE IS MY BIGGEST WEAKNESS because oh my word, I love the bread. And the sweets. And the Mexican food. Once you've cut out processed foods, this will be a little easier than you might think. Processed foods are responsible for most of our excess calories and high levels of fat, sugar, and salt. Clean foods are usually naturally low in ALL of these ingredients.
6. Eat five to six small meals throughout the day.
Typically, this might mean eating three main meals and two or three clean snacks. Eating this way prevents you from skipping meals and overeating. It also keeps your blood sugar levels steady so there's also that! (In addition to my three meals, I try to eat a handful or almonds, a cheese stick or a handful of grapes at various times throughout the day.)
7. Steer clean of  high-calorie drinks.
High calorie drinks like fancy coffees and soft drinks – on average – tack on an extra 400 to 500 calories a day. Choose water when at all possible. Other clean drinks: low-fat or skim milk, almond milk and 100 percent fruit juice diluted with sparkling water. (I am happy to report that after a long, loving relationship, I have given up my beloved Coca-Cola classic, and now drink mostly water or unsweet tea during meals.)
8. Get up and move.
Regular physical activity is a must for many reasons. Not only does it decrease fat, strengthen and build muscle, and help you burn more energy at rest, it keeps your heart, lungs, and bones healthy and strong. (My favorite 'get up and move' is riding my exercise bike or dancing around the house while I do daily chores like laundry, tidying up or vacuuming.)
Here are a few pictures from my first week of eating clean to give you an idea of what to eat.
Tomorrow, I'll provide a list that you can use to do your CLEAN grocery shopping, so stay tuned for that.
That's what I learned this week.
How about you?
To join in on the What I Learned This Week carnival, simply follow these steps.
1. Any time this week, publish your What I Learned This Week post on your blog and link to this post.
2. Link up with the Mr. Linky form down below. Please put the link to your POST, not the front page of your blog.
3. Then visit the other participants and see what they learned this week.
Easy as 1-2-3.