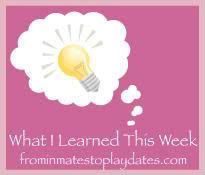 I have decided I am going to hop back on the bloggy bandwagon. It has been some time since I've blogged regularly. I have so much to say, but I've been tired and busy and well, sometimes I just wonder if my business is all that interesting. Add that to the fact that I have a pre-teen kid who is becoming more and more self-conscious about what all I am sharing on the blog and well, you get my drift.
When I do start blogging again, I will definitely have to be careful what I share about him.
Can I just have my sweet LITTLE, INNOCENT, BABY BOY back, pretty please?
I've learned a lot this week. And lucky for you, this is Monday, which means, it's time to share it all with you.
Here's what I learned this week.
1. Just because a Doctor refers you to another medical professional requesting a test, that doesn't mean that the medical professional will actually do that test. I should know, as I've attempted to have the same test done TWICE by two different Doctors with no success.
2. I am never ready for Christmas to be over.
3. I love my Christmas tree and wish I could leave it up for months without seeming like a dork.
4. I will never understand grown adults who go out in public in pajamas.
5. Mint M&Ms are the bomb diggity.
6. In my humble opinion, a theme park that closes at 6:00 pm is perfect.
7. A yorkie is a great companion for a 9-year old boy.
8. Joe Boxer always has some kind of crazy holiday commercial nonsense. But I'd be lying if I said their latest marketing campaign didn't make me giggle.
9. Everyone should have a friend that they can send random texts throughout the day to.
10. I always get the heebie-jeebies watching Dateline.
11. Once a puppy gets to be a certain age, apparently they get big and brave and think it is perfectly acceptable to run straight to the road and hang out there.
12. A new, fresh calendar excites me.
That's what I learned this week.
Now, what did YOU learn?
To join in on the What I Learned This Week carnival, simply follow these steps.
1. Any time this week, publish your What I Learned This Week post on your blog and link to this post.
2. Link up with the Mr. Linky form down below. Please put the link to your POST, not the front page of your blog.
3. Then visit the other participants and see what they learned this week.
Easy enough?
GO!