I spent yesterday sitting around my dining room table with three PTA volunteers from Stevie and Alex's school. We closed out a fund-raiser and had the tedious task of processing the orders and counting all the money. As women often do, we talked about a wide variety of topics. At one point, we even talked about funerals. It reminded me of a post I wrote early on here on the blog. I dedicated an entire post to my funeral.
Yes, I said funeral.
And yes, I am crazy.
And as if that's not enough, I am a control freak. (I am a joy to live with. Just ask McDaddy.) So, while I'm still living and breathing and controlling stuff, I thought Id take another opportunity to outline my wishes for my funeral.
It will be one final attempt to have full control over my life. Even if I no longer have it.
That, and because one can never be too prepared.
Oh, and in case I kick off, could one of y'all remind McDaddy about this post?
First, I want the best coffin money can buy. Mahogany, perhaps?
Expensive?
Well sure but, look at it this way. My coffin will be the absolute last gift anyone will ever buy for me. Ever. So, why not splurge? Especially when you consider that it will be my final resting place.
Sounds final, doesn't it?
My first choice would be a Longaberger Basket Casket, but if the Longaberger's haven't created that bad boy (which makes no sense, because y'all know they would sell!) a top-of-the-line solid mahogany casket will be fine.
This one is perfect.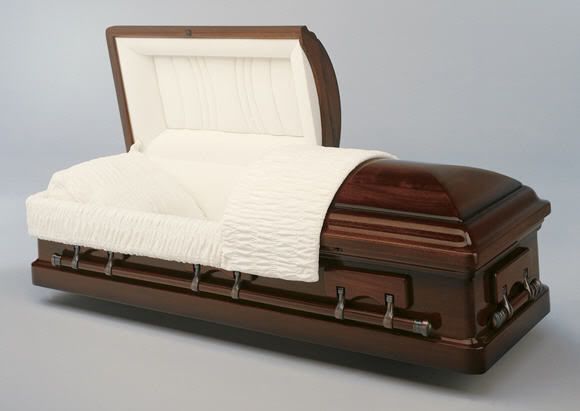 Keep in mind, I said solid and mahogany, not pressed and wood.
When it comes time to order my flowers, I prefer brightly colored gerber daisies. Lots of them! And as an added bonus, be sure to stick a candle down in the middle of the flowers so that the area around my solid mahogany casket will smell good. (Preferably Cranberry Chutney from Yankee Candle).
When picking out my "burial suit" (as my granny calls it!) keep in mind that I want to look good while I'm displayed in all my glory. I think red would be the perfect choice. If I am to have all manner of friends and family weeping over my dead body, it is important that I look good. And just before the festivities kick off, give me a couple squirts of Romance – my favorite perfume – by Ralph Lauren.
I DO NOT WANT TO SMELL LIKE CORPSE.
Now, this next one is a biggie.
Please, please, please whatever you do – do not display me in a funeral home where it smells of flowers and musk. I worship at a wonderful church with my family. I am respectfully requesting that you haul my hind-end out Route 21 and roll me right up the middle of the sanctuary. Our church has ample parking for the huge crowd that will surely be there and it is a beautiful place that is special to me.
I have already talked to Bryan (my mortician friend) and given him strict instructions to please NOT wire my mouth completely shut. I watched an embalming one time and I made it clear that I needed a little bit of slack in that wire. The thought of having my jaws wired shut for all of eternity is more than I can handle. In high school, my jaws were wired shut for six whole weeks. It was not pretty, my friends. Not pretty at all.
Because I want attendees to be relaxed and comforted, the musical selections are very important. I would prefer piano (playing classical hymn selections) or saxophone (Kenny G) music played during my viewing. Something to sooth the mind and the soul. During the actual funeral I would like for our choir director (Chris) to sing, "It Is Well With My Soul" because, well, IT IS WELL! Then, as people are making their way to the front of the church for one last look at me, I would like for Chris to sing "I Can Only Imagine," because one can really only imagine what they will do when their day comes. I can't imagine what it will be like; all I know is that I'm ready.
For good measure and because I want to drag this thing out as long as possible, I would also like for someone to play Selah's version of Take My Hand, Precious Lord and Lead Me Home. And if you've never heard that song, you should go find it right this minute and listen to it.
Good ahead. I'll wait.
As mourners are walking out of the church, "I've Had The Time Of My Life" should be blaring (from my favorite movie, Dirty Dancing) because anyone who knows me, knows that I've had a good life.
Now, for the burial. To insure that mahogany casket doesn't get all water-logged, it will be necessary to spend a little extra so that I can have a place in the wall.
Because I can't bear the thought of being lowered into the ground, I'd like for you to slide my fabulous mahogany casket into the wall, preferably at eye level so that my name-plate can be read easily. And as an added bonus, I will forever be comfortable – cool in the summer and warm in the winter.
I've lived a good life, have wonderful friends, an awesome family, and I am ready to meet my maker. What more could a girl ask for? As you stand over my dead body which will be sprawled out in that fabulous mahogany casket, enjoying the smell of my sweet perfume, I want you to think about our good times.
In other words, celebrate me!
You can even cry if you want to. But just know that when you get to Heaven you can find me at the Emerald Fountain (in my glorified body MIND YOU!) eating a swiss cake roll.
I'll be the one dressed like an angel, singing like a song-bird, organizing the next block party.
Hope to see you there!