I have been in an Olympic frenzy this whole week. My DVR hasn't had much rest and I have spent almost every waking moment (at home) parked in front of the television cheering for Team USA. For that reason, it seems only natural that I would share my observations with you (while watching half-pipe and figure skating).
1. Shaun White – Y'all. First of all, he looks so grown up with that short hair. And secondly, OHMYWORD, how disappointing for him to not even make the podium in this, his third Olympics, but bless his heart for being so gracious to the gold-medal Swiss snow-boarder. And lastly, I can't help but wonder if things might have gone differently if the pipe conditions had been better.
2. Can you imagine living life looking like Kirsten Moore-Towers from Canada. She is so cute, I would like to carry her around in my pocket.
Oh, and as an added bonus, she is so graceful on the ice.
2. I absolutely love the bright pink cat-suit worn by Russian figure skater, Tatiana Volosozhar. As it turns out, she and partner Maxim Trankov skated to Pink Panther.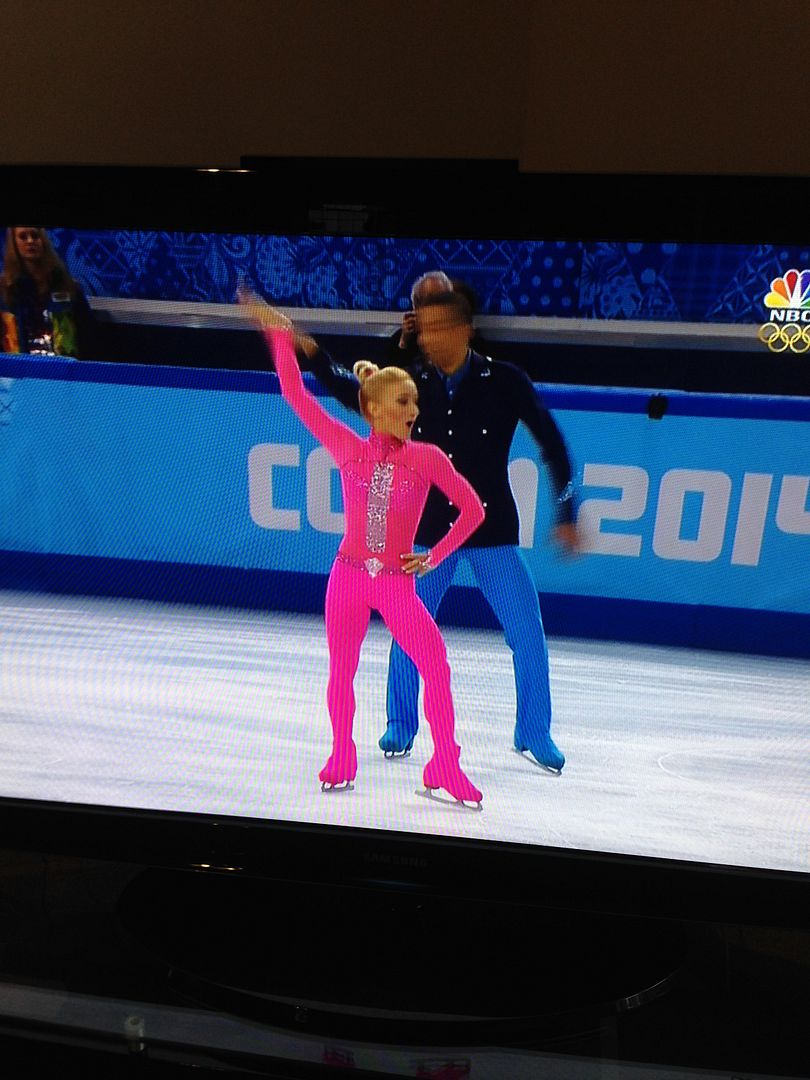 3. I miss American short track speed skating eight-time medalist Apolo Ohno. Watching short track speed skating just isn't the same without him. I have enjoyed his Olympic coverage commentary, though.
4. Pee-wee Herman showed up in Sochi and he brought an inflated red latex glove lapel decoration with him.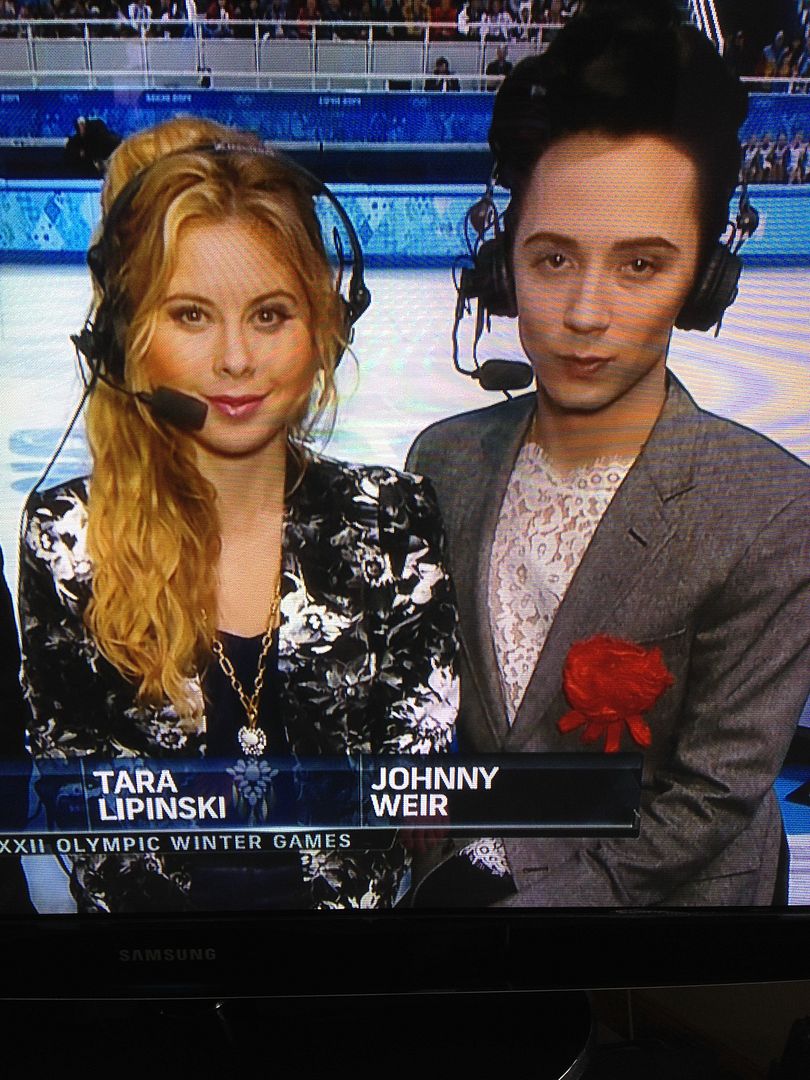 The day before, he dawned a bright pink jacket that matched Bob Costas' eye. (Stevie asked if he was wearing the "pink coat" for Breast Cancer awareness day.)
5. I have never in my life, with the exception of the Olympics heard anyone refer to the sport of curling, ever. And to be honest, I didn't really understand the point of the "sport" until I consulted Wikipedia. It referred to curling as chess on ice. Oh, and also SNOOZE.
6. I am completely in awe of those who compete in free style skiing. To fly through the air backwards and also ski downhill backwards, oh yes ma'am, super impressive.
7. Is it just me, or did Bob Costas' one infected eye turn into two infected eyes right before our very eyes? Sweet mercy, are there no antibiotics in Sochi, Russia? I keep trying to figure out how he keeps from poking his eyeballs out on live television because THE BURN!
8. Either Matt Lauer has aged quite a bit in the last few months, or he made a decision to quit coloring his hair. Either way, I'd much rather look at Matt's gray hair, than Bob's runny pink eyes.
9. Earlier in the week, Russian cross-country skier (and medal favorite) Anton Gafarov crashed on a downhill corner as he made his way down the course. After the crash, he attempted to make it to the finish line – with a broken ski. (He reminded me of an injured dog dragging his back leg.) When Canadian cross-country ski coach Justin Wadsworth spotted Gafarov trying to make his way to the finish line, Wadsworth grabbed a spare ski, approached Gafarov, kneeled down and replaced the broken ski without uttering one word. In true Olympic spirit, Gafarov finished the race three minutes behind the other finishers. But, he finished.
10. Tears ran down my face while watching the story of Olympic moguls gold medalist Alex Bilodeau with his brother Frederic who suffers from cerebral palsy. When interviewed, Alex said that Frederic is his inspiration and helps keep him grounded. Oh my sweet mercy, just look at these two.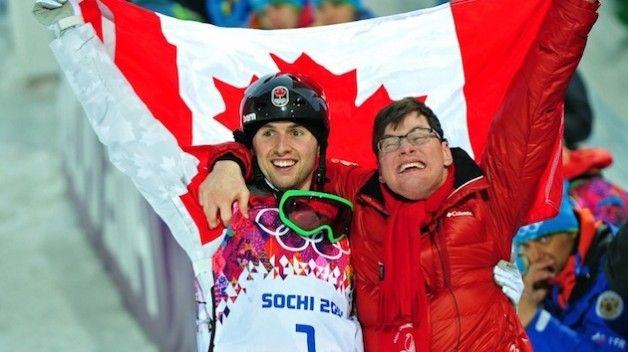 11. And what about US long track speed skater, Sugar Todd? I smile every time I hear her name. God bless her momma's heart.
12. Are the khaki pants and khaki ski jackets the best we can do for our US Ski team? And while we're on the subject of Olympic attire, I would like to say that I wasn't too hip on the "ugly Christmas sweaters" worn by the US Olympic team during opening ceremonies, either. I guess Ralph Lauren forgot to consult with me before approving that nonsense.
13. Just for fun, I checked the prices of several Olympic venue tickets. A "cheap" ticket to the men's free skate competition (which includes the medal ceremony) costs 3000 Russian Rubbles which is $86.15 in American dollars. A ticket to the Closing Ceremony, on the other hand would set you back $129.22. And if you're planning to travel to Sochi to just hang out in Olympic Park? Well, that will cost you $11. per day.
You're welcome.
Go TEAM USA!