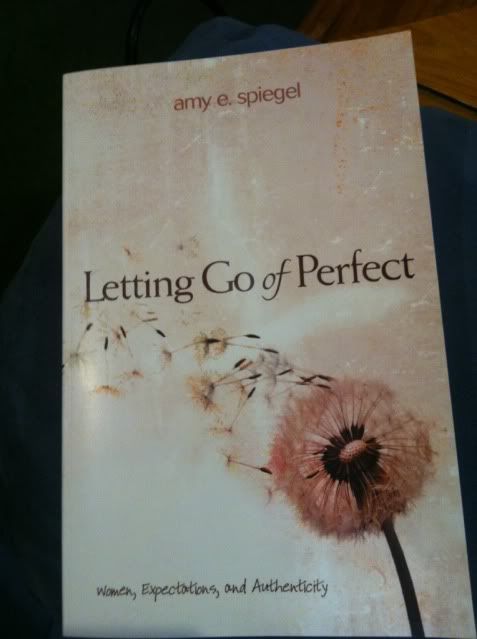 At the end of her book, Letting Go of Perfect, Amy Spiegel poses the question, "How do I let go of my idea of perfect in order to grasp the perfection of God?" This great book (especially great for those of us with crazy perfection OCD!) addresses the expectations we have on ourselves (Heaven, help us!)  and how to walk with God (and beside of others) in a more authentic way. One of my favorite things about Letting Go of Perfect is that it is perfect for all women, no matter what stage of life they find themselves in.
Spiegel reminds us that just because a woman appears to have it all together, there's a pretty good chance her minivan would tell a different story.
Instead of putting unreasonable expectations in our daily life (perfect kids, picture-perfect home, perfect hair), Spiegel suggests we take a long look in the mirror, and look to God to be our guiding source, not society.
Now, there's an idea!
Letting Go of Perfect is an easy and fun read. Amy Spiegel is down-to-earth and real. I have no doubt that Amy and I would be fast friends in real life. (She has a love of lists!) I have long considered myself a perfectionist, but after reading Letting Go of Perfect, I now see the danger of trying to live that out in my daily life.
Some of my favorite quotes from Angie's book include:
The next time you are heading out the door, pause at the mirror and make sure that what you see reflects your purpose and values.
Coming out and admitting our faults and weaknesses can be a great comfort to those with similar struggles.
When it comes to setting expectations for ourselves, how do we walk the fine line between being motivated and being legalistic?
It's sad that so much of the chaos of our lives is created not by the basic demands of our primary responsibilities, but our refusal to stand against the cultural dictates that demand that every moment of our lives be filled with activity.
Is today's perfect Christian woman a perfectly ridiculous concept?
Have you ever felt as though you didn't recognize yourself in the mirror and yet you're frantically trying to keep that image together? Felt bound by the dreams you had for life that you now realize have forced other expectations on you? Or maybe you've laughed at one of those insanely ridiculous moments in the day when absolutely everything goes wrong and no matter what you do, the grand purpose seems elusive.

Let's be honest. We all have a standard in our head that we believe is the perfect Christian woman, wife, and/or mother. Yet, have you ever really examined what that standard is? Yes, God absolutely has standards for what those roles are to be, but is He our source, or is it the peer-pressure-don't- be-the-odd-one-out-on-Sunday-morning drive to fit in that is driving us away from authenticity and raw faith to outward performance?

Amy Spiegel knows this struggle well and notes, "so many of the women I know seem to feel the same tension in their own lives, teetering on the edge, praying someone will be there to catch them if they fall." There is a grand purpose to where you are today.
Join Amy in Letting Go of Perfect, to look at what it means to truly know the woman in the mirror as well as the God who created, redeems, and equips her.
—-
In the interest of full disclosure, The Media Collective provided a complementary copy of Letting Go of Perfect to facilitate this review. As always, the opinions expressed in this post are my own.