To: The Dynamic Duo
From: Your Mama
Date: August 27, 2012
RE: Just So You Know
—-
Dear Boys,
It seems like just yesterday, Daddy and I were sitting around trying to figure out what we were going to name you two. And now, here we are wondering where in the heck the past nine years have gone. I've heard it a thousand times since becoming a mama, but it is so true. Y'all are growing up so fast.
It makes my heart smile to see you two play cars or Legos or Ape, which is really nothing more than you two throwing a baseball against the front wall and "fielding it" as it rolls down the hill. I love that you two get creative during playtime. You call yourselves, The Alpha Team, and together you two make an awesome team.
Now, about your rooms… Your rooms are a hot mess.
For the love of all that is holy, PLEASE keep the LEGOS out of the friggin' floor or the next time I step on one of the suckers, I just might blow a gasket.
And since we're on the topic of blowing a gasket, please understand that as much as I'd love to allow you to stay on the DS till it runs dead each day, I simply can't. It would make me an irresponsible parent and it would make you a zoned-out- knot-head, so QUIT asking me 4,821 times a day if you can play your DS.
Seriously.
STOP.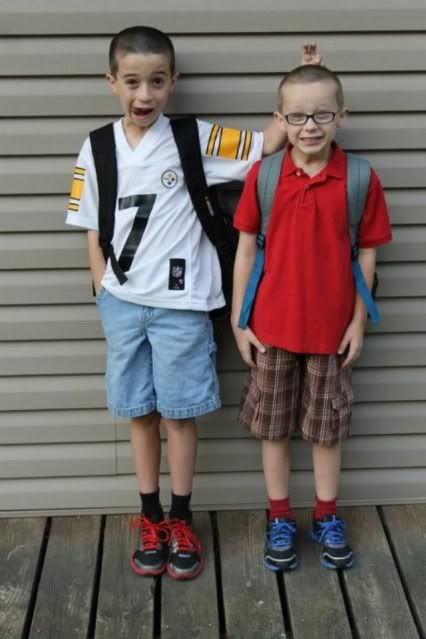 Dear Stevie,
Last week you started the fourth grade. I can't hardly even type that without getting all teary eyed. That day was your last first day of elementary school. It makes me sad to know that you will be in Middle School next year, but for now, I will attempt to put that out of my mind.
Since the last installment of Just So You Know, you have braces on your teeth. It was weird being right back in the same orthodontist's office I sat in over twenty years ago when I got braces. I know they are a pain in the patootie, but trust me when I tell you it will all be worth it when you have beautiful, straight teeth. Well, that is if you'd remember to brush them twelve times a day.
Your favorite thing to do is play Legos, and of course, the stinkin' DS. I love that you also enjoying reading.
You love school and you never, ever complain about doing homework. In fact, sometimes you spend lots more time than necessary doing homework because it is tough for you to stay focused sometimes. You are a great kid and it is a blessing being your mama.
Enjoy 4th grade sweet boy. I hope you have a great year!
Love, Mom
—-
Dear Alex,
The evening before you started first grade, you were so excited and ready. You love your teacher and I am so happy that you enjoy school. You are a loving, kind, stubborn little boy with a knack for saying funny things. I enjoy watching you learn and grow.
Ever since watching the Olympics, you have played with a Leap Frog Globe learning all about countries, country populations, currency, and national anthems. I've learned several things thanks to your new geography studies. Just like Stevie, you enjoy playing Legos and the DS.
Unlike Stevie, you enjoy matching up your clothes in the morning and making sure your socks and shoes match when at all possible. Though I didn't get a daughter, I certainly got a little fella who takes great interest in his wardrobe.
I love that you still cuddle with me, and fewer things make my heart happier than your lanky arms wrapped around my neck in the morning with the words, "Good morning, mommy!"
I hope you have a great year in first grade!
I'm glad you're mine!
Love,
Mama