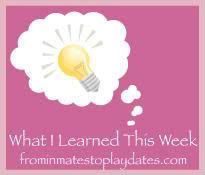 My family is smack dab in the thick of baseball and track season. That basically translates to very few free evenings and dinner on the go.
But, I'm trying to keep in mind that this is Stevie's last spring season of Little League and some day we will miss times like these.
Which probably explains how I absolutely forgot about What I Learned This Week last week.
Yes, you read that right. I completely forgot about the blog last week.
Here's all the other things I learned this week.
1. It might take a good two weeks, but eventually a Yorkie will be back to his old self after being neutered.
2. Likewise, it will take two good weeks for a twelve-year old to get the hang of putting a contact in his eye.
3. There comes a time in every Yorkie's life when they can no longer be given stuffed toys because in two minutes flat, they will completely mutilate them.
4.  American Idol isn't nearly as interesting as it used to be. Dancing With The Stars, however, is.
5. After doing this for five years, there is no reason I should ever be at the ball field after sundown without a sweatshirt.
6. Track meets aren't nearly as exciting as a baseball game.
7. Big League Dug Out gum is my new favorite gum.
8. If baseball pants look like they would be too big for your kid, chances are you just aren't ready to come to terms with the fact that they are much taller than you remember.
9. The Young And The Restless is straight-up crazy right now. Lots of mysteries. Lots of crazy.
10. Stevie has an overdue library book and it's titled Mini weapons of mass destruction. It features things like spit wads and rubber band weapons.
That's what I learned this week.
Now, what did YOU learn?
To join in on the What I Learned This Week carnival, simply follow these steps.
1. Any time this week, publish your What I Learned This Week post on your blog and link to this post.
2. Link up with the Mr. Linky form down below. Please put the link to your POST, not the front page of your blog.
3. Then visit the other participants and see what they learned this week.
Easy enough?
GO!