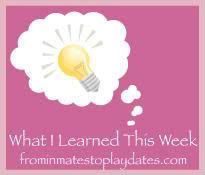 Ok, so, here's the thing. For starters, it has warmed up substantially. Next, Baseball practices are still miserable because even though 54 degrees is much warmer than SIX, it is still too cold, in my humble opinion to be stuck standing outside watching my boys practice. And lastly, I won't be happy until the temperature stays around the 80 degree mark.
Here's what else I learned this week.
1. When in Sephora, you should use care around the cosmetic displays, otherwise, you may end up with bright – AND I MEAN BRIGHT – pink lipstick covering your middle finger and wedding ring, with no earthly idea how it got there.
2. When your middle finger and wedding ring is covered in bright – AND A I MEAN BRIGHT – pink lipstick, the fella working at Reeds Jewelers will ask you if you've been painting when you stop in to ask if they'd mind cleaning your wedding ring.
3. For the life of me, I can't figure out who, in their right mind, would wear bright – AND I MEAN BRIGHT – pink lipstick.
4. Sephora is a bit overwhelming to me.
5.  Since he now mutilates them, Bentley can no longer "play" with stuffed toys.
6. The blender drives Bentley just as crazy as the vacuum cleaner does.
7. Skechers yoga mat flip-flops aren't as comfortable as the Croc ones I've been wearing for the past two years.
8. American Idol isn't nearly as exciting this season. I'm thinking the novelty has worn off for me.
9. If you enjoy criminal, incarceration-type shows, you should totally watch Orange Is The New Black on Netflix.
10. It is difficult for a twelve-year old to get the hang of putting in and taking out contact lenses, especially one who has extremely LONG eye-lashes.
11. Apparently, nine-year olds are too cool to hunt Easter eggs at the church Easter egg hunt.
12. I wish I could s-l-o-w this growing-up thing down.
13. Alex enjoys watching Leave It To Beaver!!!!
14. Netflix is pretty cool.
That's what I learned this week.
Now, what did YOU learn?
To join in on the What I Learned This Week carnival, simply follow these steps.
1. Any time this week, publish your What I Learned This Week post on your blog and link to this post.
2. Link up with the Mr. Linky form down below. Please put the link to your POST, not the front page of your blog.
3. Then visit the other participants and see what they learned this week.
Easy enough?
GO!