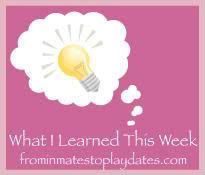 It has been a rough week up in here.  Our family lost a close friend last week and it has been devastating. It taught me not to take one single minute for granted.
Here's what else I learned this week.
1. Getting your sweet Yorkie "fixed" is more serious than I expected it to be.
2. Holding a warm compress on your Yorkie three times each day for twenty minutes is *almost* impossible.
3. Life is short. Tell people how much they mean to you.
4. Track & Field is not the best sport for someone who doesn't like to sit in extreme cold or extreme heat for any amount of time.
5. Track & Field meets last FOREVER.
6. My favorite part of Spring Break is NOT SETTING AN ALARM CLOCK. Hallelujah and Amen.
7. Hawaiian Delight Cake is the bomb. [Stay tuned for the recipe.]
8. When the temperature rises to 55 degrees after blustering temps, you should totally take the time to get gas because there is a really good possibility that it will be below thirty the rest of the week.
9. When one of your best buds finds out she's having a baby girl after having three boys, you will be extremely excited.
That's what I learned this week.
Now, what did YOU learn?
To join in on the What I Learned This Week carnival, simply follow these steps.
1. Any time this week, publish your What I Learned This Week post on your blog and link to this post.
2. Link up with the Mr. Linky form down below. Please put the link to your POST, not the front page of your blog.
3. Then visit the other participants and see what they learned this week.
Easy enough?
GO!