If you have ever had small children in your life, chances are you have heard of VeggieTales. Even though my boys are a little past the Veggie Tales demographic, I was eager for the opportunity to share VeggieTales' newest tale because VeggieTales is wholesome Bible based entertainment for children, and in my opinion, there isn't nearly enough of that on the market. And anyway, who doesn't love Bob the Tomato and Larry the Cucumber?
I received an advance copy of VeggieTales Noah's Ark, and as you might have guessed, it is the story of Noah's Ark.
ABOUT VEGGIETALES NOAH'S ARK  
In NOAH'S ARK, Shem and Sadie return home from their honeymoon to find that Noah (played by Pa Grape) has begun, at God's direction, to work on a massive ark (that looks like an orange!) which his wife Naamah (played by Madame Blueberry) and sons Ham (played by Larry) and Japheth (played by Bob) are helping construct before the start of 40 days and 40 nights of rain.
But Shem doesn't understand Noah's unshakable faith in God, particularly when animals start arriving two-by-two – while the rain is nowhere to be seen. When the great storm does come, Shem begins to understand Noah's determination to preserve humanity's future … and more importantly, the importance of trusting in God.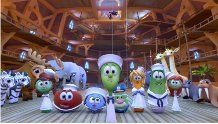 In NOAH'S ARK, Brady, the multi-Emmy award-winning host of one of TV's most famous game shows, Let's Make a Deal, and star of Whose Line Is It Anyway, brings to life Noah's son Shem, who first questions, then learns to embrace, his father's direction from God. Christian singer, actress and radio host Jaci Velasquez co-stars as Shem's wife, Sadie.
"Saying 'yes' to VeggieTales was a no-brainer – my daughter's a fan and I love the music and messages," says Brady, who performs seven original songs in NOAH'S ARK. "The best part is, Bob and Larry are down to earth and they never let the 'I'm a global Veggie superstar' thing go to their heads."
NOAH'S ARK also features a brand-new "Silly Songs With Larry" segment, in which Larry dons a safari outfit as he goes on a quest for a gigantic, golden egg. (This was a favorite part of mine!)
Less than three weeks after the DVD and digital download release of NOAH'S ARK, the VeggieTales excitement continues when five all-new episodes of VeggieTales In The House, the hit animated series, debut exclusively on Netflix – bringing the total of VeggieTales In the House episodes to 15 as the series continues its first season.
MY THOUGHTS
First, I loved this particular version of Noah's Ark, because it focused on Shem's perspective. I haven't ever stopped to think about it from any other perspective than Noah's. After first doubting and questioning, ultimately Shem learns to embrace his father's direction from God. The movie serves as a wonderful reminder, that God's plan is ALWAYS better than our plan.
I have always loved Wayne Brady. McDaddy and I loved him on Whose Line? back in the day. He is a hoot on Let's Make A Deal, and I was most impressed with him when McDaddy and I had the opportunity to see him live in person. He is so talented and I think Wayne Brady was a great choice for Shem.
My niece, whom I watched the movie with, stated, "There is a lot of music in this movie." I have to agree with her, I even caught myself tapping my toe! (And, I love that the cast sang karaoke on the Ark!)
I giggled when the female hamster lost her mate and there was a movie reference from The Titanic – and was relieved when male hamster made his way back to her at the end.
The VeggieTales never disappoint. I loved Noah's Ark and thought this was a great episode.
THE GIVEAWAY
One lucky winner will receive their won copy of VeggieTales Noah's Ark (which will be available on DVD March 3, 2015). This giveaway is open to US Residents only. To enter, simply leave a comment on this post telling me what your favorite vegetable is. Simple, right? The winner will be chosen by Random.Org on Tuesday, March 3, 2015 (the same day as the release). The winner will be notified via email and will have 24 hours to claim the prize.
In the interest of full disclosure: I was provided two copies of VeggieTales Noah's Ark by Grace Hill Media to facilitate this review. All opinions expressed in this post are my own and in no way influenced my opinion of the movie.
—–
Edited to announce winner….
Random Integer Generator

Here are your random numbers:

1

Timestamp: 2015-03-06 02:57:42 UTC
Congratulations to commenter #1 – Missy who commented on February 28 @ 1:43 am.