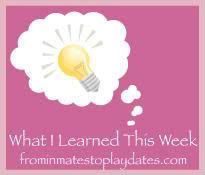 I got busy last week and totally forgot about WILTW until Wednesday.
By that time, I figured everyone else was as busy as I was trying to catch up with Christmas, so I decided to skip a week and spend my time enjoying my Christmas tree, chasing Bentley and baking some goodies for the neighbors.
The boys and I are enjoying a week visiting McDaddy's family and I can barely type because I stuck my hand down in the clear medicine bag – that I bring along every. single. time. we travel – to retrieve Alex's inhaler and I scraped my ring finger on my razor and now I have a painful, burning cut all the way down the bottom half of my finger.
So, yeah, that's the first thing I learned this week.
Here's all the other things I  learned this week.
1. The "prescription cream" prescribed by the ENT for my 5th ear flare up does not help one bit. In fact, it is not even absorbed by the ear.
2. Even though Alex has been cleared to eat almonds and walnuts, I am still hesitant to let him try the almonds.
3. Stein Mart is a fabulous place to find great clothing.
4. According to the ENT, I have a clogged sinus.
5. The forties have not been great to this ol gal.
6. Barbecue chicken pizza is yummy.
7. There is a Jaguar on a lot near our house that costs $80,000.
8. I can't imagine having the money to purchase a $80 thousand dollar car.
9. Sitting in the bed, leaning against the headboard in the hotel room to type this post is super uncomfortable.
10. Pandora has some great new charms available, as well as, a necklace that is exactly like the bracelets.
11. The "O Wondrous Night" show at Sea World is fabulous and I suggest you see it should you find yourself near Sea World during the Christmas season.
12. When you find a great pair of Crocs flip-flops and you buy them several times over the past three years, you should, under no circumstances, allow the Crocs salesperson to talk you into trying a different pair.
13. You should always double check your hotel door before leaving. They are heavy and they don't always close completely.
14. Before getting your panties in an uproar about a story in the media, you should check it out for yourself, first.
15. Four-month old Yorkies love wrapping paper.
16. If you "lose" a check, it is a good idea to go back through your texts around the date you lost it. There is a good chance, you may find a text explaining to someone that you put it in their child's backpack.
17. It is never a good idea to put a check in a kid's backpack. They will likely not remember it's there and by the time you remember it, you may also forget what you did with it.
18. It is a huge relief to discover that a $300. check you thought was lost has been found.
That's what I learned this week.
Now, what did YOU learn?
To join in on the What I Learned This Week carnival, simply follow these steps.
1. Any time this week, publish your What I Learned This Week post on your blog and link to this post.
2. Link up with the Mr. Linky form down below. Please put the link to your POST, not the front page of your blog.
3. Then visit the other participants and see what they learned this week.
Easy enough?
GO!