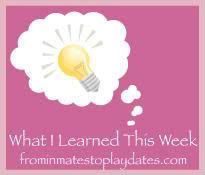 Well, we all survived the first day of school.
When asked if he had a good day, Alex replied, "You better believe it! It's going to be a great year!"
After picking Stevie up, and asking him the same question, his response was, "Yes, the day just flew by!"
So, I'd call that a successful day.
But, here's what you've been anxiously waiting to here….. Here's what I learned this week.
1. When you don't want to wrestle a queen size bed ruffle, use a fitted sheet over the box springs instead.
(Thanks for that little tidbit, Jean!)
2. Five Guys serves up a great burger.
3. The SKY is even more fun to drive after not driving it for weeks.
4. My very favoritist pair of black capris are in the trash thanks to a hole in the thigh area. [May they rest in peace.]
5. I never thought it would be a big deal to miss out on an entire week of The Young and The Restless. Apparently, I was wrong.
6. Y'all. Shemar Moore is going to be back on Y&R for two days in September. SQUEAL!
7. Power washing a wooden porch (after more than 10 years) will make it look entirely different.
8. Colorful Sharpies make me so happy.
9. You can actually purchase positive pregnancy tests on eBay. Or, if you live in Charleston, WV the local Facebook yard sale site has them for $10.
[What the heck is wrong with people?]
10. The reason our ceiling fan remote rarely ever controls both fans properly is because we were really supposed to have two remotes, one for each fan. I only learned this today, after ten L-O-N-G years of wondering why the remote didn't work correctly.
That's what I learned this week.
Now, what did YOU learn?
To join in on the What I Learned This Week carnival, simply follow these steps.
1. Any time this week, publish your What I Learned This Week post on your blog and link to this post.
2. Link up with the Mr. Linky form down below. Please put the link to your POST, not the front page of your blog.
3. Then visit the other participants and see what they learned this week.
Easy enough?
GO!