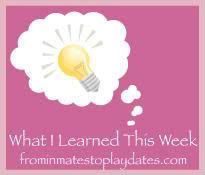 So, it's Monday night. That means it's time for another version of What I Learned This Week.
Here's the hodge-podge list of what I learned this week.
1. Before slicing a fresh pineapple, place it upside down in the fridge for 30 minutes to allow the sugar to run from the bottom back to the "top".
2. To test a pineapples freshness, the middle leaf should pull out with a gentle tug.
3. I would really miss baseball if my boys decided not to play.
4. Clean eating takes some work, but it is so worth it.
5. My favorite Big Brother characters are Donnie and Caleb.
6. My boys enjoy shooting BB Guns.
7. But they enjoy riding 4-wheelers even more.
8. One of the biggest aggravations in my life is a dead phone battery.
9. When my phone is dead, I feel lost.
10. Be careful what you pray for.
That's what I learned this week.
Now, what did YOU learn?
To join in on the What I Learned This Week carnival, simply follow these steps.
1. Any time this week, publish your What I Learned This Week post on your blog and link to this post.
2. Link up with the Mr. Linky form down below. Please put the link to your POST, not the front page of your blog.
3. Then visit the other participants and see what they learned this week.
Easy enough?
GO!