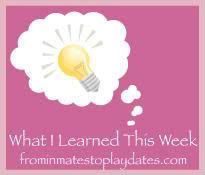 Well, I sat down here thinking I would post all about my latest medical drama, but then I remembered that it's Monday, and that means it's    time to post another wonderful edition of What I Learned This Week.
To make a long medical drama story short (the best way I know how) basically, my left ear starting showing itself again. It started last Tuesday when I noticed the outside of my ear (near my jaw) was tender. By Thursday, I had an all-out sore-to-the-touch ear. My ENT Doctor didn't have any openings, so he called in an antibiotic for me, quite possibly because he remembered me and  my complicated ear history. By Saturday, I had a swollen lymph node underneath my ear.
I decided to leave church during worship hour to beat the church crowd to the Doc In The Box Med Express. As it turned out, that was a wise decision as there was only one other person there when I arrived. I was taken to an exam room almost immediately and I was surprised to find out my blood pressure was 97/70, because in my forty years on this earth, my blood pressure has never been that low.
The Doctor was none too happy with that blood pressure, but since I seemed fine, he went on with his business of attempting to find my ear trouble. He said my ear did not look infected and also that he didn't see anything that would seem to cause the pain.
Dang.
I was hoping he'd take a quick look in there find the culprit, give me some meds and send me skipping happily ever after into the Land of the Crazy Ear. Instead, he decided that I might benefit from a crazy high-powered antibiotic injection. As I sat in the exam room waiting for the nurse to bring the shot, I broke out in a sweat and felt like the room was spinning. I am not the type of person who is easily weirded-out by blood or needles, so it wasn't anything like that. When the nurse brought the shot in, she told me it needed to be injected into my hip, so I stood up, pulled the waistline of my pants down, and told her almost immediately that I felt as though I was going to pass out.
She asked if there was anyone she could call for me and as I made my way to lie down on the exam table, I told her that McDaddy was listed in my cell phone as ICE (In Case of Emergency). McDaddy was at Guard and was scheduled to fly to Texas in just two short hours. (The boys and I were packed and ready to join him on Tuesday (today). Thankfully, he was able to get there pretty quickly.
Of course after my near passing-out episode, the Med-Express Doctor was ready to shove me into an ambulance and off of his watch, but, McDaddy and I decided to just drive me there, instead.
And we did.
Unfortunately, the ER Doctor was not successful in diagnosing the ear pain either, but we did find out that my heart was healthy, and all blood work came back normal, except for an elevated white cell count.
So, five hours, two Doctors, and no doubt several hundred dollars later, I was right where I started.
With unexplained, undiagnosed ear pain in my left ear.
My ENT Doctor saw me today.
And, guess what?
He couldn't diagnose the pain, either.
Instead, he gave me a TMJ referral and ordered a CT Scan of my neck.
So, I guess its safe to say I learned that ear pain is an aggravation.
Oh, and I also learned that the first 38 hours after giving up Coca-Cola classic cold turkey wasn't so bad after all.
That's what I learned this week.
Now, what did YOU learn?
To join in on the What I Learned This Week carnival, simply follow these steps.
1. Any time this week, publish your What I Learned This Week post on your blog and link to this post.
2. Link up with the Mr. Linky form down below. Please put the link to your POST, not the front page of your blog.
3. Then visit the other participants and see what they learned this week.
Easy enough?
GO!