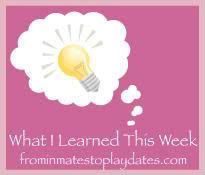 So, it's Tuesday…
And if my recent past behavior is any indication, that also means it's blog day. Once school starts back up in a few short weeks, I have made a personal promise to myself that I'm going to get back into the bloggy groove. It seems like my summer has been filled with pure busy and straight-up crazy, and the blog has suffered.
I've learned so, so much this week, but unfortunately, I've got an appointment with my bed and not nearly enough time to get it all recorded here, but soon, I promise.
Here's what I learned this week.
1. There is a joker living in Oregon who recently purchased a $4,000. go-cart using our credit card information.
That's what I learned this week.
Now, what did YOU learn?
To join in on the What I Learned This Week carnival, simply follow these steps.
1. Any time this week, publish your What I Learned This Week post on your blog and link to this post.
2. Link up with the Mr. Linky form down below. Please put the link to your POST, not the front page of your blog.
3. Then visit the other participants and see what they learned this week.
Easy enough?
GO!