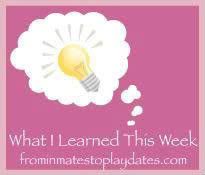 Y'all.
I am watching the finals of Dancing With The Stars and I can hardly stand the excitement, because MAKS!
Can I get a HOLLA?
He has presented a whole different side of himself this season with Meryl and I love it. They are absolutely magical on the dance floor. I really, really, REALLY hope they win the mirror ball trophy tomorrow. I still say that ratings would soar if the producers would do a Dancing With The STAy-At-Home Moms season.
And I'd be the first to volunteer.
So, MAKS (or VAL!) I. Am. Your. Girl.
Anyway, here's what I learned this week.
1. My Tiffany's bracelet is not hiding away in any of the Longaberger baskets in our great room, bathroom, basement, or bedroom.
2. When a favorite piece of jewelry comes up missing, it will be on your mind almost constantly.
3. Even though I don't watch the show, I was so surprised to learn that it is actually called Downton Abbey and not Downtown Abbey.
4. I should have better sense than to wear white flip flops to the ball-field.
5. I have no business buying white flip-flops.
6. According to Alex, just because it is 55 degrees in the AM, it is too hot for jeans.
7. I am indecisive about my new blog design.
8. ICYMI = In case you missed it. You're welcome!
9. While lots of people like to complain about the current state of our local School Board, very few are willing to actually go out and VOTE, even with two HIGHLY QUALIFIED candidates on the ballot.
10. George Washington's last words were "Tis well".
11. It is possible for a DS game to go through both the washer and the dryer and still work.
That's what I learned this week.
Now, what did YOU learn?
To join in on the What I Learned This Week carnival, simply follow these steps.
1. Any time this week, publish your What I Learned This Week post on your blog and link to this post.
2. Link up with the Mr. Linky form down below. Please put the link to your POST, not the front page of your blog.
3. Then visit the other participants and see what they learned this week.
Alrightythen. Ready, Set, GO!