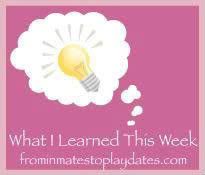 Attended my nephew's high school graduation tonight, and I couldn't help but think about how difficult this night will be in seven years when Stevie graduates from high school. It sounds so cliché, but man, time sure flies.
Here's what I learned this week:
1. Barbecue sauce and A1 mixed together makes a great dipping sauce, according to Stevie.
2. A replacement door bin for our fridge is $25.49.
3. When an eight-year old hobbles around at a birthday party after stubbing his toe, there's a chance that he could have fractured it.
4. If an eight-year old fractures his toe, there is a pretty good chance he won't be able to finish to season. (Just for the record, my eight-year old is not the one with the fractured toe.)
5. If the dishes in your dish washer are not clean after running the wash cycle, you might check to see if the dispenser actually dispensed the soap packet.
6. I have either lost or misplaced my Tiffany & Co. bracelet. This makes me so sad.
7. The next time I make the decision to sit next to an entrance door of an auditorium during a graduation ceremony, I need smacked in the face.
8. Most of the current songs on my iPod, are only there because of Dancing With The Stars.
9. Derek Hough amazes me with his choreography every single week.
10. After three years of "doing the book" for Stevie's baseball team, I heard the term "balk" for the first time.
11. There are lots of lessons to be learned on the baseball field. Some of them have absolutely nothing to do with the game.
12. I lost an earring this week.
That's what I learned this week.
Now, what did YOU learn?
To join in on the What I Learned This Week carnival, simply follow these steps.
1. Any time this week, publish your What I Learned This Week post on your blog and link to this post.
2. Link up with the Mr. Linky form down below. Please put the link to your POST, not the front page of your blog.
3. Then visit the other participants and see what they learned this week.
Alrightythen. Ready, Set, GO!