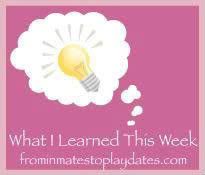 I have a to-do list that's a mile long. Yet, here I sit watching Dancing With The Stars like I'm being paid to watch it.
As I type this, my wedding ring is rolling around my ring finger (aggravating the snot out of me) which can only mean that my ring finger has caught up with my wrist in the weight-loss race which is a friggin' shame because I NEED TO LOSE IT in other places.
So, the first thing I learned this week is that when you lost weight, you don't get to pick where you lose it.
Here's all the other things I learned this week:
1. The machines at the bank do not recognize red ink. Oops!
2. When preparing for a fancy dinner that is almost three hours away, you should not depend on eleven and eight year old children to gather their dress clothes without checking to see what they are bringing.
3. I can get a great deal done on an unexpected, free Saturday.
4. Although our boys are very good about helping to carry groceries into the house, they are not so great about making sure the yogurt makes it into the fridge instead of being left on the kitchen counter.
5. I should be buying Zyrtec by the case.
6. After twenty years, I've learned it's not the cooking I mind. It's the planning, shopping, carrying in and putting away that I mind.
7. When cooking breakfast for dinner, one package of bacon is no longer adequate for my bacon eating band of four.
8. Ernest Hemingway was injured in two plane crashes, both in Africa.
9. There are alarming levels of prescription drug residue in our water supply.
That's what I learned this week.
Now, what did YOU learn?
To join in on the What I Learned This Week carnival, simply follow these steps.
1. Any time this week, publish your What I Learned This Week post on your blog and link to this post.
2. Link up with the Mr. Linky form down below. Please put the link to your POST, not the front page of your blog.
3. Then visit the other participants and see what they learned this week.