Last year, I finished up my Christmas shopping in early December.
Then, on Christmas Eve, I discovered that I hadn't bought nearly enough stuff to fill the stockings. I decided that wouldn't happen this year.
Oh, no ma'am.
I started picking up stocking items way back in November, and this year, I will be a stocking-stuffing fool come Christmas Eve.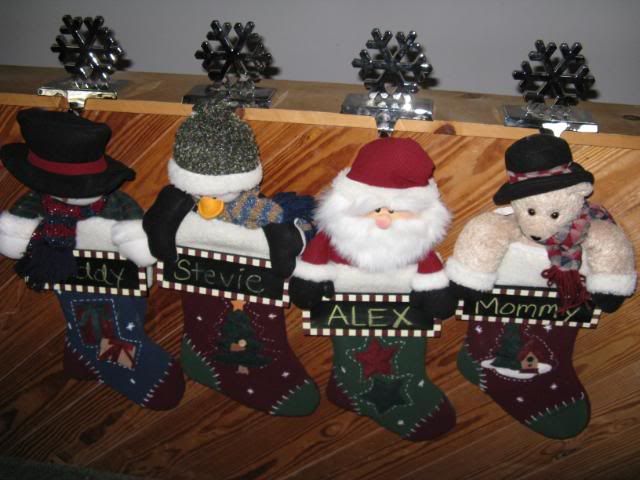 Remember, I have two boys, so, you know, BOY STUFF.
Fun Gum (Big League Chew)
Batteries (for electronic games)
Reading light
Pringles
Tree ornament
Chap stick
Toboggan
Whoopee cushion
Phone charger (can you ever have too many?)
Shoe strings (What exactly do they do with them, anyway?)
Hershey kisses
Sticky hands, feet, or bugs.
Silly Putty
Slim Jims
Slinky
Gloves
Twizzlers
iTunes Giftcard
YoYo
Toothbrush (I know, I know!)
Snow Ball maker
Glowsticks
Rolos
Magazine (My oldest loves Car & Driver)
Beef Jerky
Rubik's Cube
Harmonica
Bookmark
Hot Wheels
Gift card to Pottery Place
Skylanders
Earbuds
SkipBo or Uno cards
Mini Etch-A-Sketch or Mini Magnadoodle
Small foam football or basketball
Origami Paper (Stevie's newest hobby)
Jacks
Mini Mag-Lite
Pop Rocks
$5.00 DVD from the movie bin at Wal-Mart
Arcade (or Chuck E. Cheese) tokens
Bubblebath
Silly String
Madlibs
Laser Pointer
Lego Minifigures
Any Legos for that matter
Those crazy, expensive tall athletic socks
Mega Reese Cup
And finally, MORE LEGOS.