I had every intention of coming back here to report on my friend Becky's annual cookie extravaganza.
Because of our ski trip, I had to choose a cookie that I could bake within the time constraint I was under. In other words, after our three-hour drive home, I would have no more than three hours to bake seven dozen cookies.
After scouring the internet and Pinterest for a cookie that fit my criteria (quick, easy, fail proof) I settled on the Andes Mint Cookie Recipe. I did a test run while we were on our Ski trip.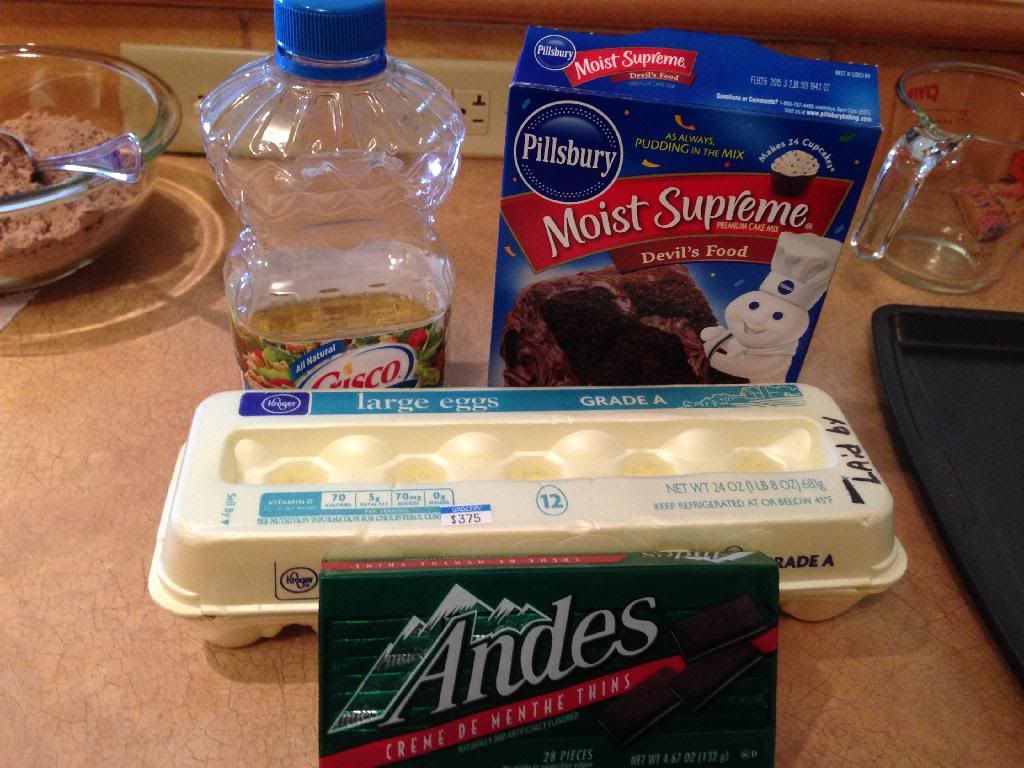 ANDES MINT COOKIES

1 Devil's Food Cake Mix
1/2 cup oil
2 eggs
1 package of Andes  Mints

Mix cake mix, oil, and eggs together.

Drop small balls of dough onto baking sheet.

Bake at 350 degrees for 6-9 minutes.
Do not over-cook. Take cookie sheet out of oven and place 1/2 an Andes Mint on top of each cookie. Within minutes, the mint will melt. Use a sharp knife to swirl the mint around on the cookie like icing.
Be prepared to make friends and influence people.
And I'll just tell you now, they are best served hot and gooey.
And it helps if you like mint.
Within an hour, my cookies were done and my kitchen looked like a cyclone had gone through it.
For as many years as I have attended Becky's annual cookie extravaganza (which at this point I think is eight or nine) I have taken my cookies in a beautiful Christmas Longaberger basket. I decided that my beloved Longaberger baskets have not brought me any luck in winning the crown in the past, so this year, I decided to take my cookies in a Dollar General cardboard Christmas container.
I used red sprinkles on this batch to make them more festive.
Remember, presentation is everything.
Or something like that.
This was the official 2013 cookie exchange extravaganza spread.
It always looks so fancy.
(My cookies are just above the white platter in front.)
After catching up talking smack and filling up on this mess,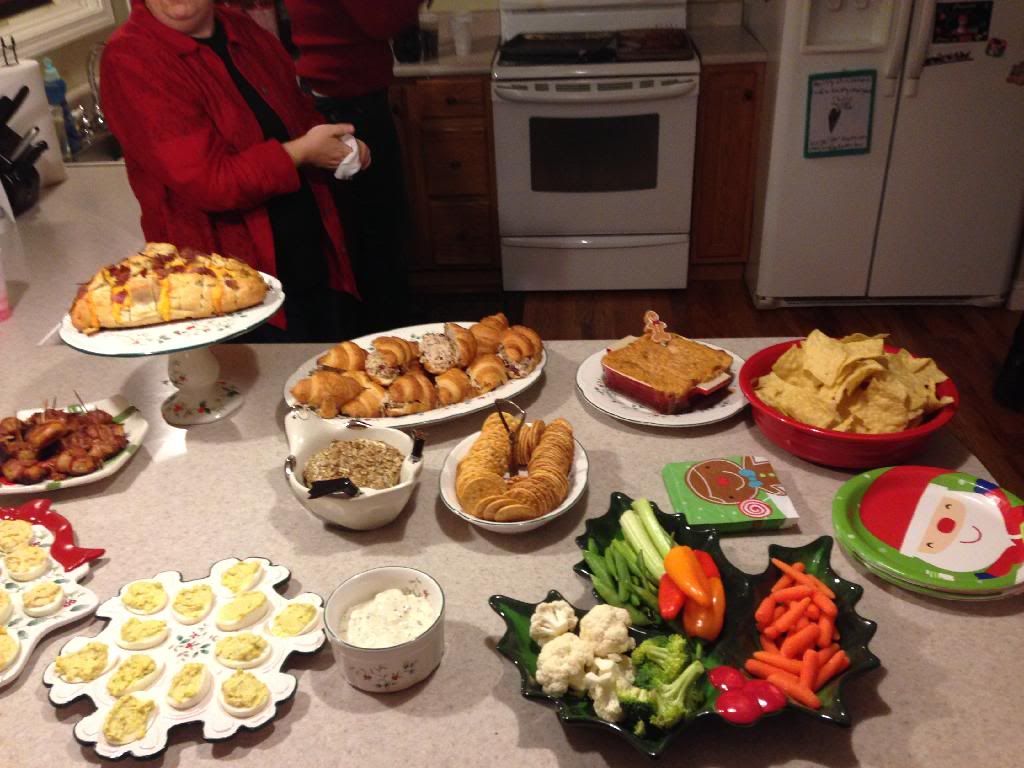 we all gather round the cookie table to eat A BITE OF EACH COOKIE. (This is the point where I start praying that MY COOKIE WILL WIN!) It may sound crazy, but, THERE IS A CROWN AT STAKE, and y'all know how I feel about a crown. Not to mention bragging rights for the entire year.
So, imagine, if you will, thirteen women gathered around a table getting pieces of each cookie.
And then getting a sugar high.
Once we have a sample of each cookie on our plate, we gather in Becky's living room for the official vote.
We close our eyes (at least I guess everybody else does!) and Becky calls out each cookie. We vote by raising our hand and we get to vote for two.
When the voting was completed, Becky announces there is a three-way tie.
AND ONE OF THEM IS MINE!
Sweet hallelujah. I can't believe it.
Because Becky only has one CROWN, we had to vote again.
This time there was a two-way tie.
AND ONE OF THEM WAS STILL MINE!
OH MY HEAVENLY DAY. I CAN'T BREATHE.
This was it. The final vote.
After counting the votes for a final time, Becky announced the winner.
It was not mine.
As it turns out, I lost by ONE vote.
Which means I was the runner up first loser for the second time in three years.
Meet this year's winner…. Lee.
She made some nutty Mounds bar, which for the record wasn't really a cookie.
The only thing I went home with this year was a prize for the cookie with the least amount of ingredients.
So at least there's that, right?
Next year, though? IT. IS. ON.
Be warned, girls.