December is my favorite month of the year. It is also our busiest. There is Christmas, my birthday, Stevie's birthday, pictures with Santa, the Elf on the Shelf, decorating, Church play, Christmas parties, Christmas break, Church cantata, basketball season, driving around neighborhoods looking at lights, baking, Becky's cookie exchange, and of course the annual Christmas card extravaganza. And by extravaganza, I am referring to hand-signing and addressing 250 cards, writing and printing an annual Christmas letter, and including a family Christmas picture. In other words, my yearly Christmas card extravaganza, is just that. An extravaganza. So, it should come as no surprise that I have come to really appreciate my friend Christina's annual Christmas card addressing party.
Because Christina and her family are in Florida visiting Mickey at Disney this week, she held her Christmas card party the last week of November. That fact didn't bother me in the least because it caused me to get an early start on my Christmas cards. To my surprise, I forgot I had actually signed them all last year while we were in Florida (the week AFTER Christmas).
Oh yes ma'am, I did.
Christina always has a fabulous spread, complete with fancy glasses, even though none of us are really fancy people. (And apparently I was so busy eating that I forgot to get a picture of the spread. I hate it when I do that!)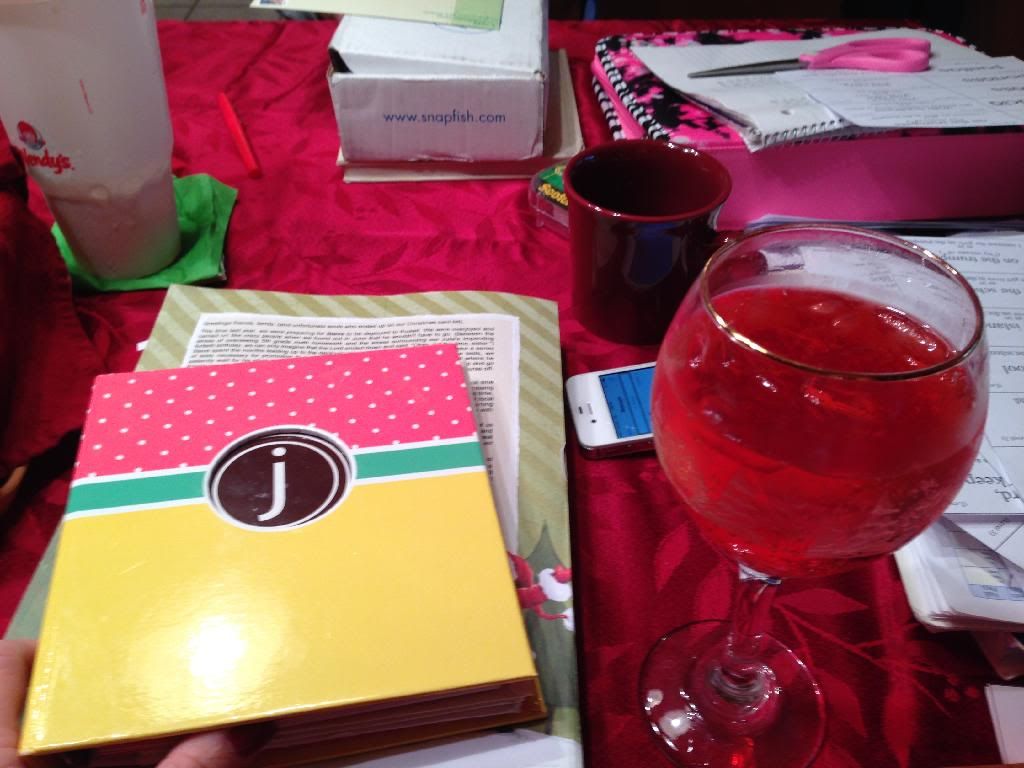 We sit around Christina's dining room table, and though I can't speak for the others, I spend more time talking than I actually do addressing cards, because I love being with friends, some of which I only see at Christina's annual party. Still, I enjoy the opportunity to get a kick-start on my cards.
(And if you're wondering about the foreign language cards there on the right, those would belong to my friend Becky, who, instead of working on her Christmas cards, spent her time working on her homeschooling lesson plans because her girls hadn't had their Christmas pictures taken yet. And before you ask, I have no idea what foreign language that is, though I am pretty certain it isn't German which is what I took in High School… because, you know, everybody needs three years of German in their life.)
This was Christina's third annual Christmas card addressing party (or at least the third one I was invited to) and we laughed ourselves silly, especially when Christina shared a really funny story with us. Despite the fact that she spent hours preparing her Christmas cards, money buying stamps for her Christmas cards, and days driving around town with the Christmas cards IN HER CAR, she forgot to actually drop the Christmas cards IN A MAILBOX.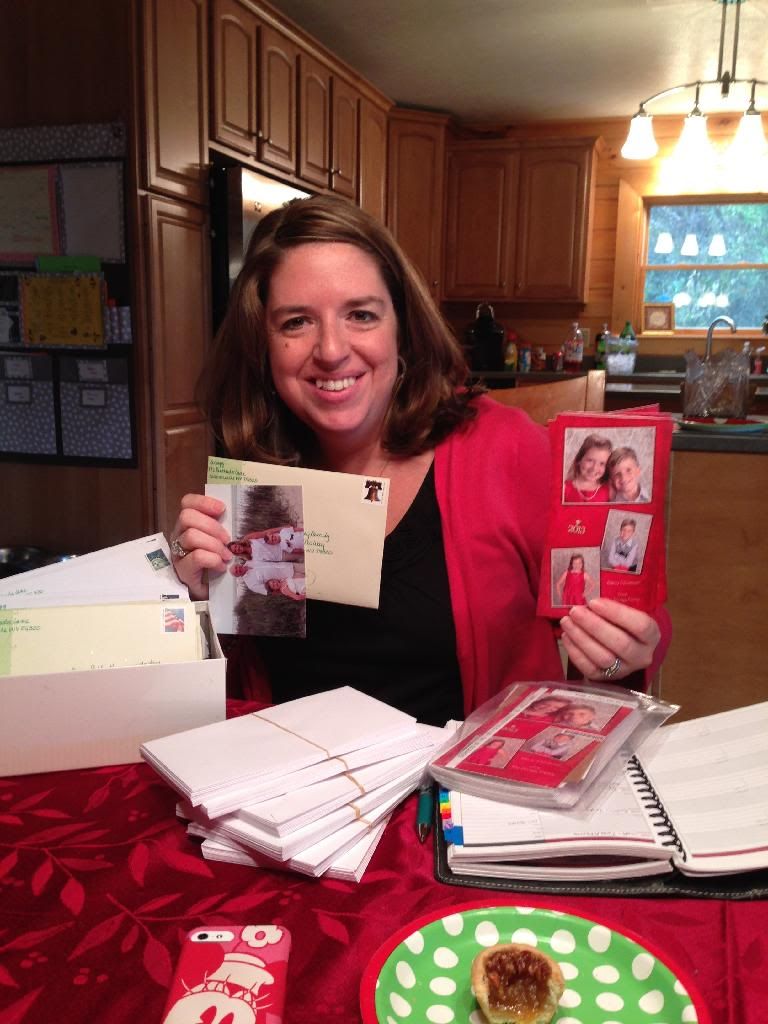 Y'all.
I am still laughing about this little gem two weeks later.
You can imagine the dilemma that presents itself the next year as you fill out this year's cards. Do you send last year's card along with this year's card? Do you trash last year's card and count your losses? Do you send both cards, making a note on last year's explaining that you're a dork?
Obviously, I'm kidding about the dork part.
I take the Christmas card thing pretty seriously and it would make me crazy crazier knowing I had forgotten to send them.
Part of the reason I didn't get much done at the party is because I got a wild hair up my you-know-what after seeing a great idea on Pinterest. I saw a fancy schmancy way to address cards. It went slow at first and took me several tries, but I just love how they turned out.
And before you start Googling, or decide to rob my friends, The Smith's or The Abbott's, you should know that the examples in these pictures are fictitious people and fake addresses. I didn't figure any of my friends or our family would approve or appreciate me displaying their personal info here on the blog.
The silver sharpie looks best on a red envelope, but I didn't have any extras.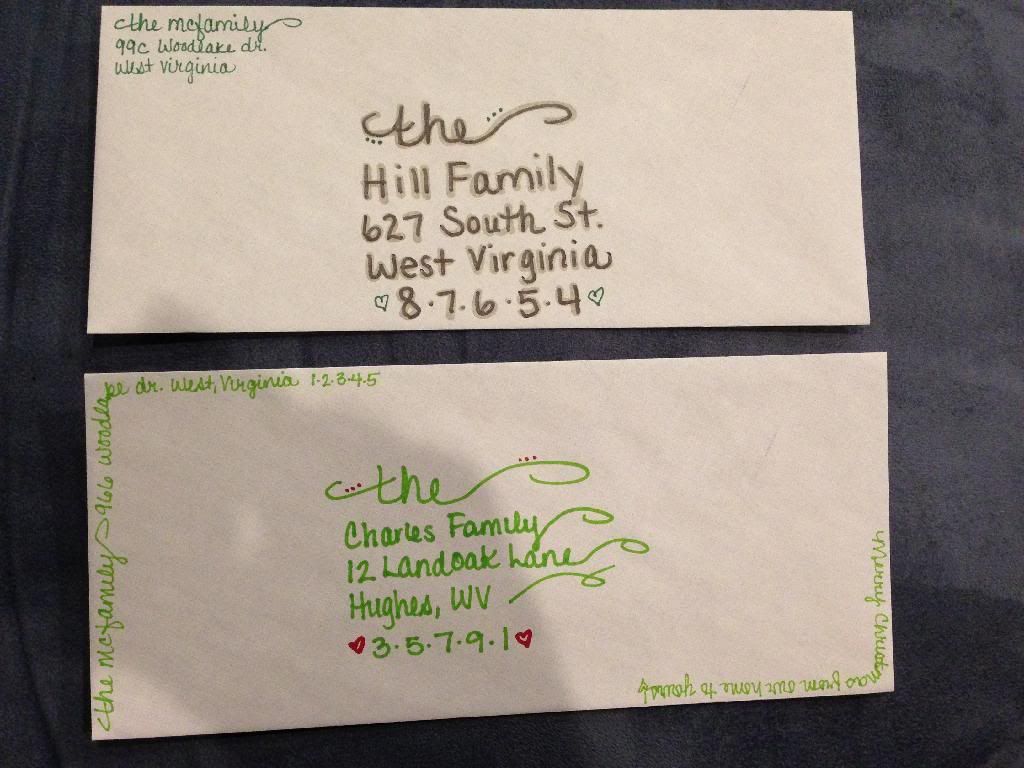 And I am so happy to report that I will be mailing my cards tomorrow.
Did you hear that, Christina?
I.
Am.
MAILING.
My.
Cards.
Tomorrow.
And you probably should, too!
Have a great Monday, folks.
I'll be enjoying my last couple of days being in my 30's…