One of the things that I've always loved about McDaddy is that he looks for every opportunity to help others. Honestly, (and I'm not just saying this because he is my husband) if more people were more like McDaddy, America would be a totally different place. I have said many times here on the blog that he is the type of person who does the right thing, even when no one is watching.
In other words, he is a very special person.
And by some strange twist of fate, this special, wonderfully considerate person chose me to be his. I feel like the luckiest girl in the world being married to him. For that reason, I wanted his 40th birthday to be really special.
McDaddy is not big on birthdays. He probably wouldn't even celebrate if he had his way.
Me, though?
I'd celebrate my birthday for the entire week month of December if I could talk someone into it.
Especially, since this one coming up is a BIG ONE.
Two days before his birthday, I got the bright idea to give him 40 gifts, which at the time sounded like a great idea. It wasn't nearly as easy as I thought it would be to find forty gifts that he would actually use that wouldn't cost a small fortune.
But, when I get something in this crazy head of mine, well, you know what happens.
I went to Target, Wal-Mart, Gander Mountain, Family Dollar, Dollar General, and The Dollar Tree.
Plus, I picked up a double-decker chocolate chip cookie cake from SAM's (because he loves chocolate chip cookies) and then purchased a tube of red icing to jazz it up a bit.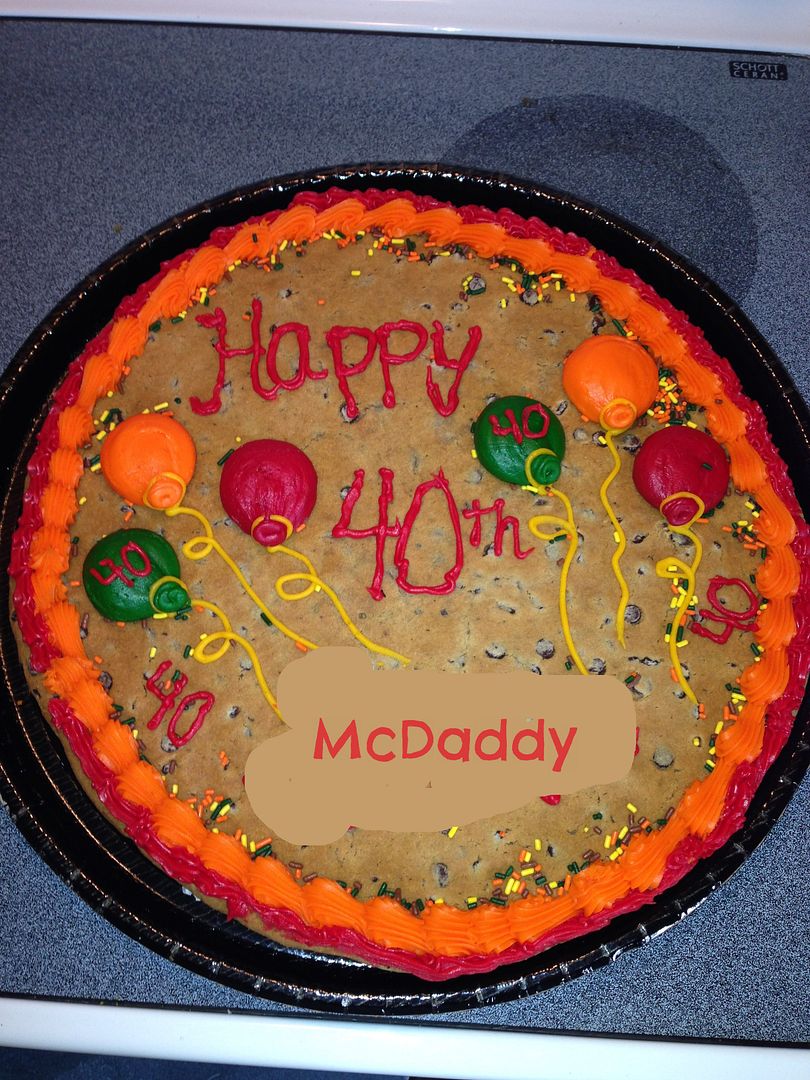 After picking Alex up from school, we stopped to buy some balloons for the occasion. I had intended to tie the balloons to our mailbox, but the wind was blowing like crazy, so they ended up tied to the front door.
Now, just to be clear, McDaddy doesn't seem to be bothered by the fact that he is forty. (Unlike *cough* others *cough* who will *cough* be forty *cough* very *cough* soon.)
It was fun watching him open 40 gifts.
It took quite awhile.
 I really hope he enjoyed it. The boys and I had a great time celebrating him and his forty years of life. If I could have, I would have wrapped up a Chevy Corvette and a six-car garage.
But alas, that was not possible.
We got him a really nice everyday watch (which he wanted!), car cleaning stuff, his favorite snacks, muscle rub and fiber bars (for his aging body and system!) things for the garage, a movie, a Matchbox Corvette, socks (which he needed!), and several other things.
Happy Birthday, McDaddy! We are so thankful that you were home to celebrate with us and not in Kuwait!
We love you so much!