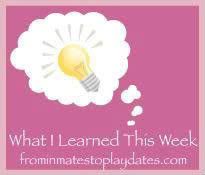 Sometime after dinner, I opened a kitchen cabinet in search of the lid for my Longaberger ice bucket that has been missing for months. A good three hours later, I had emptied, wiped, dried and straightened five cabinets, and my china cabinet.
I also found the lid I was looking for. And it was cracked.
It feels great to have my kitchen cabinets cleaned and straightened just in time for the busy holiday / weekend ahead. We host Thanksgiving dinner here at our house for my parents, McDaddy's parents, my brother, and my two grown nephews. And then on Sunday, we will host McDaddy's entire family (and it's a B-I-G one) here for a combined Thanksgiving/Christmas McCelebration. And then come Monday, my head will be spinning as I head up Santa's Workshop at Alex's school.
So, after a long evening of cleaning, I'll do my best to gather my thoughts and share what I learned this week.
1. Even though I have 12 place settings of China, for reasons unknown to me, I only have 11 coffee cups.
2. Bleach will take the finish (or since it's plastic, I suppose it's more like a protective coating) off of McDaddy's utitlity sink. OOPS.
3. I completely forgot to celebrate my 5th bloggy anniversary which if you know me is unheard of because I am typically a party looking for a place to happen.
4. When I saw that Lady GagGag and The Muppets were doing a holiday performance together, I had to laugh because HOW FRIGGIN' FITTING?
5. The French toast at iHop is better than the pancakes at iHop.
6. Medical Grade cannabis is of a much higher quality than the non-medical marijuana sold illegally.
I say it all the time people, this blog is about so much more than just entertainment.
7. While preparing to take a Christmas picture, the words do, you, want, to take, it, in, front, of, the, AND Jeep will make McDaddy very happy.
That's what I learned this week.
Now, what did YOU learn?
To join in on the What I Learned This Week carnival, simply follow these steps.
1. Any time this week, publish your What I Learned This Week post on your blog and link to this post.
2. Link up with the Mr. Linky form down below. Please put the link to your POST, not the front page of your blog.
3. Then visit the other participants and see what they learned this week.