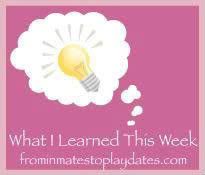 It's been a crazy busy few days. Over the weekend, McDaddy and I attended a Jeep Jamboree in Williamsburg, Kentucky (so yes, there are some lessons from the Jeep Trail) and I spent most of today unpacking and doing laundry.
And now this week, I'm in full-on Halloween/Alex's birthday party/Alex's class Halloween party week. Back in 2005, my OB Doctor called to say that I was pregnant with a big baby and did I want to go ahead and schedule my C-Section? I excitedly picked November 1st because me and my OCD like nice round numbers.
November 1st – as in, the day after Halloween. November 1st – as in, the first week of the month, which means McDaddy always has drill that weekend. November 1st – as in, always the same week as the school Halloween parties.
And every year at this time, I kick myself for my lack of forethought.
But just like Gloria Gaynor, I will survive.
Here's what I learned this week:
1. According to a fella on the Jeep Jamboree trail, you can never have too much fan.
2. When you're on the Jeep trail and you have to use the "restroom," remember, it's women on the right, and men on the left. WHY? Because women are always right.
3. If you're wheelin' with other "Jeep Peeps" it is important to ALWAYS keep the Jeep behind you in sight at all times.
4. When your Blackberry begins to recite the Bible to you, and you are unable to SHUT THE BLACKBERRY UP, it might have you to wondering, What is the Lord trying to tell me?
5. According to McDaddy it is tough to get white road-paint off of a chili-pepper red Saturn Sky. YIKES, Y'ALL.
6. There is at least one fella working the customer service desk at Kohls that has no business servicing customers. *coughEUGENEcough*
7. The staff at our local Chick-fil-a goes above and beyond every single time I am in there. Most recently, the young guy working the dining room accompanied my mom (who uses a wheelchair) and I to the car with an umbrella in the pouring rain. I have never experienced service quite like this in any other restaurant, ever. And today I called to tell them so.
8. The battery in the SKY key-fob is deader than 4 o'clock. I don't really know what that means, it's just something I say all the time.
9. The battery in my beloved iPhone 5 is on my LAST NERVE. I might suck at math but last time I checked 20% was equivalent to 1/5.  Twenty percent should not equal dead.
That's what I learned this week.
Now, what did YOU learn?
To join in on the What I Learned This Week carnival, simply follow these steps.
1. Any time this week, publish your What I Learned This Week post on your blog and link to this post.
2. Link up with the Mr. Linky form down below. Please put the link to your POST, not the front page of your blog.
3. Then visit the other participants and see what they learned this week.
Alrightythen. Ready, Set, GO!