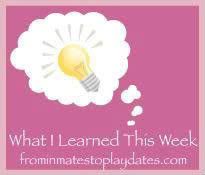 The boys had the day off from school. I am so happy that we commemorate Columbus Day, not so much because he decided to load up some boats and look for a whole new world, but mostly because I appreciate any opportunity that allows me to sleep in past 6:40 in the AM.
In a moment of weakness, I agreed to spend this day off shopping for Halloween costumes… which really translates to shopping for cool weapons and then choosing a costume to go with them. For that reason, G.I. Joe will be carrying a Ninja Katana Double Sword Backpack this year.
Besides that, here's what I learned this week:
1. Nothing makes the counter workers at McDonalds come alive quite like a school bus pulling onto the parking lot.
2. If you intend to mail a transfer case through the mail, you should know that the box will look like it went through a war-zone by the time it arrives at it's final destination.
3. Spider guts are not easily removed from vinyl siding.
4. When you are a grown adult chasing another grown adult with a can of silly string, you should probably make sure the sprayer is turned away from you. And you should probably keep your big mouth closed while doing so.
5. The "B" in Junie B. Jones' name stands for Beatrice. And she doesn't like it.
6. Valentin Chmerkovskiy dances much better with his shirt off.
7. Judge Judy says, "Just a second" A WHOLE BUNCH.
8. Tim Hawkins is my new favorite comedian.
9. If you have six red potatoes, some butter, minced onion, salt, pepper, and garlic salt, you can make a mean side dish.
10. There are A LOT of Broadway Shows playing right now.
11. OH, AND MCDADDY IS TAKING ME TO NEW YORK CITY FOR A 40th BIRTHDAY CELEBRATION NEXT MONTH!!!!
That's what I learned this week.
Now, what did YOU learn?
To join in on the What I Learned This Week carnival, simply follow these steps.
1. Any time this week, publish your What I Learned This Week post on your blog and link to this post.
2. Link up with the Mr. Linky form down below. Please put the link to your POST, not the front page of your blog.
3. Then visit the other participants and see what they learned this week.
Alrightythen. Ready, Set, GO!