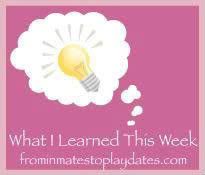 It is October in West Virginia. That translates to Bi-Polar weather. For instance, at our baseball game on Sunday, it was hot and sunny and I was such a hot mess when we got home that I had to take a bath before evening church. And then today when I left the house to take Alex to school, I was so cold I was sitting in the drop-off line shivering. I love fall, but honest to goodness I wish the weather would make up its mind. If I had my way it would be a straight 75 degrees year-round, but unfortunately no one ever calls to ask my opinion.
The first thing I've learned is that I better have a sweatshirt handy when deciding to go out in a short-sleeved shirt, or spending the evening at the ball-field.
Here's what else I learned.
2. There is a city in West Virginia called Cairo, but it is pronounced KAY-RO.
3. There is at least one *cough* person *cough* on the planet who is not familiar with Duck Dynasty.
4. It is possible to become fast-friends.
5. My IRL friend Heather was on Dr. Oz this week.
6. It makes me all kinds of happy that Heather is now my IN REAL LIFE friend.
7. There is a fine line between cooking bacon and burnt bacon.
8. I can work a mall like nobody's business.
9. It is rarely ever a good idea to wear a new pair of shoes to a six-hour conference.
10. When you purchase educational APPS from iTunes in bulk, you can get most of them for half the price.
11. Freedom Homes has a modular home for sale called the Si Pad.
That's what I learned this week.
Now, what did YOU learn?
To join in on the What I Learned This Week carnival, simply follow these steps.
1. Any time this week, publish your What I Learned This Week post on your blog and link to this post.
2. Link up with the Mr. Linky form down below. Please put the link to your POST, not the front page of your blog.
3. Then visit the other participants and see what they learned this week.
Alrightythen. Ready, Set, GO!