I first started blogging to document all the crazy that happens in my life. I also hoped that I might get to eventually host reviews and giveaways of really cool products. What I didn't count on was the friends I would make along the way. When I first made the decision to author From Inmates To Playdates back in 2008, I contacted two bloggers about blog design and hosting. Since that time, I have become FB friends with Heather and Jo Lynne and quite honestly, I consider them friends even though I have never met either of them.
Earlier this year, I received an email from a friend asking if I'd be interested in attending an Extraordinary Women conference in Roanoke, Virginia. When I found out that Third Day would be performing and Missy Robertson would be speaking, I said, "Oh yes, Sister, sign me up!"
A few days before the conference I was talking to McDaddy and mentioned something about returning on Sunday. He was confused (it doesn't take much when you're dealing with me) and told me he thought that we'd be back on Saturday. When I looked up the conference online I wondered what the heck was happening to my mind. Not only was McDaddy correct about me returning on Saturday, BUT ALSO that the conference was in Roanoke AND HOLY CRAP THAT'S WHERE HEATHER LIVES!
I contacted Heather on Facebook and said:
So…. I will be in Roanoke for Extraordinary Women on October 4-5. Any chance you'll be there, too?
She replied minutes later with
I'm working it – the Spirit FM booth – Need a place to crash? I have plenty of room! But yes! We MUST get together!
So.
In a matter of minutes, a perfect stranger who I had only talked to online had invited me and three of my girlfriends to spend the night in her home. She messaged me her phone number and asked if we'd want to meet her and some friends for coffee and doughnuts after the conference and/or dinner after the conference on Saturday night.
I was going to Roanoke with three girlfriends. I texted them to ask if they'd like to go for doughnuts after the conference on Friday or dinner on Saturday with a friend of mine. I might have neglected to mention that I had never met my "friend." While we were at the hotel getting ready, I mentioned in casual conversation that although I had been "friends" with Heather since 2008, I had never actually met her.
There was some silence.
Some bugged out eyes.
A look of ARE YOU CRAZY?
And a look of WHAT THE HECK ARE YOU THINKING?"
And it dawned on me that this whole thing probably sounded crazy.
Still, I was excited to meet her!
Once we arrived at the arena (and waited in a ridiculously LONG line to get into the conference), I texted Heather to let her know I was there. She texted back to say she'd be there to meet me as soon as she could get away. As I waited for Heather on the concourse, I felt like I was on a blind date. The crowd in the arena was crazy and it was hotter than you-know-what in there. Within minutes, I was face to face with my friend and we hugged like sisters separated at birth. After five years, I was face to face with my blog designer, Heather.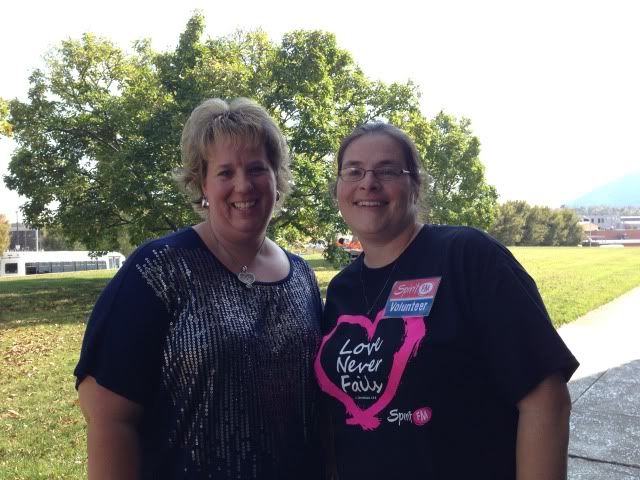 I could tell immediately that we would be fast IN REAL LIFE friends.
Because she was actually volunteering at the conference, we weren't able to talk long. We talked long enough for me to find out that her friend Cheryl – who was also at the conference – was a fan of my blog. It took me a second to process that. After writing this blog for five years, it is easy to forget that actual living, breathing people who I DO NOT KNOW stop in here day after day to read this mess, especially given my excessive comma usage and my flair for the dramatic. Only thing I can figure out is that my crazy makes your crazy seem less crazy. I told Heather that we'd love to meet her and her friend for doughnuts and coffee after the conference and we parted ways.
And then I giggled out loud thinking about the fact that I had a fan.
The conference was jam-packed. Unfortunately, so was the friggin' parking lot. There were cars everywhere and not a one of them was moving. After the conference we sat on that stupid parking lot for 35 minutes, which might have been enough to put me over the edge because I hate to wait – especially at a stand still – but thankfully, when four women get together almost anything can make them laugh. Especially something like this:
It still cracks me the heck up thinking about the license plate and the whole "well-behaved women" thing. In fact, it was an on-going joke the entire weekend with my girlfriends.
And just for the record, there's a pretty good chance I might make history someday.
Because it was midnight before we moved off of the arena parking lot, we decided that it was too late to go out for coffee and doughnuts, but agreed to go to dinner after the conference on Saturday.
Y'all.
Dinner was, um, an experience.
Heather told us about a nearby Mexican joint called El Rodeo. I was a little leery because let's face it, Mexican restaurants can be a crap shoot, and when I order my "Chicken Fajita Chimichanga without guacamole anywhere on the plate" I have high expectations. Heather and my fan her friend Cheryl were already at the table chowing on the chips and salsa when we arrived at the restaurant. The waiter showed up at the table almost instantly, and before I knew what had hit me I was blushing and speechless because our waiter was off the hook. If you know me IRL you know that it is difficult to embarrass me and that I am rarely ever speechless.
In his defense, the six of us were more than any one man should have to handle by himself. He rose to the challenge. When my friend Jessica – while looking at the menu, mind you – asked "So, what's good?" ol boy didn't miss a beat when he responded with, "Me!"
Y'all.
I about fell out of my seat.
I was just like, "Well, alright! This cat is crazy as we are!" and I kinda figured the El Rodeo hadn't seen this much excitement in a very long time. Our waiter, who I learned, was named Dennis (which cracks me up, because how many Mexicans do you know named Dennis?) was great. The chips and salsa were some of the best I have ever had  and my chicken fajita chimichanga (which I have never seen on a menu) was yummy. I would suggest you skip the "cheese sauce" though, unless you like more mayonnaise than you do cheese or sauce.
As we were diggin' through our purses for money to pay the bill, I remembered that I had a pile of pennies in my wallet. I couldn't resist leaving our new Mexican friend, Dennis a message (and no this was not his only tip) on the table.
Don't ask me why I left the word H-O-T. It could be because I only had 33 pennies and couldn't think of anything better. Or it could be because Dennis kept using the word "caliente" and it only seemed appropriate. Whatever the reason, he seemed embarrassed when he went to our table to retrieve his tip.
That's Dennis there on the right.
He probably thinks we are a bunch of crazy lunatics.
And he is half-right.
I had so much fun this past weekend. I REALLY enjoyed Third Day, Tim Hawkins and Missy Robertson. But more than that, I LOVED meeting my friend, Heather.
And my new Mexican friend, Dennis.