For more than a year, McDaddy and I have been making plans to turn our fifth bedroom into a mudroom. The room is off of the garage, but when we moved into our home, there was no door connecting the room to the garage because apparently the people who owned the house before us were crazy people who didn't feel a need for the garage to be accessible from inside the house.
It took about fourteen minutes after closing on our home for McDaddy to decide that the first project up in here would be to cut a hole in the basement wall and put a door in.
And that's precisely what he did.
So, the fifth bedroom – as it was listed on the house description – became a fifth bedroom with garage access. In addition to the room being more useful (because now McDaddy could get to the basement bathroom from the garage) the room became a catch-all because aside from walking through the room from the garage, we rarely spent any amount time in there.
Then, I started spending time on Pinterest.
And I saw all these beautiful mudrooms.
And the proverbial wheels started turning.
And like I do every time I get a wild hair up my you-know-what I began my mudroom campaign talking to McDaddy about turning the big, handy room off of the garage into a mudroom.
I started a Pinterest board called Designing My Mudroom and I started pinning like a crazy person.
Have I mentioned how much I love Pinterest?
Soon after that, I asked my dad if it would be possible to build a wall-unit and I showed him several pictures of units I pinned to my DMM Board, and explained how I'd like more shelves because OH MY WORD WE HAVE LOTS OF JUNK.
If I had any sense, I would have taken a picture of the drawing my dad made based on the description I gave him, because it was impressive. 
Soon after deciding to remodel the room, we started to shop for flooring. We settled on wood-grain foam flooring, and ordered it soon after that. That flooring is in boxes in our basement and I can't tell you how excited I am to get the floor installed. But that's another story for another day.
Anyway.
My dad's friend, Frank has a workshop. The two of them spent several days working to get the wood cut and prepared.
And you can imagine my excitement as I watched the wall unit starting to come together.
That's Frank on the left and my Daddy on the right.
And here's my daddy attaching the hooks that will eventually hold our jackets. (HI DAD!)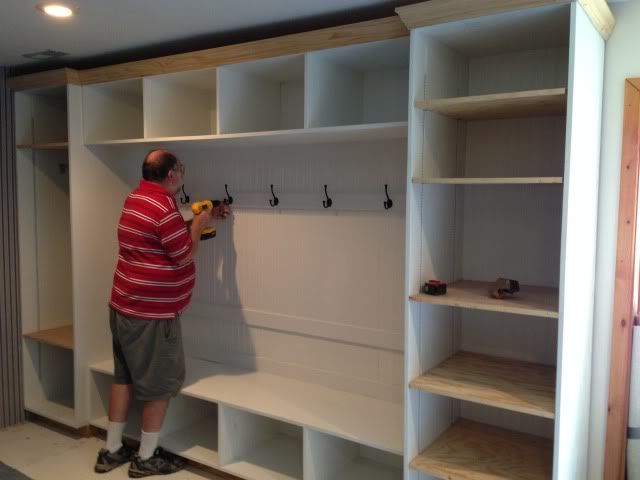 Now.
Do you see all that fancy chair rail on top of the unit?
That was all my dad. I assumed that it would just be a flat board on top because it is so close to the ceiling. I never dreamed he would make it so fancy, but OH MY HEAVENLY DAY, I LOVE IT!
Nor did I have any idea that he and Frank would make the shelves on the sides adjustable, BUT SWEET HALLELUJAH I LOVE OPTIONS!
You can imagine my excitement when I walked into the room to see this.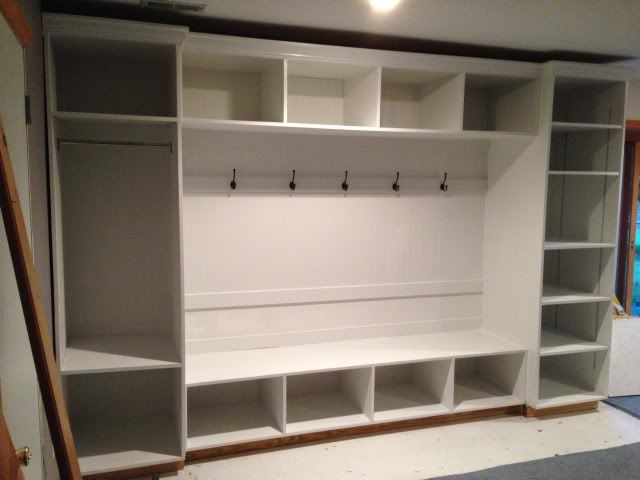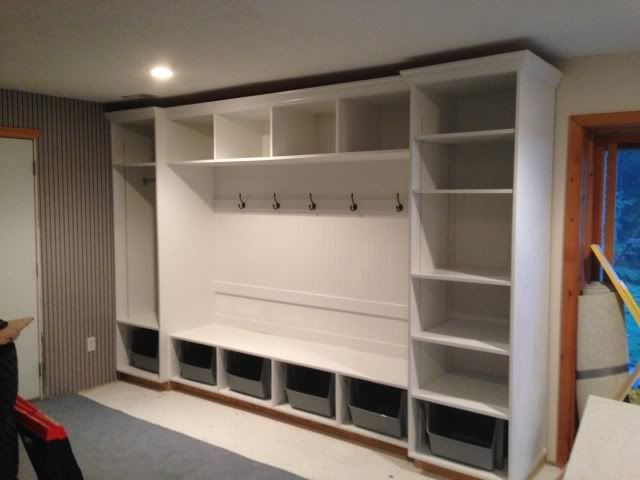 I plan to use scrapbook stickers to put our names on each of our shoe bins. Additionally, I have asked my friend Jill to make a denim cushion for the area just above the shoe bins. And as bad as I straight-up HATE to wait, I. MUST. WAIT. because Jill is busy making a Halloween costume for her daughter.
And speaking of WAITING.
I won't be waiting long before telling McDaddy to GET THESE FRIGGIN' JEEP TIRES OUT OF THE ROOM, so we can clear out the room and get the new flooring down.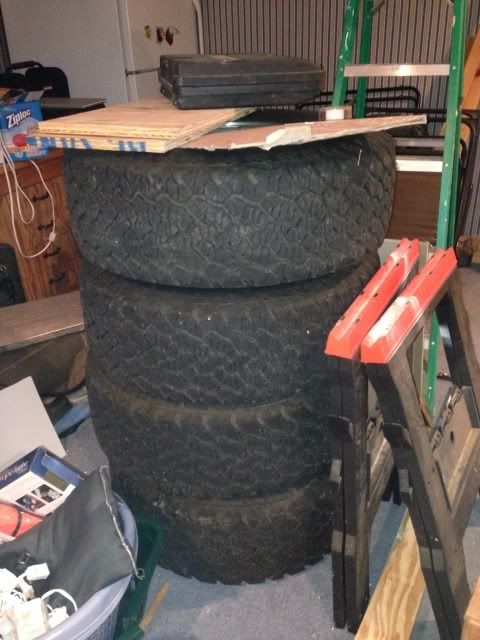 I'll share the pictures just as soon as we get the floor done.
Stay tuned….