It's hard to welcome Fall with open arms when it's 90-some degrees every other day. I am waiting patiently to cook up a crock-pot of chili or a big ol bucket of vegetable soup on a cold, crisp day.
Although I've been burning Pumpkin Cupcake and Pumpkin Pecan Waffle candles for more than a month, it has taken me a little longer to get all of my fall décor in order. I have moved this stuff around for weeks (because I am an indecisive crazy person) but as of today, I think I've got it all where I want it.
I am most excited about my front porch.
though I have no idea what is up with my front door. (Shadows maybe?) Let the record reflect that I have kept the mum alive for an entire week
I study Pinterest to get porch ideas but mine never quite turns out like anything I see on there.
I picked up this cute little bench at a primitive shop earlier this week.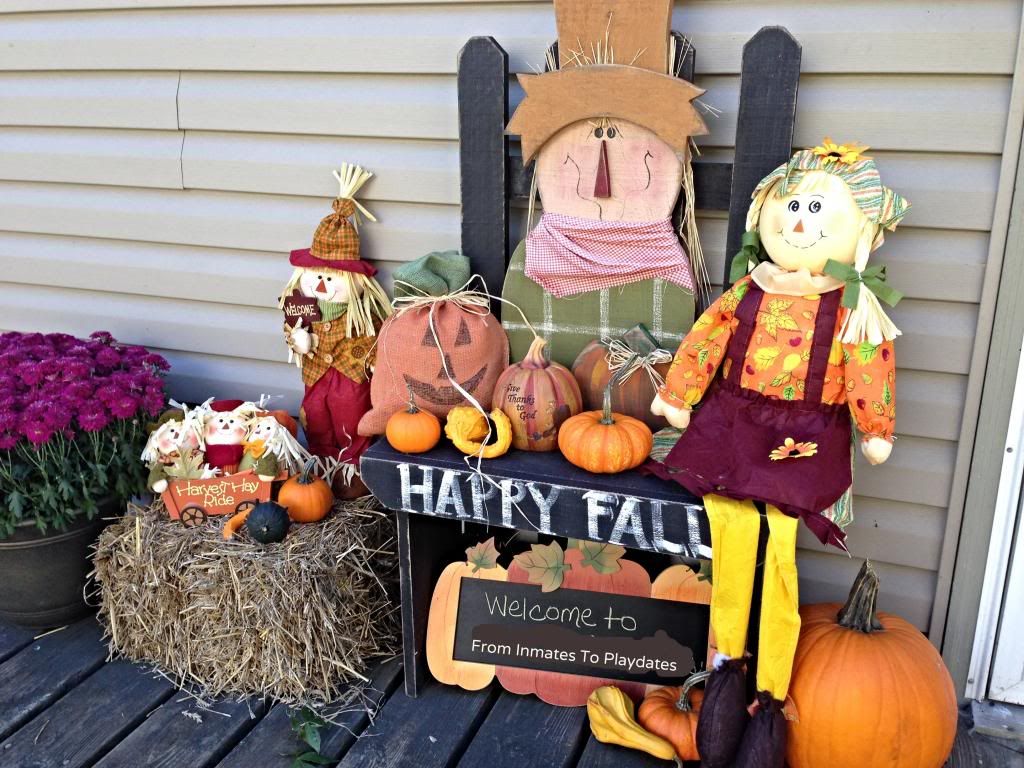 The lady at the shop suggested I coat the bench with polyurethane to protect it from the elements.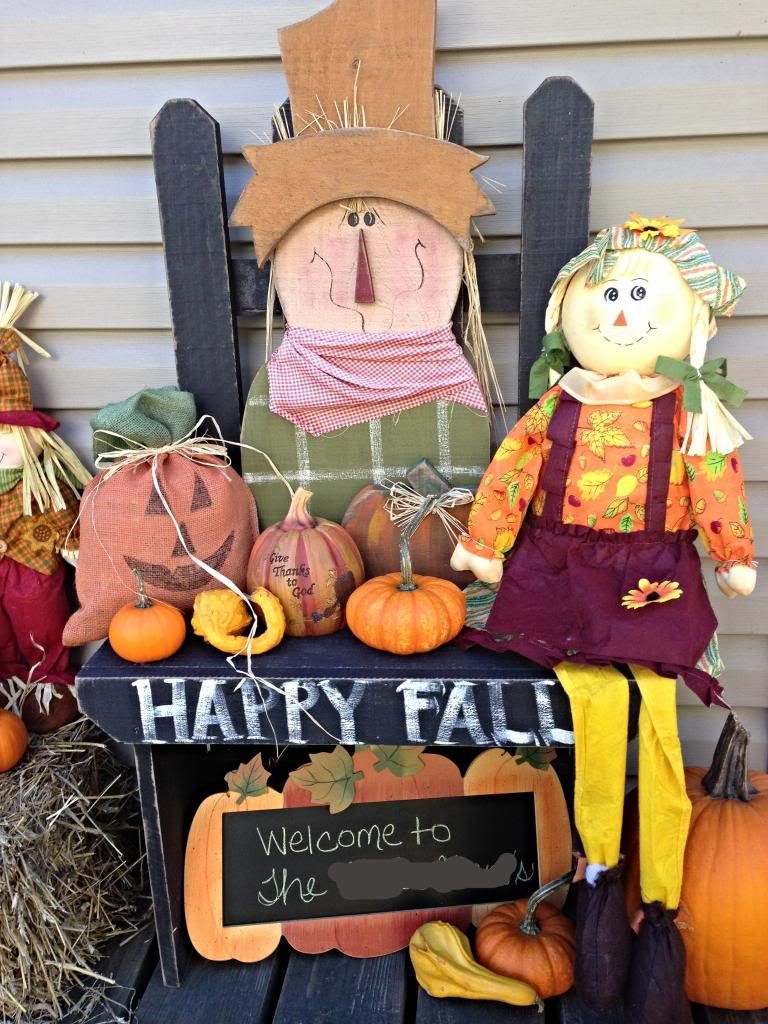 I plan to do that this weekend.
This guy hangs out on the other side of the door.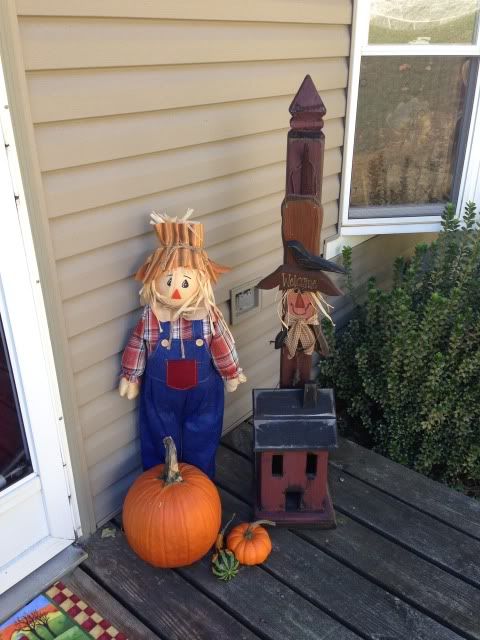 And here's a close-up of my front door (and also one of my favorite fall décor pieces).
Unfortunately I forgot about this little fella when I repainted my front door. Leave it to me to paint my door the same color as his shirt. Kinda makes me think I should have left it sage green.
Have I mentioned that I just love fall?
Moving inside, my dining-room table is plain and simple. In my opinion, you can never go wrong with Longaberger.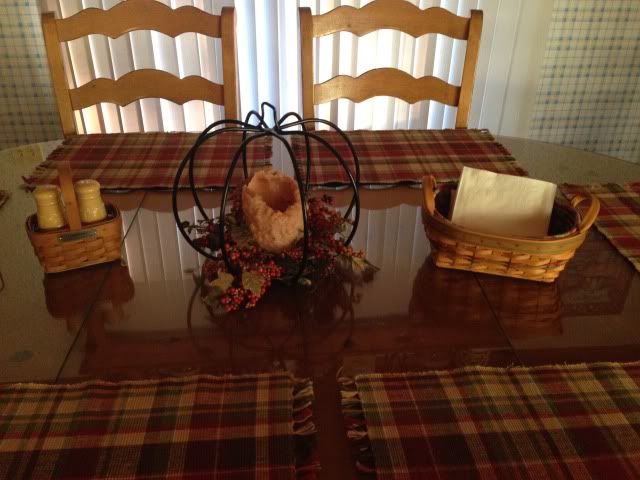 I just love it!
Our great room includes our living room, dining room and kitchen. The living room portion is all decked out for fall. The basket shown in the middle of the table is a Longaberger cake basket. I purchased the pumpkin lid during a trip to Dresden a couple of years ago. It makes me smile. (They also had a snowman lid which I did not buy. That does NOT make me smile because every year when I get the pumpkin lid out for fall, I think about the snowman one too!)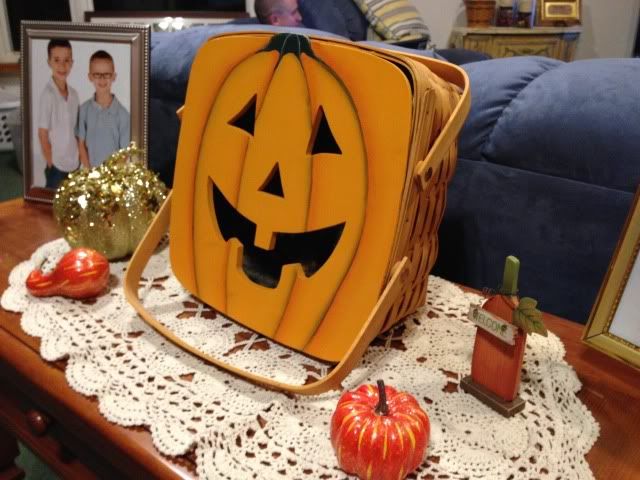 I picked up the smaller items at Big Lots and Crafts 2000.
Our living room features a large bay window. I decorate it for every season.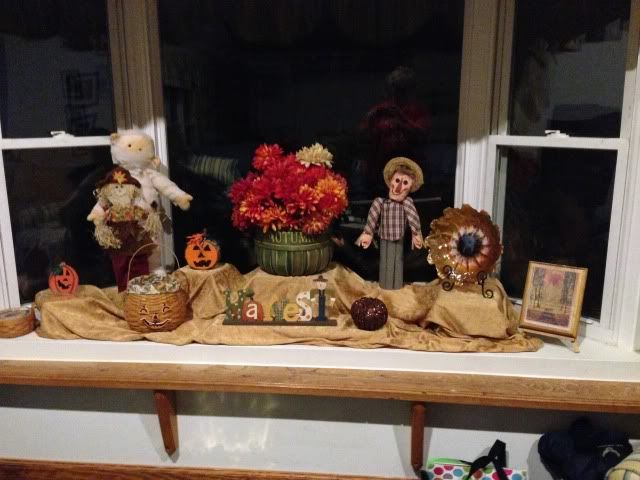 I picked up the sunflower bowl at Big Lots one day last week. They have a really nice line of fall décor and I just love it! (I typically place assorted size boxes in the window and then throw a table-cloth or sheet on top of the boxes.) The wooden picture on the right is actually one of our church bulletins decoupaged onto a wooden square. I love that one of the ladies from our church taught us how to do that at a ladies retreat a few years back.
The coffee table falls victim to movement pretty frequently because the boys sometimes sit on the table when they play the Wii, or use the table for a race track for their cars. (I am a firm believer that scratches only add to the personality of a coffee table and there will come a day when I will look back on the table and long for another CARS race around its perimeter.)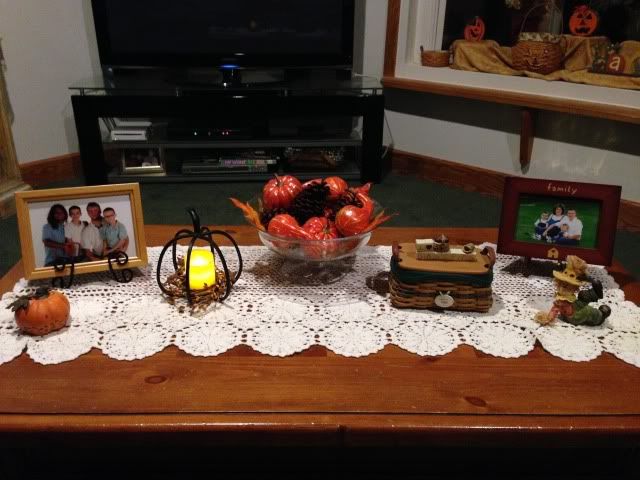 I've been toying with the idea of moving these three glass cylinders to the coffee table. The only problem is that they are tall and I feel like they distract from the television which sits directly in front of the coffee table.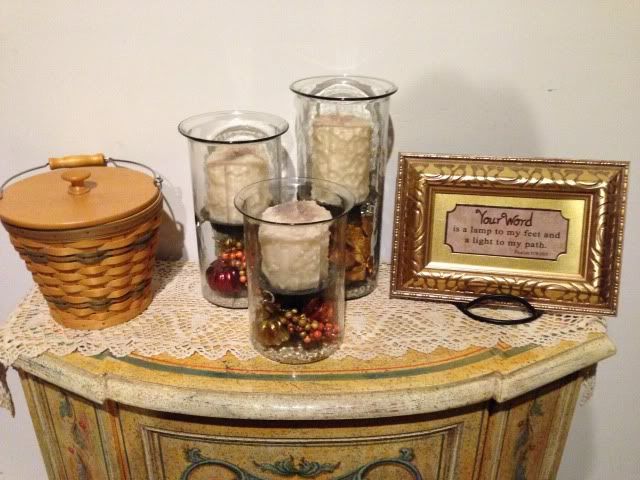 I love this little end table display (but I HATE candy corn!)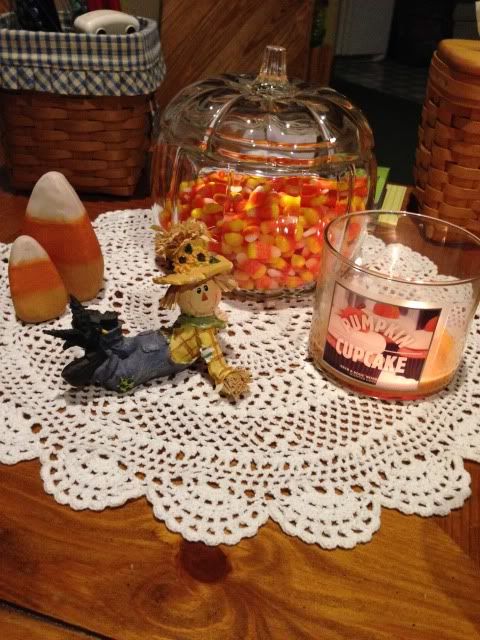 And if you haven't tried a pumpkin candle from Bath and Body, I suggest you get your tail end over there right now! (In the interest of full disclosure, I am not being compensated to say anything about B&B candles. It just so happens they are my favorite candles and they smell yummy!)
That's fall around here, y'all!