I did something today that I have never done in my adult life.
I purchased a box of Trix cereal.
I have serious issues with the Trix Rabbit because years ago, "Trix Rabbit" was my nickname.
Before orthodontic intervention, my teeth were a hot mess. Because of that, a couple of boys in my Jr. High (now called Middle School) home room nicknamed me "Trix Rabbit".  I haven't been able to stand the sight of that stupid rabbit since then.
And even though I looked nothing like that idiotic rabbit, I have since refused to buy the cereal because it reminded me of those stupid boys calling me a stupid name.
Just to be clear, this is the way I looked back then,
It's been 25 years, but I have never forgotten their words.
Fast forward to 2013.
I was snooping around on Pinterest and found a recipe for Trix treats. I knew immediately this was something the boys would like. The only problem is, I don't buy Trix cereal.
But this morning?
I bought some butter, a bag of mini-marshmallows and Lord, help me, a box of Trix cereal.
Doesn't it look like the Trix Rabbit is going after those marshmallows?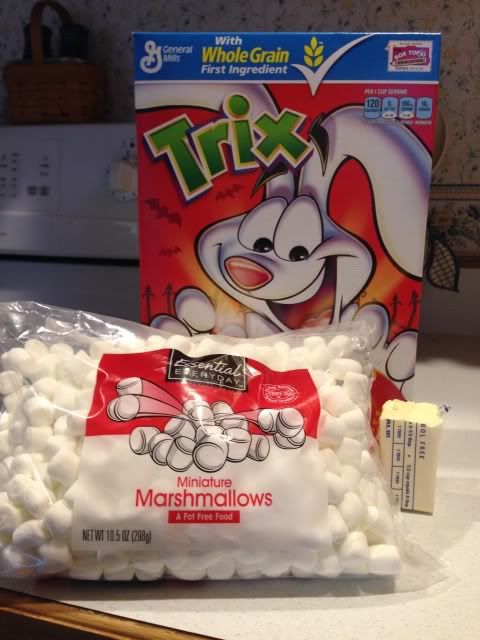 If you've spent any amount of time around here, you know that I have a few requirements for making a recipe.
Quick
Easy
Fail proof  (this one *might* be a stretch because it doesn't take much for me to mess something up in the kitchen)
Ingredients
1 regular size bag of mini marshmallows
1 box of Trix cereal (about 9 cups)
¼ cup butter
Instructions
Place the marshmallows and butter in a glass bowl and microwave for 2 minutes, 30 seconds.
Grease a 9×13 pan
Stir butter and marshmallow mixture.
Pour mixture over Trix and stir until all cereal is well coated. (It will be tough to stir, but keep at it!)
Spoon (or SHOVE in this case) into a large 9×13 pan and press down with a spoon.
Cut and enjoy.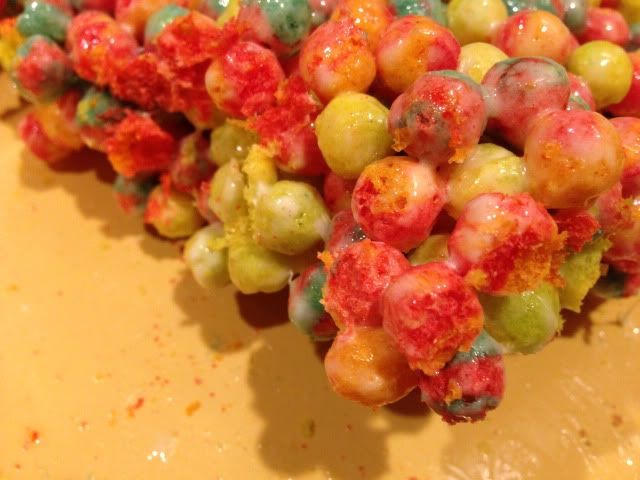 Aren't they pretty?
While I will probably never be a big fan of the Trix Rabbit, I am a HUGE fan of the Trix Treats.
And you will be, too!
Happy Halloween, y'all!