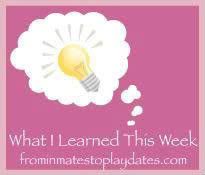 I've been busier than a raccoon in a trash-pile today.
It's consignment sale week and I've been busy trying to get all of the items typed into the computer so that I could print the tags. I have piles of clothing and stacks of shoes all over my living room, and that drives me nine kinds of crazy!
I might have been able to get it all done, but I had to stop several times, once to take Stevie to the Orthodontist and then again when McDaddy and I had attended a Middle School meeting and a parent planning meeting at Scouts.
Plus, I actually cooked today, so GO ME!
Here's what I learned this week.
1. The new talking EpiPen (Auvi-Q) is a great invention. The School nurse asked to borrow my trainer so that she could train the staff to use it.
2. Before buying a greeting card you should look at the price. I was shocked when I looked at my Wal-Mart receipt recently and discovered I had paid $6.47 for a greeting card. (Really, Hallmark?)
3. When your seven year-old tells you that he saw a snake in the garage, you should not automatically assume that he saw a lizard.
4. Only one exterminating company in our area treats for snakes.
5. Once it is confirmed that there is indeed a snake in your garage, you will be a nervous crazy person each and every time you have to go back out there.
6. I should have purchased a whitehead/blackhead remover tool years ago.
7. I should have stopped purchasing Little Debbie's years ago.
8. Silas Merritt Robertson might be one of the funniest individuals on the planet.
9. Breathe-Right nasal strips are a waste of money.
10. Corn on the cob should not be boiled more than eight minutes.
That's what I learned this week.
Now, what did YOU learn?
To join in on the What I Learned This Week carnival, simply follow these steps.
1. Any time this week, publish your What I Learned This Week post on your blog and link to this post.
2. Link up with the Mr. Linky form down below. Please put the link to your POST, not the front page of your blog.
3. Then visit the other participants and see what they learned this week.
Alrightythen. Ready, Set, GO!