*I began writing this post on June 17, 2013. As I was writing it, I began experiencing a sharp pain in my lower back. I recognized the pain immediately and knew I would not be finishing this post that evening. Less than an hour after shutting my laptop, I was headed to the emergency room in search of a strong narcotic. Thanks to my third (and most stubborn) kidney stone, I totally forgot about finishing this post. And now, more than a month later, I'm finally getting around to finishing it.*
When we decided to have a second child, McDaddy and I realized there might come a time when we'd have to divide in order to conquer.
For us, the whole divide-and-conquer thing typically happens as a result of a crazy-busy thirteen-week period of time known as baseball season. Alex plays in coach-pitch league, and Stevie plays in player-pitch league, and for some reason the powers-that-be here at our small town Little League couldn't care less that McDaddy and I have to juggle these two schedules. If only they'd let me make the schedules, things would be so much easier for us.
But alas, such is life.
This past weekend was Webelos Weekend for Stevie. It is the also the weekend that Alex's Little League coach-pitch team was playing its first all-star tournament. Deciding which kid I'd be accompanying this weekend was a no-brainer when you stop to consider
1. Campers are not allowed at Webelos Weekend
2. I HATE SLEEPING IN A TENT, and,
3. The "toilet" at the campground looked like it was about 416 years old and hadn't been cleaned in roughly 413 years. (And if McDaddy wasn't in bed, I would include a picture of the toilet here on the blog for your viewing pleasure. Since he is the only one in the house who has a J-O-B, he is fast asleep at 10:58 PM.)
McDaddy and Stevie left out of here around 11 AM on Friday morning.
Alex and I left home about thirty minutes later.
In this…
Sweet mercy, have I mentioned that I LOVE, LOVE, LOVE this car?
And we drove it almost everywhere we went last weekend, except when we invited Alex's friend Tanner to dinner, and to ride the grand prix cars.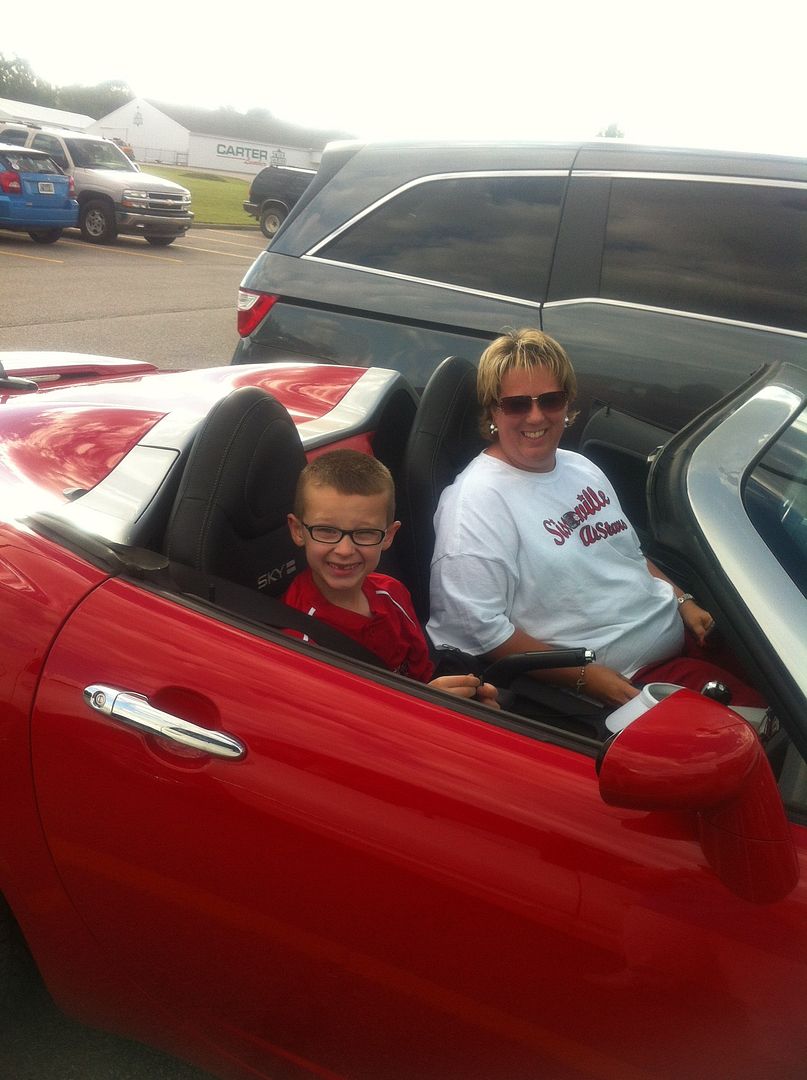 My mother-in-law took this picture when we met them for dinner before Alex's first all-star game.
I didn't realize how different it would be having just one kid for an entire weekend. There was no bickering. No fighting. No refereeing.
Plus, we got to ride in the SKY all weekend, because HELLO, only ONE KID! We ran non-stop all weekend, but we had a great time.
I have just one thing to say about the all-star baseball process.
And All-Star baseball game is like any other normal baseball game.
ON STEROIDS.
There is so much excitement. And yelling. And cheering. And clapping. And whooping. And pressure. And heart banging.
Holy cow, I didn't think I was going to make it.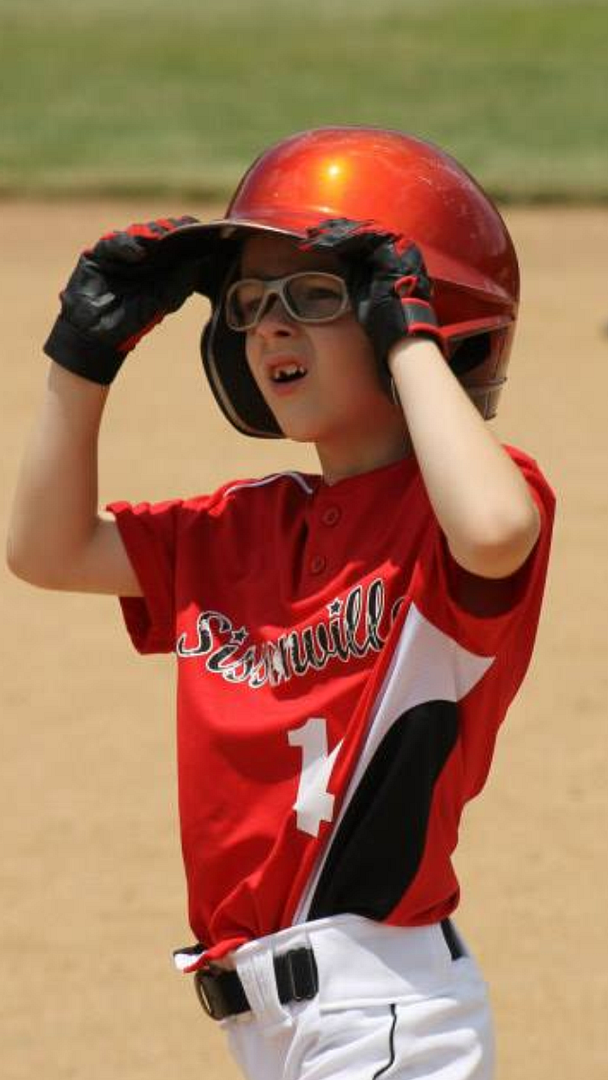 From the way my heart was banging, you would have thought this little fella was playing for the New York Yankees.
Instead, he is a seven-year old who has played coach-pitch baseball for all of twenty weeks, when you add in the fall ball season.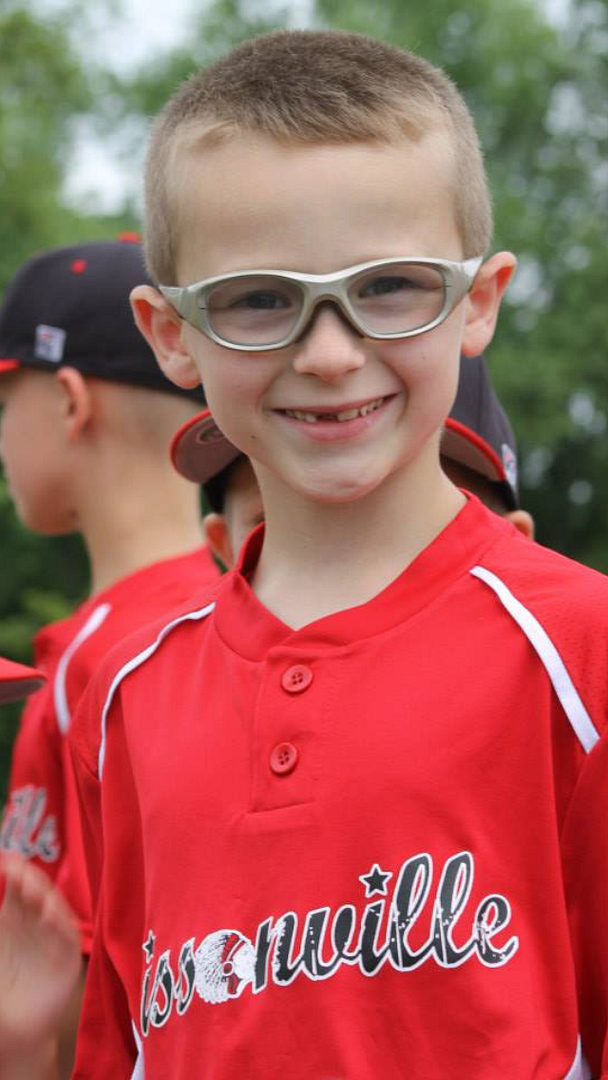 His team lost their first game 15-11.
And then we won. (And by we, I totally mean HIS team!)
And then, we won again.
And just when I didn't think things could get any more nerve-wracking, my sweet boy suited up in this…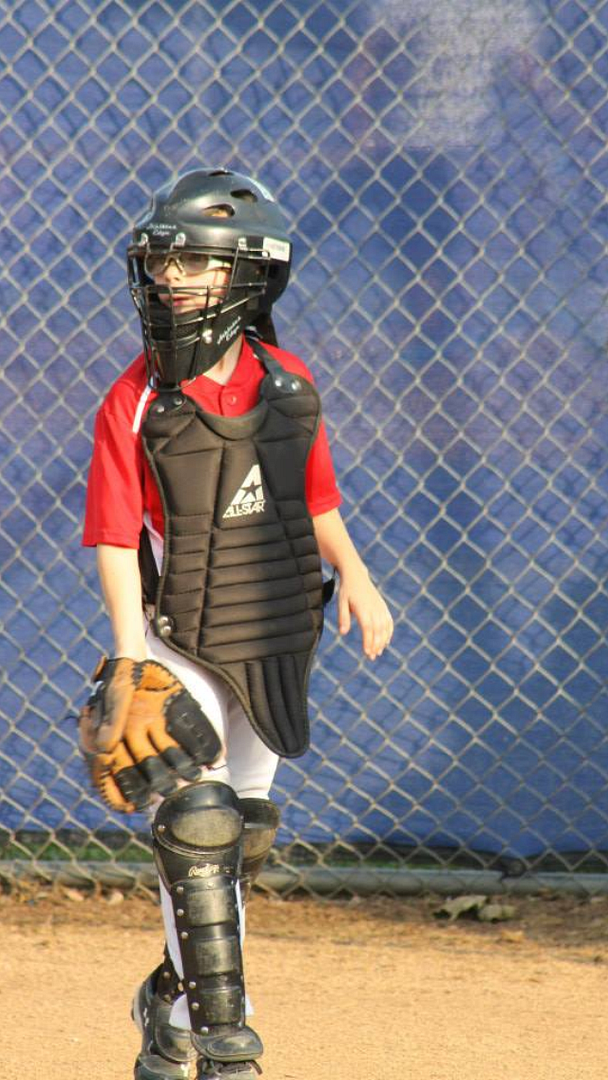 Holy hallelujah, I thought I'd have a heart attack right there.
It was the first time he had ever played the position of catcher. And the even crazier part is that within seconds of taking this picture, my sweet, stubborn little boy decided it would be easier getting the head-gear off if he took his rec-specs (sports glasses) off. So, he ended up playing catcher without his glasses.
But wait, there's more…
After his coach observed him looking out the side of the rec-specs to bat, he was convinced he couldn't see well with the rec-specs and asked me if I had his regular glasses (of course we didn't). When he got up to bat, he didn't have one bit of trouble seeing the ball. Who the heck knows what that was all about. All I know is that he seemed to be doing just fine without any type of visual assistance, and so we went with it.
I am still perplexed about the rec-spec mystery, but once we are home long enough to have them checked out, I intend on taking the rec-specs to his eye Doctor to make sure the prescription lenses are correct.
I thoroughly enjoyed the All-Star experience. When his coach asked us if he would be trying out for all-stars, I was taken by surprise. When we first mentioned it to Alex, he was adamant about NOT trying out. (I was serious when I told you he was stubborn!) By the next day he had made up his mind that he would try out. It added another two weeks onto our baseball season IN THE DEAD HEAT OF SUMMER, but it was so worth it. He was thrilled when he got to choose his number, and he lit up when he discovered that his name was on the back of his jersey. And I hollered and whooped like a straight-up crazy person in the stands. It was an awesome experience for all of us!
An experience which also thankfully included clean bathrooms.
Have a great Monday, y'all!