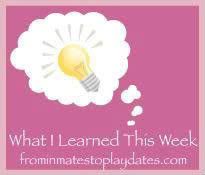 Every week, I say I am going to keep a running list of things I've learned this week to make writing this post easier. Because without fail, by the time Monday night rolls around, I have forgotten every doggone thing I wanted to remember, and I sit here flipping back and forth between Facebook, Words With Friends and whatever happens to be on the television at the time, straight-up struggling to remember even one thing I learned this week.
And wouldn't you know, I've been so busy with all-star practices and games this week that I neglected to keep a running list.
So, as best as I can remember, here's what I learned this week.
1. ALWAYS zip your camera bag COMPLETELY, or your zoom lens might fall out of the case and onto the road.
DANG.
2. A big, fancy DSLR camera does you no good if you forget to put your SD card back in it before taking it to the ball field.
3. An all-star baseball game is like a regular baseball game. ON STEROIDS.
4. There is a lot of energy and excitement at all-star games.
5. The stupid Avast antivirus software on my laptop gets on my every last nerve.
6. And so does my laptop when it decides ON IT'S OWN to restart itself so that it can update the stupid Avast antivirus software.
7. It's hard to lose weight when you often eat a bowl of cereal before bedtime.
8. There are a LOT of coach-pitch baseball rules.
9. There are even MORE coach-pitch baseball rules in an all-star tournament.
10. I have a LOT to learn about coach-pitch baseball, especially since Alex has two more years to play it.
11. Chicken in a Biskit crackers are addictive. Except there probably aren't any chicken or biscuits involved in the making of them.
That's what I learned this week.
Now, what did YOU learn this week?
To join in on the What I Learned This Week carnival, simply follow these steps.
1. Any time this week, publish your What I Learned This Week post on your blog and link to this post.
2. Link up with the Mr. Linky form down below. Please put the link to your POST, not the front page of your blog.
3. Then visit the other participants and see what they learned this week.
Alrightythen. Ready, Set, GO!