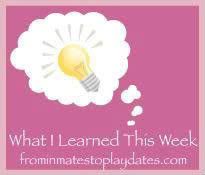 If it weren't Tuesday, I'd be writing another edition of "Letters To Crazy People" because I've had more than my fair share of interaction with crazy people this week. I suppose I'll quit the whining and save all that for another day. Instead, I'll share with you, (all eight of you!) what I learned this week.
1. If the seatbelt in the SKY locks and refuses to come out to wrap around you, it will take McDaddy about 45 minutes to fix it.
2. If the weight mechanism in the SKY seatbelt locks up twice, McDaddy will decide to order a new one.
3. A new seatbelt locking mechanism for the SKY will cost you about $150.
4. It's not as difficult to find parts for a six-year old vehicle that is no longer manufactured as I thought it would be.
5. There is at least one Doctor in the Charleston area who should 1. hire more nurses, or 2. get rid of the two nurses he has and hire two dependable ones.
6. You never know who you might see at the massage place in the mall.
6. Conchata Ferrell (Berta on Two and a Half Men) is from Charleston, West Virginia.
7. Conchata Ferrell is building a new house about 15 miles from my house.
8. Conchata Ferrell no longer talks to Charlie because, in her words, "when he went off the deep end, he changed all of his phone numbers".
9. The new massage place in the mall is a great place to get a massage.
10. A seven-year old can have a lot of fun making a scrapbook.
11. An alarm is always best.
12. A dead mouse in a glue trap is 7,514 kinds of nasty.
13. When you accidentally buy cream cheese instead of sour cream for a dessert you are making, you should know there's a good chance it will taste okay.
14. The word fatuous means silly and/or pointless.
That's what I learned this week.
Now, what did YOU learn?
To join in on the What I Learned This Week carnival, simply follow these steps.
1. Any time this week, publish your What I Learned This Week post on your blog and link to this post.
2. Link up with the Mr. Linky form down below. Please put the link to your POST, not the front page of your blog.
3. Then visit the other participants and see what they learned this week.
Alrightythen. Ready, Set, GO!