The bad news is – it was 319 degrees today with about 98% humidity.
The good news is, the visitor side of the baseball field we were playing at this evening was completely shaded.
I remember the first season the boys signed up to play baseball. The evening of our first practice was cold and muddy and I remember remarking to McDaddy that we shouldn't have ever allowed the boys to sign up for baseball because holy crap! there was a lot of mud and I would never ever be able to get our shoes clean, and both boys would probably end up on nebulizer treatments after spending hours out in the cold, wet air because it happens EVERY. SINGLE. TIME.
No, I am not exaggerating.
And yes! I am a joy to live with.
After each practice I scrubbed cleats with a toothbrush because I couldn't stand the thought of ALL THAT MUD.
And when I found out BOTH boys would be wearing white baseball pants, I was shaking my head at the stupidity of it all.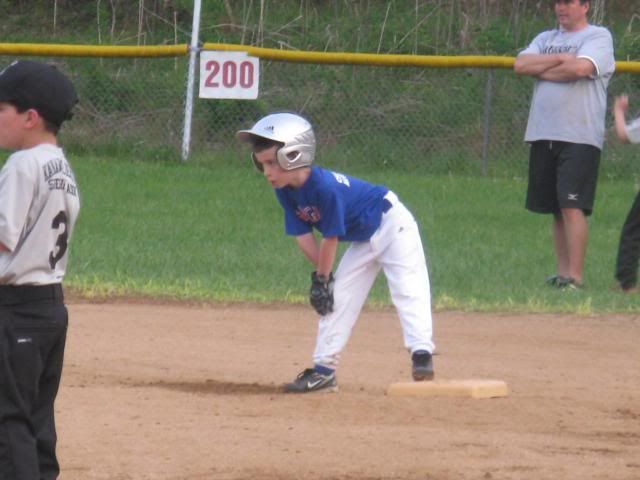 I knew absolutely nothing about baseball except that there was an umpire and eventually we'd be singing about peanuts and cracker jacks.
We received a schedule for both boys and I almost swallowed my tongue when I realized that between the two of them they had 51 games scheduled.
IN EIGHT WEEKS.
With 51 games on our schedule, I had no idea when I'd see my next nap or even if I'd be able to catch The Bachelor. What had we gotten ourselves into?
And then it came time for our first game.
Y'all.
The first time my boy got up to bat, I screamed like a lunatic. He cracked that ball, I stood up, and before I knew what was happening, I dribbled on myself.
Not my proudest moment, for sure. But all the moms sitting around me understood my excitement. We whooped and hollered all afternoon. I was new to this whole baseball thing, and surprisingly, I thought it might be something I could eventually enjoy because there was lots of time to sit and talk!
And so began, a new season in my life.
Baseball Season.
It is precisely the reason I bought a fancy DSLR Canon Rebel.
It is the reason, my left calf is scratched and scabbed over.
And it is also the reason I am constantly behind on the laundry.
After that first season, Stevie's coach asked if I might like to learn how to keep the baseball book. (I feel certain he asked me this because I was so loud in the stands he thought I might be quieter if I had to actually SHUT UP and PAY ATTENTION.)
I told him if he needed me, I'd give it a shot, and so I went to YouTube and taught myself the absolute basics about keeping the book. I remember being so afraid I would miss something, or screw up the batting order. I was a nervous wreck, mostly because that's how I operate. During our first game one of the dads stood with me to help me catch and record each play. By the end of that first season, I felt pretty comfortable with keeping the book even though I was only keeping basic stats.
Stevie has been blessed to have the same three coaches throughout three (or is it six?) seasons of fall and spring ball. That means that we are a pretty tight-knit group of parents. I absolutely LOVE our baseball family. Both of our boys have been blessed with wonderful coaches who are wonderful examples on and off of the baseball field. (And for that, we are thankful!)
I'm in my third year of keeping the book, and I now e-mail stats after each game to our three coaches that includes pitch counts, batting averages, season stats, and positions played. Tonight, I sat and talked leisurely with my friend Missy as I kept the book AND the batting order rolling. I've come a long way since that first game.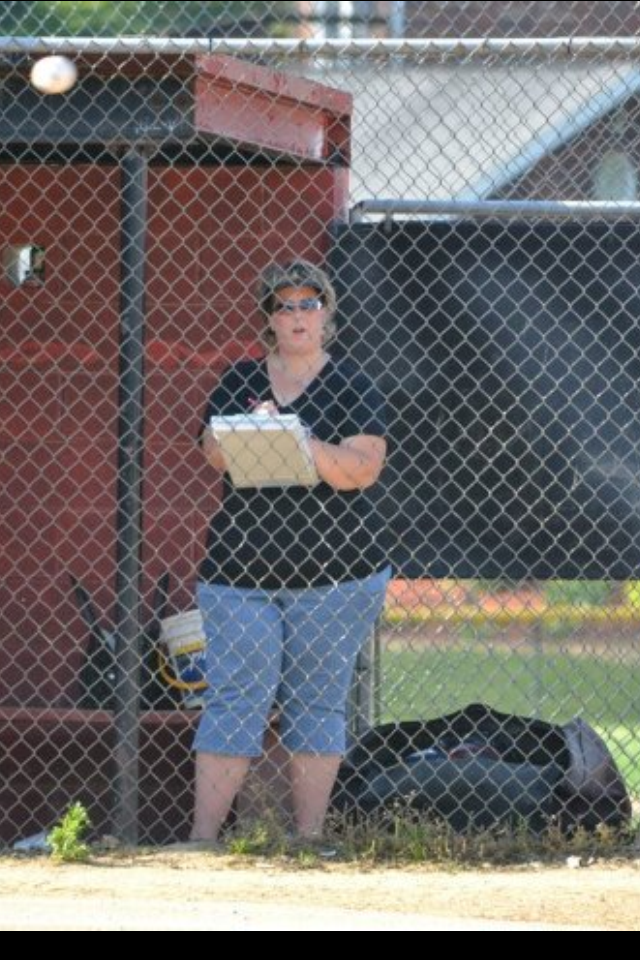 I get a lot of flack about our book. It is neat, it is orderly, and it is often recopied if I consider it to be too messy.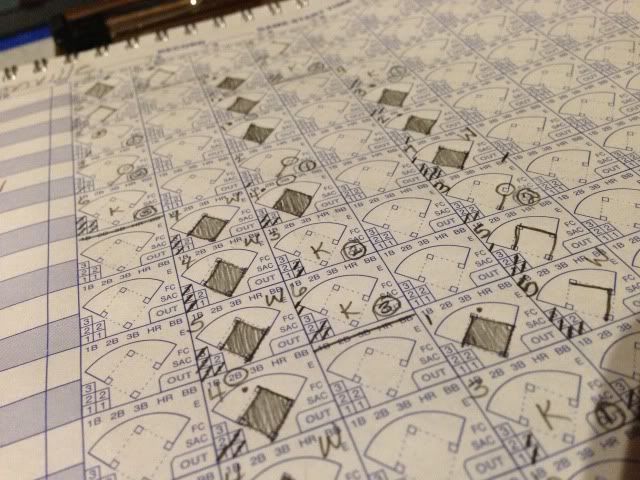 These days, there's very few places I'd rather be than the ball field. I have Baseball Mom shirts, baseball bling flip-flops, baseball jewelry, and baseball visors. I never ever dreamed in a million years I'd be a baseball mom.
Yet, here I sit tonight wearing a baseball mom t-shirt with my last name on the back of it.
When I'm watching Alex's game, I have to keep track of the score because I can't stand sitting in the bleachers and having no earthly idea what the score is.
Our boys don't know it yet, but they are learning life lessons that will help them throughout life. And we are all forging friendships that will last a lifetime.
We have met some wonderful friends on the baseball field. When I look back on this journey of motherhood, I feel certain, our time spent on the baseball field will be among my fondest memories.