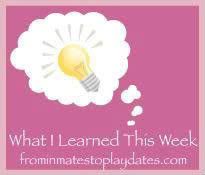 I learned a big bunch of stuff this week. And the first thing I learned is that I am the most organized – unorganized person I know.
Like this evening, Alex had a baseball game and I had the next four hours of my evening planned out and it was jam-packed. After the game, we got loaded in the car, and made it to the driveway when my phone rang. It was Stevie's coach. I am the "team mom" for Stevie's team which means I keep "the book" and do administrative-type tasks like making sure our team parents cover our concession stand shifts.
I sent out a text yesterday to the three parents who were to work this evening 5:30-7:30. The only problem is, our shift was actually from 7:30-9:30, which means SOMEONE had to cover our ACTUAL shift. And since I live about two minutes from the field, it was easiest for me just to run back down to the field, so that the other parents could go home as scheduled.
Which also means I wasn't home in time to report our team's Mission SLIMpossible Biggest Loser points to the competition director. Which means that we will lose points.
It seems that no matter how hard I try, I always FRIG something up. And that frustrates me to no end.
I guess it's safe to say that I learned I have too many irons in the proverbial fire.
I also learned that an ingrown toenail hurts A LOT.
That's what I learned this week.
Now, what did YOU learn?
To join in on the What I Learned This Week carnival, simply follow these steps.
1. Any time this week, publish your What I Learned This Week post on your blog and link to this post.
2. Link up with the Mr. Linky form down below. Please put the link to your POST, not the front page of your blog.
3. Then visit the other participants and see what they learned this week.
Alrightythen. Ready, Set, GO!