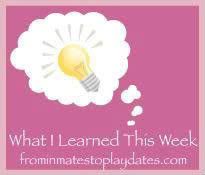 Here's what I learned this week:
1. Rest in a hospital is impossible.
2. Sitting at a hospital all day is exhausting.
3. If the gas pump keeps clicking off while pumping gas pull the nozzle out just a little bit and it will pump just fine.
4. When at the hospital dozing, it is best to lock your iPhone or else you might end up deleting an APP you didn't mean to delete.
5. It could take days (or weeks) to figure out which APP you accidentally deleted when dozing at the hospital.
6. There are more important things than a cluttered house.
7. Duck Dynasty is a fine way to end a stressful day.
That's what I learned this week.
Now, what did YOU learn?
To join in on the What I Learned This Week carnival, simply follow these steps.
1. Any time this week, publish your What I Learned This Week post on your blog and link to this post.
2. Link up with the Mr. Linky form down below. Please put the link to your POST, not the front page of your blog.
3. Then visit the other participants and see what they learned this week.
Alrightythen. Ready, Set, GO!